NEW EXHIBITION: Han Lei-M97 Gallery
[Press Release]
15 November 2014 – 4 January 2015
Artist Reception: Nov 15, 3-5PM
M97 GALLERY:97 Moganshan Road 2nd Floor, Shanghai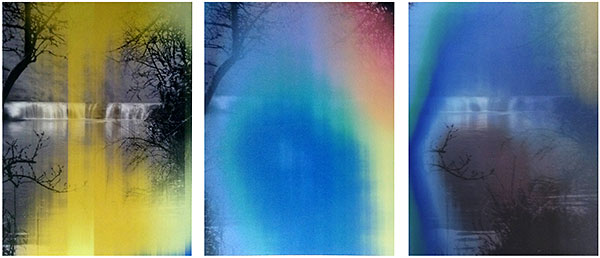 M97 Gallery is pleased to present "Spiral", an exhibition of 3D lenticular color photographs by Chinese artist Han Lei. This is Han Lei's third solo exhibition at M97 and the first time this new body of work is exhibited.
Beginning in the 1980s, Han Lei's career has gone on to be one of the most diverse and influential in China for his ongoing exploration of photography as visual art. Working in still photography, video, and painting over the course of the past two decades, Han Lei's "Spiral" series blurs the lines between different genres and artistic media.
For the past two years, Han Lei has been experimenting with grating plates to create three-dimensional images; a process the artist finds as intriguing as traditional media such as silver gelatin prints. His enthusiasm for this particular material and his investigation into it diversifies the artist's understanding of "moving images", giving birth to more creative possibilities.
     Through a variety of imagery of various genres from vernacular images to photographic objects to landscapes to portraiture, Han Lei's lenticular photographs enable the viewer to observe what the artist calls "transient instants", static moments that might vanish are otherwise extended, given motion and dynamism. The artist presents the time lapse of those "transient instants", showing how after appearing for a brief second they would be disappearing into a new silhouette or swallowed by immense shadows or colors.
     HAN Lei was born in the ancient city of Kaifeng, Henan province, and graduated from the Central Academy of Craft and Design in Beijing. While Han Lei's practice employs many diverse media, including sculpture, installation and painting, photography has been the most consistent and pervasive vehicle for the creation of his acclaimed body of works. He was one of the early contemporary artists in China to make a name for himself with a camera, achieving international renown when he received the Mother Jones International Fund for Documentary Photography Award in 1998. Han Lei's work has been exhibited worldwide in numerous prestigious institutions including the Kwangju Museum of Art, the Guangzhou Museum of Art, the Lianzhou Photography Festival, the Guangzhou Photography Biennial, the Rome Photography Festival, the Prague International Museum, as well as the Pingyao International Photography Festival. Han Lei's works have been exhibited as well in private art galleries across Europe, Asia and the United States.