New World Development Company Limited, AIKE-DELLARCO, Artshare.com are proud to present "Lui Chun Kwong: Ten Thousand Crags and Torrents"
[Press Release]
Location: chi art space, 8/F, New World Tower 2, 18 Queen's Road Central, Hong Kong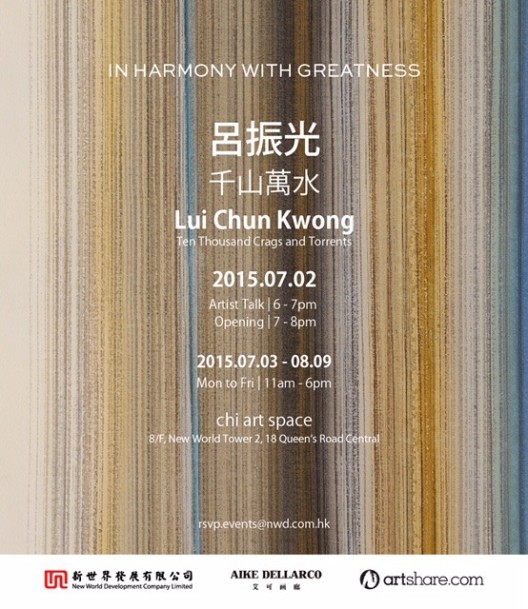 New World Development Company Limited, AIKE-DELLARCO and Artshare.com are happy to jointly present a solo exhibition of acclaimed Hong Kong artist Lui Chun Kwong, entitled Ten Thousand Crags and Torrents. The exhibition will be viewable at chi art space located at New World Tower in Central, as well as online on artshare.com.
This landmark exhibition will show the artist's watercolor on paper works painted across the past ten years, which are displayed in public for the first time. It is a continuation of Lui Chun Kwong's abstract landscape painting series "Yi Liu Shan Shui (一流山水)", which focuses on his investigation into the foundations of painting, over a span of twenty years. Indeed, Lui Chun Kwong set his base in Hong Kong from early 90's after gaining familiarity with the concurrent languages of western art during time spent in New York and London.
This series aims to capture the primordial forces of Nature within the boundaries of the canvas – being those opposite energies of cause and effect, fragility and roughness, movement and stillness, order and chaos. The use of watercolor manifests an even stronger contrast between the controllability of the brush stroke and the spontaneity of the flow, which as well represents the correlations between his belief that painting is a daily practice ruled by a meticulous repetition of process and the myriad variations in life. This marks for the artist a return to his own foundations, where simplicity is sought in the purity of the form – long vertical brushstrokes delivers the emotional attachment to natural elements such as the texture of rocks or the straightness of bamboos. Every line that the artist draws is in harmony of greatness by compressing the visual world we saw with a single eye-blink and reducing it to the essential.
Born in Guangdong, China in 1956, Lui Chun Kwong is not only a pioneer of Hong Kong abstract art, but also a mentor and a teacher for many established contemporary artists. He graduated with a BA degree at the National Taiwan Normal University in 1980 and a MA degree at Goldsmiths´ College, University of London in 1994. Forever involved with Hong Kong's artistic environment, he founded the Hong Kong Modern Art Society of Watercolour with fellow artists in 1988. Lui also served as Chairman of the Hong Kong Visual Art Society from 1988 to 2002. As a lifelong teacher and influencer, Lui Chun Kwong has taught at the Fine Arts Department of the Chinese University of Hong Kong for 25 years, from 1985 to 2010. The establishment of his Yiliu Painting Factory in 2001 was held jointly with its first students' open studio event, which became a prelude to the Fotanian Open Studios series. Lui's works have been showcased in a great amount of solo and group exhibitions, and are included in numerous public collections across Asia. His recent exhibitions include 'Comma after Period: Lui Chun Kwong Yiliu Painting Factory', Art Basel HK, Convention and Exhibition Centre, Hong Kong (2015); 'Lui Chun Kwong Recent Works', AIKE-DELLARCO, Shanghai, China (2015); 'Hong Kong EYE', Saatchi Gallery, London, UK (2012); 'Lui Chun Kwong: Piao Piao Ran', Osage Gallery, Hong Kong (2012); 'Yu Di: Lui Chun Kwong Lee Kit', AIKE-DELLARCO, Shanghai, China (2012); 'Lui Chun Kwong. You are Here. I Am Not. From Ho Siu Kee to Kong Chun Hei', Osage Kwun Tong, Hong Kong (2010); and 'Legacy and Creations: Ink Art vs Ink Art', Shanghai Art Museum, China (2010).
The full catalogue will be available online on Artshare.com. Essay by Xin Wang.
About AIKE-DELLARCO
AIKE-DELLARCO was initially established in Italy in 2005. In 2008 the gallery opened its branch in Shanghai and in 2011 the operations moved entirely to China. Currently the gallery has two spaces in Shanghai within the art district of M50 on Moganshan Road and runs regular exhibitions aimed to promote emerging Chinese contemporary artists in China and internationally. Since 2008 AIKE-DELLARCO has been collaborating with artists such as Chen Zhou, Hu Yun, Jiang Pengyi, Lee Kit, Li Ran, Li Shurui, Lui Chun Kwong, Tang Dixin, Wang Yi, and Zhou Siwei, introducing most of them for the first time to an international public.
About New World Development Company Limited
Founded in 1970, New World Development Company Limited ("New World Group", Stock Code: 17.HK) was publicly listed in Hong Kong in 1972 and is a constituent stock of the Hong Kong Hang Seng Index. A diversified holding company with a focus on property development, New World Group's core business areas include property development, infrastructure and service, department stores and hotels. As at 31 December 2014, the total asset value of the Group amounted to HK$378.5 billion.
As at 30 June 2014, the Group has an effective interest of approximately 61.3% in NWS Holdings Limited (Stock Code: 659.HK), approximately 69.7% in New World China Land Limited (Stock Code: 917.HK) and approximately 72.3% in New World Department Store China Limited (Stock Code: 825.HK)
New World Development Company Limited is a premium brand infused with unique personality 'The Artisanal Movement'. It is a journey of expanding one's imagination through bespoke craftsmanship manifested by originality. At New World, We Are All Artisans!
About Artshare.com
Artshare.com is the leading global online platform dedicated to the exhibition and sale of contemporary Chinese art. Artshare.com offers unique access to artworks and an in-depth curatorial expertise through thematic exhibitions, featuring artworks for sale. Artshare.com also provides exclusive content and insights from cultural influencers around the world. Artshare.com is supported by a leading Advisory Committee, composed, amongst others, of Mr. Adrian Cheng, Ms. Pearl Lam, Mr. Johnson Chang.