OCAT Shanghai – Investigate It
[Press Release]
OCAT Shanghai is proud to present "Investigate It" the first exhibition of the year, on March 12th. Curated by Shanghai-based architect and scholar Feng Lu, it marks the first architecture and design exhibition held at OCAT Shanghai in a year, and—unprecedentedly—the very first exhibition oriented with an exclusive focus on contemporary architectural design in China.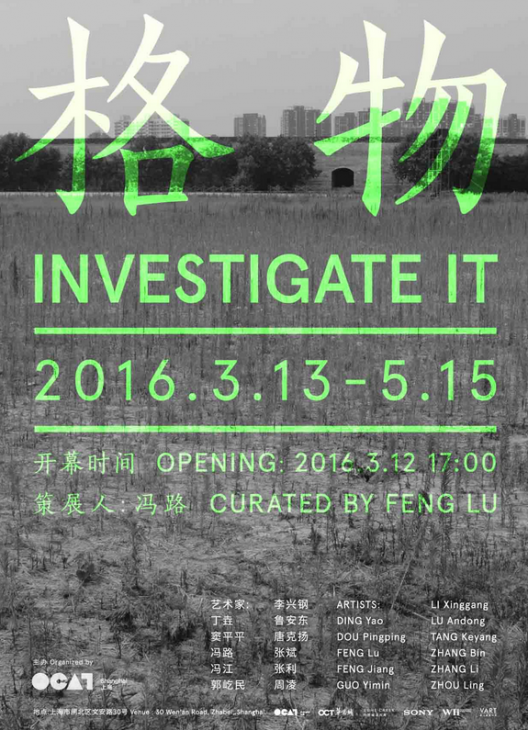 In July 2015, architects Lu Andong, Feng Lu, and Dou Pingping convened Gewu, a workshop on design and research, in the old city of Nanjing, using the Hualugang district as a site to conduct field research on architectural theory and design. Their workshop was set in a unique location—near bodies of water, hills, walls that date back to the Ming Dynasty, Qing Dynasty gardens, tombs, temples, modern factories, civil war defensive emplacements, schools, and residential compounds—whose condition vacillates between distinguished and obscure in urban history. Within this space of extreme geographical and social complexity, the architects and scholars who participated in the workshop have further extended their areas of inquiry, and—through revelatory or self-reflexive forms of expression and projection—have together established an understanding of the site, or a direct construction of its physical attributes.
Through various forms of expression, including architectural models, installations, videos, images, and text, this exhibition carries on a dialogue between the "things" and spaces introduced in the workshop, but taking a more refined and mature approach. The participating architects, artists, and scholars, namely Ding Yao, Dou Pingping, Feng Jiang, Feng Lu, Guo Yi Min, Li Xing Gang, Lu An Dong, Tang Keyang, Zhang Bin, Zhang Li, and Zhou Ling, represent their respective fields of history, theory, practice, and criticism, whose thinking goes beyond their particular ways of working. Born between 1968 and 1978, this group of exhibitors is perfect to represent China's new generation of architects with the depth and breadth of their theoretical inquiry and the force and potential of their practice.
Special thanks to SONY China, for their generous sponsorship and support in providing all necessary video equipment. The advanced laser projection technology provided by SONY imbues the exhibition with richer forms of expressions and lends more striking visual appeal to it.