OCAT Xi'an 2015 Winter Exhibitions
[Press Release]
The themes explored in this exhibition by Liang Yuanwei and Carol Lee Mei-kuen extend questions about time and human experience that underscored the Summer Exhibitions at OCAT Xi'an earlier this year. Both artists use time as a framework for producing artworks and as part of the experience they seek to project onto visitors. In both Liang Yuanwei's paintings and Carol Lee Mei-kuen's paperworks, time begins as an introspective, painstaking form of labour but, for the viewer, the result is a light, delightful process of reading the meaning that these artists invest in their art and of discovering subtle nuances in the techniques they use to communicate that meaning.
The delicate floral wreathes that are the foundation of Liang Yuanwei's aesthetic system are deceptively simple. Yet, the entire concept upon which they rest draws on influences from 14th-century Italian fresco painting through to the systemic language of highly respected modern and contemporary artists like Jasper Johns and Gabriel Orozco. Liang Yuanwei's paintings are her quest to understand visual readings of artworks in this age of mechanical reproduction. Similarly, using elegantly stencilled floral patterns, Carol Lee Mei-kuen's minimalist paintings and collages are as much a means of communication as of social intervention. These elements converge in the evocative Postcard Project, which is presented here in the lower floor gallery at full scale for the first time. The visitor is asked to sit, to reflect, and to forget time whilst contemplating not only the artworks but time itself, which is understood as a distance that opens up when communication is allowed to break down.
OCAT Xi'an is delighted to be presenting the first institutional solo presentations for each of these three artists.
The Winter Exhibition programme runs from November 21, 2015 to February 28, 2016
For their contribution to the Winter Exhibition, OCAT Xi'an would particularly like to thank Leng Lin at Pace Beijing and Lv Jingjing at Beijing Commune for supporting Liang Yuanwei. Thanks also go to Fu Xiaodong for her assistance with Gong Xu's project.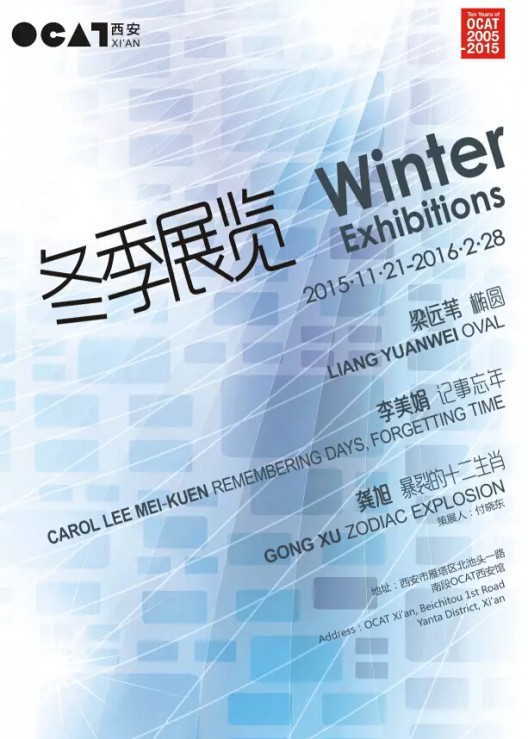 LIANG YUANWEI
"OVAL"
The title of Liang Yuanwei's exhibition refers to the process of creating the works presented here, a suite of 16 paintings of various dimensions, each completed in the year leading up to the exhibition. The paintings relate to each other in sequential form one to the next, such that from the first to the last, the artist's concept comes full circle, having arrived at a new, elevated level of clarity.
We might also understand the reference to oval as a circular path through the exhibition; one that the artist has designed for us, for there is one specific route through the paintings, which she asks us to follow. Thus, in pre-ordained fashion, viewers are instructed to move through the exhibition in accordance with the number sequence inscribed beneath each painting, one through sixteen. The goal here is to hand viewers the tools to accompany Liang Yuanwei on the journey she took to create the paintings, and to experience a similar process of discovery. This should include visitors becoming aware of the shifts and inflections of progress in the language as it evolved, and of the occasional awkward moment when the artist was wrong-footed, as texture, tonality and combinations of colour resulted in unanticipated effects. The full journey of this process is rounded out by the presence of three early works from 2005, 2008, located in the small room at the end point of the exhibition. These are variously unfinished and illustrate how decisions were taken in the early stages of this approach.
Liang Yuanwei draws inspiration from a broad range of influences including Sol LeWit, Francisco Goya, Italian frescoes, Gabriel Orozco, and Jasper Johns. Significant here is that research is an essential part of the process by which a possible aesthetic system is constructed. Compositions appear similar, being built around a particular pattern usually taken from a textile. The building process of each painting unfolds section by section across and down the canvas, replicating the techniques of 15th century frescoes. "My paintings are my own little universe of materials, purposes and techniques," she says. "Words make it sound simple, but the process is not." That process requires skill, patience and discipline. OCAT Xi'an is proud to present "Oval" as representing Liang Yuanwei's thinking and concept at their finest.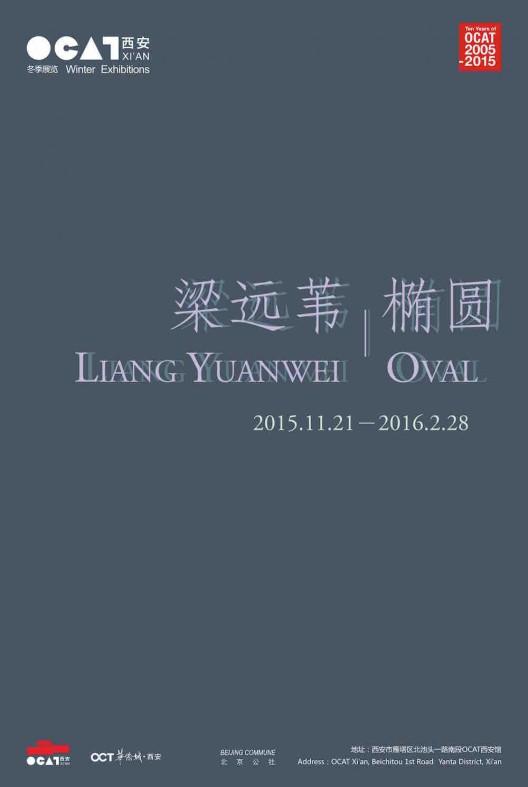 CAROL LEE MEI-KUEN
"REMEMBERING DAYS, FORGETTING TIME"
Carol Lee Mei-kuen's work is distinct for its focus on time as both the material and the means of making art. This began with a pictorial journal entitled Under-layers(2005) that she produced using ink on paper. The journal explored her personal state of mind as a continuous recording of time through a pre-determined period.
Carol Lee Mei-kuen is primarily interested in the passage of time (time in motion), as well as time as a measure of distance between one place and another (like a light year). Her works often combine media, such as photography, printmaking and painting but are also full of non-material and non-specific uncertainties. For example, by harnessing changes in light as a reaction with paper, the works evoke the relationship between time and history, functioning as a pictorial form of memory. Carol Lee Mei-kuen describes this language of expression as "time writing" or "time drawing". Different from photographs and paintings which represent time as a captured moment, in her works time flows over the surface, settles on the paper and accumulates a presence as it interacts with the material. Eventually, what evolves is a ghostly image of, say, a found object that, through exposure on the paper over time, becomes an empty area of space, a result which is impossible to predict before it happens.
Join Liang Yuanwei and Carol Lee Mei Kuen in conversation with Karen Smith, executive director of OCAT Xi'an, on Saturday November 21 at 2pm. To reserve a seat, please call: Shi Na / 029 85529445.
GONG XU
"ZODIAC EXPLOSION"
In Gong Xu's works, the inter-textuality of time is reflected in an interweaving of graphic images derived from sources as wide as primitive totems to Japanese anime. Creating a reality using invented creatures inspired by those characteristic of folk superstition and historical legends, with the twelve zodiac animals depicted in the work Zodiac Explosion, Gong Xu creates a world of counter-mythology and of fantasized prophecy. The work points to the crisis of identity and morality that is ubiquitous in society today.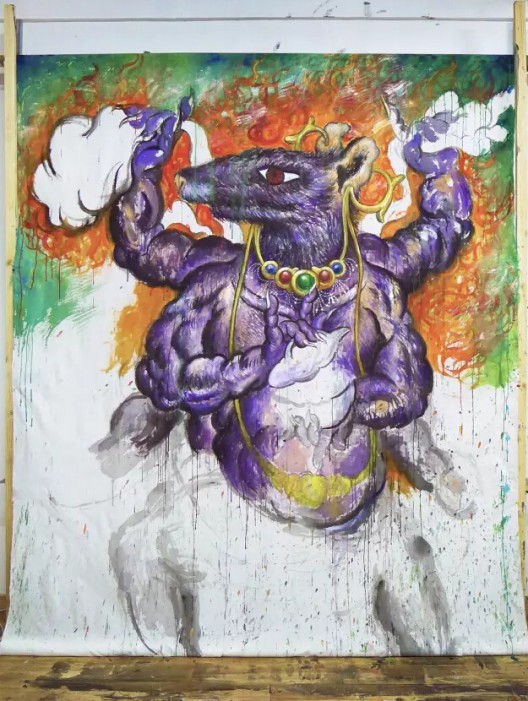 As twelve of the most primitive symbols within Oriental culture, the Chinese zodiac animals do not have a clear origin in historical documents. Still, the twelve Chinese zodiac animals have played an important role in folk culture since ancient times, and remain entirely familiar in everyday life today. Seldom talked about amongst the cultural elite, the various values, functions and symbolic meanings of each of these twelve zodiac animals was documented in Japan, described in the book Junishiko (A Study of Twelve Animals of the Chinese Zodiac), 1914, by Japanese (maverick) naturalist Minakata Kumagusu (1867-1941). With the series Zodiac Explosion, Gong Xu draws upon wide-ranging sources to resurrect these symbols, adapted from different stories and interpretations of the twelve animals in both Oriental and Western culture, and transformed into a new form of popular cultural symbol.