"Oh no!" – Baimiaole Solo Exhibition, A Project by Chen Jie | Opening June 7
[Press Release]
AIKE-DELLARCO is pleased to announce "Oh no!" – Baimiaole Solo Exhibition, A Project by Chen Jie, on view from June 7 until July 12.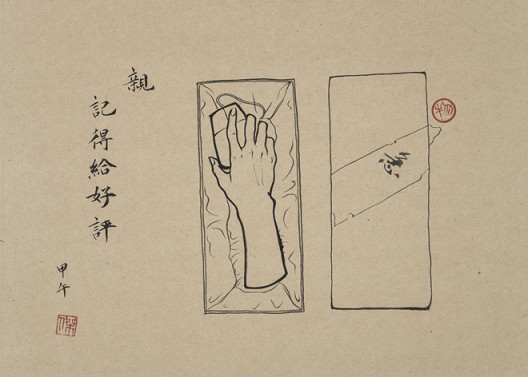 In 2014, Chen Jie started to work on a series of small paper works on a daily basis. Using the technique of "Baimiao" – or line drawing – Chen Jie created a visual diary made of illustrations, either with a narrative purpose or a pure emotional intention. Later on, Chen Jie created the ID "Baimiaole" on Weibo (Chinese microblogging service akin to Twitter), and used the account 'Baimiaole' to share this series of new works with the audience, who are able to write reviews, communicate and share their opinions directly on the Weibo platform.
By combining poetry, calligraphy, painting and the classical seals, this series of works appears in the form of ancient Chinese literati paintings but merges into the artist's practice; his works resonate in both Chinese and Western cultural contexts: the loss of belief, shopping mania, technology manipulating human beings, the "society of the spectacle" overflowing with symbols and illusions and the anxiety dilemmas people are stuck in. The range of topics covers from the canons of Lao-Tzu and Chuang-Tzu to the Bible, from memories of childhood to literati sentiments, and from legends and ghost stories to Internet anecdotes, sometimes even sounding like gags.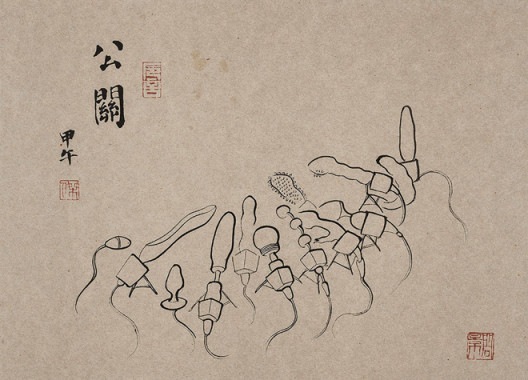 The display setting intertwines a philological approach to exhibit the works, which will allow the audience to hold, view and experience them in a manner that hints at the way literati used to gather in the Ming and Qing Dynasties, with an array of QR codes that will allow the audience to browse and access the virtual blog.
Named after Chen Jie's ID on the Internet, the "Baimiaole" series acts as a boat that he sails to navigate in the ocean of symbols, carrying those who keep skeptical and cautious of the real world and are not willing to reach the other shore effortlessly. Chen Jie himself calls this system "The playground of symbols", and wishes to free people from the inertia of the everyday world of symbols by playfully creating a new set of contemporary codes while deconstructing the meanings of both old and new symbols.
Chen Jie (1980) was born in Chongqing, China. He graduated from Oil Painting Department, Sichuan Academy of Fine Arts in 2004, and currently lives in Beijing, China. His selected exhibitions include "Oh no!" – Baimiaole Solo Exhibition, AIKE-DELLARCO, Shanghai, 2015; "Wen Jing – Li Shurui and Chen Jie", AIKE-DELLARCO, Shanghai, China, 2013; "The First Today's Documents", Today Art Museum, Beijing, China, 2007.