Osage Gallery Presents Works by Roberto Chabet
[Press Release]
This exhibition is comprised of a series of artworks that manage to break away from the rigid formalisms of modernism and demonstrate Chabet's insistence on a more inclusive approach to art, a key aspect to the importance of Chabet's practice in the Philippines and Southeast Asia. This is suggested in To Be Continued, wherein utilitarian and provisional plywood boards function simultaneously as object and surface. Completed in collaboration with Chabet's former students including Louie Cordero, Nona Garcia, Maria Taniguchi, Ringo Bunoan, Mawen Ong, and MM Yu, among others, whom Chabet tasked to paint 10 panels of plywood by using and mixing red, blue and yellow paint (the emblematic colors of modernism), To Be Continued, is an exercise that questions the state of painting. Their collective effort was exhibited in The Cultural Center of the Philippines in 2012 after being shown at Osage gallery in 2011.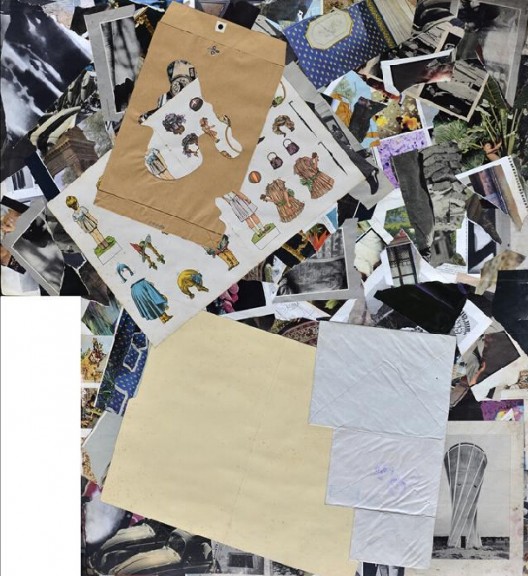 Another seminal series in Chabet's practice, the China Collage Series (1985-86) will be featured.The series consists of over hundreds of 'L' shaped panels, originally maps of China, Mongolia and Korea, covered in layers of torn printed materials.The series is part of Chabet's exploration into collage as a technique; described by Chabet as his "picture morgue", the China Collage Series is a reflection of his interpretation of the modernist spirit. For Chabet who spent his childhood moving frequently and fleeing air raids and bombs during WW2, the mechanics of collage illustrate the memory of catastrophe and destruction that he witnessed. Collage is also a tactic in the fight against fixed definitions, he claimed: "Misplaced, displaced, dislocated, and relocated in new contexts, the objects demand new readings, new meanings. They have become dream objects – perhaps, dreams themselves."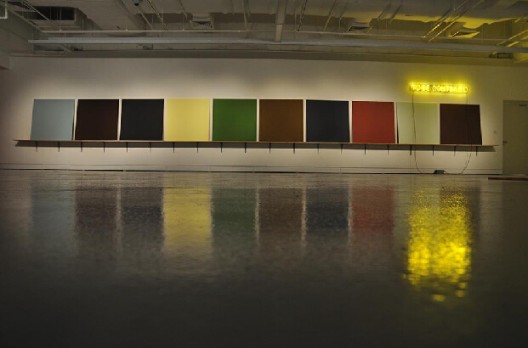 The exhibition also features Imagined Geographies (2011), a series of Chabet's drawings that manifest an internal volatility, a precariousness that can be seen in the quivering pencil lines that delineate and demarcate spaces to create fluid, ambiguous field that points to an elsewhere.
These artworks are now a precious legacy and resource for those interested in the history of conceptual art in Southeast Asia, as well as continuous inspiration for the global art scene to explore alternative forms and ways of thinking.
The presentation will coincide with Art Basel, at which Osage is presenting Cargo and Decoy (1989/2010), a plywood installation by Roberto Chabet in the Encounters sector at 1E03.
ABOUT THE ARTIST
Roberto Chabet, widely acknowledged as a founding figure of Philippine conceptual art and one of the most influential contemporary Filipino artists, was born in 1937 in Manila, and held his first solo exhibition in 1961. A graduate of Architecture from the University of Santo Tomas, Chabet is highly regarded for his experimental works, ranging from paintings, drawings, collages, sculptures, and installations made out of mostly ordinary and found material. Chabet insists on a more inclusive approach to art, a search for the sublime not just in abstract ideas but also in the immediacy of the quotidian and the commonplace. In his works, abstraction and the everyday collide, creating spaces for new meanings.
Chabet was the founding Museum Director of The Cultural Centre of the Philippines(CCP) where he initiated the Thirteen Artist Award in 1970, a prize that supports young artists whose works show "recentness and a turning away from the past. It remains one of the most prestigious awards to be given by a national institution to a young Filipino visual artist. After his brief tenure at the CCP, Chabet led the seminal alternative artist group Shop 6, and taught for over thirty years at the University of the Philippines, College of Fine Arts and at key artist-run spaces in Manila.
Since the 70s, Chabet has been curating exhibitions of young and emerging Filipino artists. He is the recipient of the JD Rockefeller III Fund Grant (1967-1968), the Republic Cultural Heritage Award (1972), the Araw ng Maynila Award for the Visual Arts (1972), and the CCP Centennial Award of Honours for the Arts(1998).