LU PINGYUAN, SHANG LIANG and ZHAO YAO
'Play'
MadeIn Gallery, Shanghai
[Press Release]
MadeIn Gallery is pleased to present "Play" an exhibition showcasing new paintings and sculptures by Lu Pingyuan, Shang Liang and Zhao Yao. In this exhibition, three artists' works commonly share a spirit of lightness and playfulness, bringing aesthetics, concepts and art into the field of game. As a method for the observation of art, game arises in the gallery space.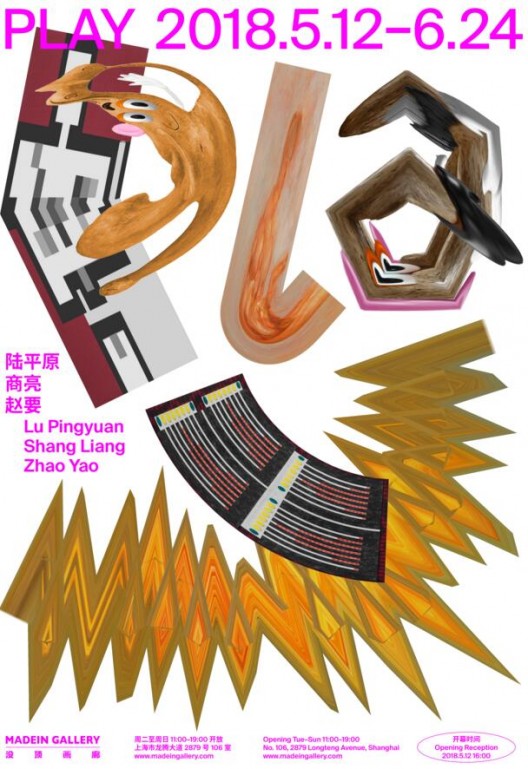 Game in Lu's series of works "Look! I'm Picasso!" takes the form of Russian nesting doll: a story – Mr. Potato Head – visuals from Pixar Animation Studios – Picasso – Cubism – Children's coloring books, or the other way round. Each layer of symbols reveals unique characteristics on the presentation of the work. In Zhao's paintings game appears as an attempt to vacuum the meaning. The artist selects puzzles from mind games and presents them through a time-consuming process, just as he lifted a 10,000 square meter installation to a snowy summit of an altitude of 5000 meters and placed it in the sun. All the performance rules and artwork meaning are formulated and adjusted by the artist. Zhao's trick is a game that repeatedly permutes truth and falsehood (or the presence and absence of meaning). At last, Shang's game consists of grafting her imagination on men's power into her creation subject. Muscular bodies, references to Ernest Hemingway, and sculptures with strength characteristics all constitute her empathy towards the object of the game, process of which reflects the artist's self.
"Play" not only shows these three artists' different game methods, it also suggests a post-truth era, in which individuals face the constant adaptation and creation of a time where landscape and authenticity ever-change. The exhibition space becomes the venue where artists perform their tricks, as Hans-Georg Gadamer put it: game is "the mode of being of the work of art". In this exhibition, the notion of game intervenes into the artist's creative form and further the process and context in which viewers observe the works.