Poetry and Space Station"—2016 New Year's Poetry Evening
[Press Release]
Space Station will be hosting "Poetry and Space Station," 2016 New Year's Poetry Evening on January 16th, 2016 from 5:00pm to 7:00pm.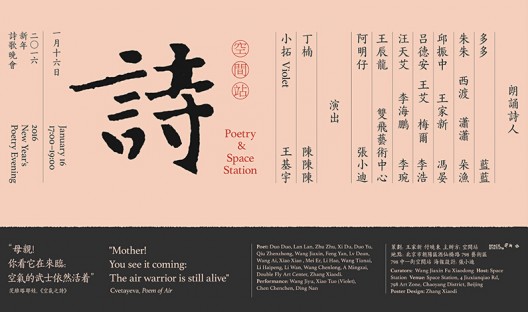 This event is co-curated by Wang Jiaxin, a key figure of "intellectual-writing," and curator Fu Xiaodong. In the new year to come, we invite established poets such as Duo Duo, Lan Lan, Zhu Zhu, Xi Du, Duo Yu, Lv De'an, Feng Yan, and Xiao Xiao, all of who are prominent influences on the contemporary world along with a younger generation of emerging poets. Artists such as Double Fly Art Center will respond to live art forms existing within the medium of language. Collaborations, such as those between Wang Jiyu and Chen Chen Chen will present us live musical performances. Following the first exhibition, "A Room Not of One's Own," a collaboration between Space Station and Koi Magazine in 2014, this is Space Station's second cross-disciplinary experiment in literature and art. "Poetry and Space Station" seeks to explore the thought forms that don't fall under common categories and the potentialities of language formations in a purely textual perspective, opening up performative spaces for poetry and art in which the rhythmic flow of Chinese characters and folk music is on live to become a coexisting, holistic happening.
"Thunder of the grumbling/ Doves – from hither issues! / O, the air is ringing/ Ringing, more so than the New year rings! […]" – Russian poetess Marina Tsvetaeva
Poets: Duo Duo, Lan Lan, Zhu Zhu, Xi Du, Duo Yu, Qiu Zhenzhong, Wang Jiaxin, Feng Yan, Lv De'an, Wang Ai, Xiao Xiao , Mei Er, Li Hao, Wang Tianai, Li Haipeng, Li Wan, Wang Chenlong, A Ming Zai, Double Fly Art Center, Zhang Xiaodi.
Performances By: Chenchenchen, Ding Nan, Wang Jiyu, Xiao Tuo (Violet)