Project – Xiao Xiong, Zhang Hui – MadeIn Gallery
[Press Release]
MadeIn Gallery is pleased to announce Project – Xiao Xiong, Zhang Hui curated by Colin Chinnery opening on November 19th, 2015.
Having distinctively different artistic concepts, Xiao Xiong unswervingly explores and brings to light the crude appearance of ideologies; whereas Zhang Hui, recently taking on a curious turn to investigate the "reality itself" and the "humble materiality," deconstructs reality into two separate layers – its superficiality and its mythological archetype.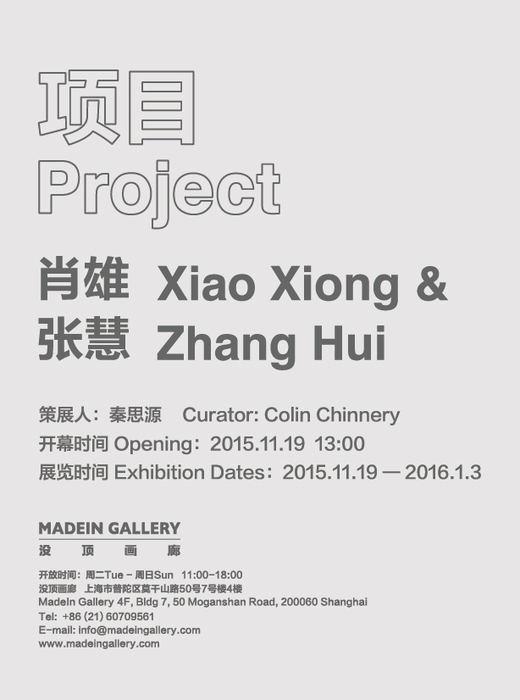 This exhibition, fruit of a joint project by Xiao and Zhang, showcases the two artists' collaborative works. Situating their visual tones in a mutually enriching context, this project intends to reveal Xiao and Zhang's repetitive attempts to disentangle, associate, conceal, and unravel the logic of the "constructed reality" and the essence of the simulated world.
If Xiao's reading of the ideologies is said to embody the black background on the canvas, impressing the viewers as a lurking yet concrete piece of land, then the strokes of Zhang, alternatively, constitute dim rays of light leaking from this substantial darkness.
This project presented by MadeIn Gallery aims at "constructing a simulated world on a piece of ideological land."