Pussykrew Special Project —- Shifting Connection
Site-specific installation based on 3D scans of Shanghai city, CGI archives and ongoing research into the art and technology dialogue.
Artists create a CGI piece inspired by their memories of the past 6 months spent in Shanghai, where they explored the relationship of tradition, technology and the future. The MoCA Pavilion and its architectural features become an internal and external projection chamber – the window façade is illuminated with the moving visual content – digital representation of Shanghai symbols and experiences, filtered through contemporary visual language and speculative stories. The piece is inspired by the Spring Festival interval and Shanghai itself, as the city of the future, along with its appealing architecture as well as megacity's landscape, residents and energy. By mixing the symbols of 'old' and 'new' artists create an immersive vision of tradition and the future, experienced in the very present moment. Artists use the 3D scanning technology to record local objects as pieces of memories, these files are implemented into the 3D environment, filled with the abstract patterns and familiar spaces.
The piece involves a video projection on the glass facade of the MOCA Pavilion building, floor print, VR headset visuals and a 3-channel video installation with sound in the space.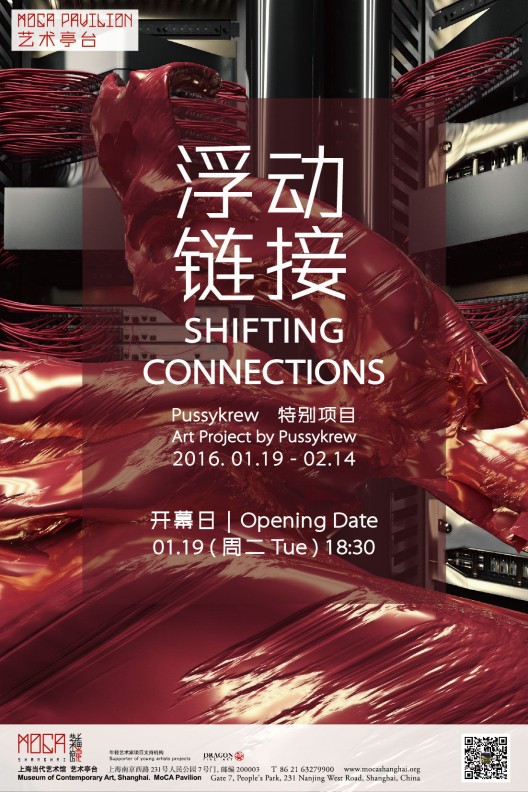 Participants will be able to experience the piece in multiple ways – inside and outside the space, as well as through personal interaction with VR visualizations.
About Pussykrew:
Pussykrew is an interdisciplinary duo of two Polish artists – Ewelina Aleksandrowicz and Andrzej Wojtas. Their creative practices range from multimedia installations, video short forms, 3D animation to audio-visual performance and sculpture design.
Aleksandrowicz and Wojtas are originally from Poland, in the last decade they've been living and working in Ireland, UK, Berlin and Brussels. They are currently based in Shanghai, taking part in the Swatch Art Peace Hotel artist residency.
The duo explores post-human concepts, urban landscapes and fluid identities in the age of new technologies. Their creative work balances on the border between notions of synthetic and organic, connecting the physical and virtual spaces. Pussykrew is constantly searching for liminal states within the digital realm and cinematic poetry.
In the last 8 years they have been presenting their works internationally, in various forms and contexts, at digital arts and film festivals, galleries, universities and tech fairs such as : Saatchi Gallery London, Carrousel du Louvre – Paris, Berlin Art Week, European Media Art Festival, Kiasma Museum of Contemporary Art – Finland, Center548 – New York, Carnegie Mellon University, Pittsburgh, Cite du Temps – Geneva, Switzerland, Internationale Kurzfilmtage Oberhausen, Transmediale Berlin).