RECIPE FOR A PAINTER: MICHAEL CHOW AKA ZHOU YINGHUA ~O-O~
[Press Release]
Press release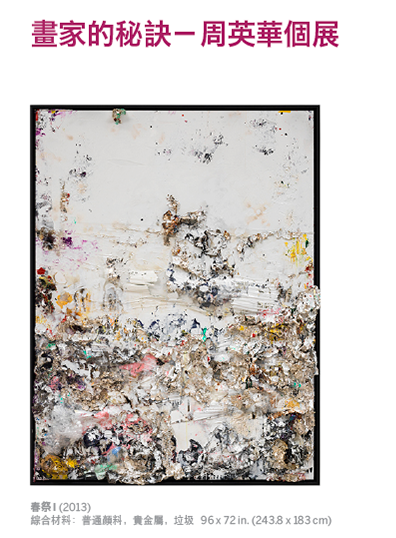 Hong Kong—Michael Chow, the famous restaurateur behind 'Mr Chow' Chinese restaurants worldwide, will present his first ever solo exhibition in Hong Kong at Pearl Lam Galleries. Chow's work embodies the galleries' continuous desire to stimulate cross-cultural dialogue and cultural exchange between East and West.
For Michael Chow aka Zhou Yinghua, the exhibition represents a return to his cultural heritage after a break of more than 50 years during which he became a prominent figure within the US art scene, as well as a serious collector of contemporary art.
"Recipe for a Painter" will present a series of very large-scale mixed-media canvases, each created using a wide variety of precious and household materials. Chow's work is a product of his cross-cultural inheritance, referencing simultaneously Abstract Expressionism, Color Field painting and the associated consistency of form, as well as the landscape traditions of Chinese ink and calligraphy. His artistic practice is intrinsically linked to his cultural heritage and complex history with China.