Richard Koh Fine Art (RKFA) – Gan Chin Lee's solo exhibition – In-between
[Press Release]
Richard Koh Fine Art  is delighted to present Gan Chin Lee's solo exhibition "In-between" at our gallery at 229, Jalan Maarof, Bukit Bandaraya, Bangsar, 59100, Kuala Lumpur, Malaysia.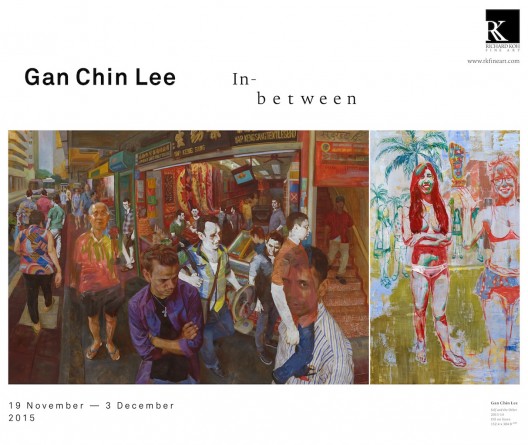 Gan's current body of work is a personal response to the universal identity crisis experienced by migrants worldwide but is framed within the context of the Malaysian city streets. Initially influenced by the recurring media footages on the recent atrocity in which tens of thousands of Rohingya refugees died in the open sea due to being abandoned by human traffickers and originally with no country to take them in, the artist, through this body of work attempts to reclaim the dignity of displaced communities found within the streets of Malaysia via the tradition of realistic painting, which involves in-depth analysis and acute observations of reality.
Coming from a migrant Chinese family, the artist, like many local Chinese, has experienced an identity crisis while simultaneously being unable to assimilate into the "Mainland Chinese" community while he was pursuing his graduate studies at the prestigious China Central Academy of Fine Arts in Beijing, China. The sense of displacement and the feeling of constant unease is conjured in the artist's pictures via depictions of restless faces, the arrangements of messy paraphernalia for living with tense compositional formal structures.
Gan's recent works narrate social landscapes that are visually and emotionally complex. The settings are varied, framing individuals and communities in scenes such as a street corner with an elderly Rohingya man curling up for a nap or a panoramic view of food stalls with local diners interacting with each other while migrant prostitutes wait for potential clients. These mundane scenes of observed communities appear ordinary at first glance but upon closer observation, reveal the fragmented nature of the inhabitants' existence.
Gan Chin Lee (b. 1977, Kuala Lumpur) is a painter trained at the Central Academy of Fine Arts in Beijing and at The One Academy of Communication Design, Selangor. He has been awarded a number of awards since graduating such as the Platinum Award by The One Academy, KL, a winner of the MEA Award (Malaysian Emerging Artist Award) in 2009 and the Bronze award for the Graduate Creation Award, Central Academy of Fine Arts in Beijing. He is also an art lecturer at The One Academy of Communication Design in Selangor.
A disciplined and highly skilled painter, Chin Lee's occasionally multi-paneled paintings display complex compositions and amplified perspectives, usually borrowing traditional compositional formulas. His expressive and painterly works depict a wide-array of multi-racial urban scenes and shared social spaces such as Southeast Asian food stalls and coffee shops that are densely populated by characters that seem indifferent to each other. There is usually a sequential narrative in the pictures and deciphering time is expanded due to the usage of polyptychs and panoramic viewpoints. Inner-city anxiety, restlessness and hardship are captured and hyperbolized in his enigmatic and disorientating pictures.