Soundpocket: Around Sound Art Festival
[Press Release]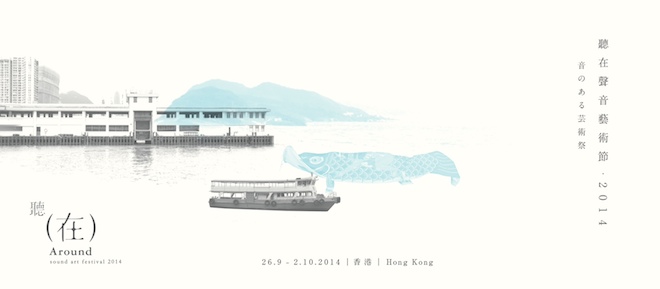 voices / landscapes (for the eye and ear)
26.9 – 2.10.2014
an ongoing research on the relation and interaction between sound and image—curated by Carlo Fossati (Italy)
Around sound art festival 2014:Japan & Hong Kong
—presented by soundpocket
curated by Carlo Fossati (Italy)
Location : Kwun Tong Ferry Pier & Connecting Space, Hong Kong
Artists
Michael Graeve (Australia), Paolo Piscitelli (Italy/ USA), Tetsuya Umeda (JP), Carlos Casas (Spain), Phill Niblock (USA), Alessandro Quaranta (Italy)
Around sound art festival 2014 – Japan & Hong Kong
Around is an invitation to listening. The festival gathers international and Hong Kong artists for making installations, live performances, and open dialogues. Site-specific works are presented at places that are not conventionally used for art exhibitions. All the works aim at bringing the audience's attention to listening itself.
Special Features:
Around 2014 is the fourth edition of the festival since it inaugurated in 2009. This is the first time that we bring Around out of Hong Kong. Being There – Artist Residency and Retreat Camp to be held in Amino, Kyoto, is curated by Alice Wong, Wong Chun-hoi, Hiromi Miyakita and Akio Suzuki. Hong Kong based artists Edwin Lo, Fiona Lee, Chan Kiu-hong Joe, Wong Fuk-kuen, Chan Man-yee Abby and Xing Liang are invited to travel to Amino, Kyoto for a 2-week residency, in which they will explore sound and space in Amino. Together with Japanese artists evala & sonihouse, Akinori Yamasaki and Ayumi Adachi, the artists will present workshops, soundwalks, and performances during the 3-day Retreat Camp. The artists will also engage with the public in dialogues while wandering around this small city on the coast of the Sea of Japan.
Around 2014 continues after the camp in Hong Kong. Italian curator Carlo Fossati works with Michael Graeve and Tetsuya Umeda to present site-specific installation and performances at Kwun Tong Ferry Pier. An installation by Paolo Piscitelli will also be exhibited at the Pier. Piscitelli's video work will be presented along with those by artists Phill Niblock, Carlos Casas and Alessandro Quaranta at Connecting Space, Hong Kong.
Sep 26 – Oct 2, 2014
Kwun Tong Ferry Pier and Connecting Space, Hong Kong
DATES (2014)
Sept 26 (Friday)
Kwun Tong Ferry Pier
Exhibition opens with performances by Michael Graeve and Tetsuya Umeda
Sept 26 – Oct 2 (Thursday)
Kwun Tong Ferry Pier
Exhibition
Sept 27 (Saturday)
Kwun Tong Ferry Pier
Curator's Talk (with artists present)
Sept 28 (Sunday)
Connecting Space
Video Screening (to be introduced by the curator)
Oct 1 (Wednesday)
Kwun Tong Ferry Pier
Closing performances by various artists
*Programmes are free and open to the public.
Booking and Ticketing Enquiry: (852) 2356 2226 / listen@soundpocket.org.hk
Venue information
Kwun Tong Ferry Pier, Hoi Yuen Road, Kowloon, Hong Kong (near Hoi Bun Industrial Building)
Connecting Space, Hong Kong
Fort Street 18-20, Wah Kin Mansion, North Point, Hong Kong
www.zhdk.ch/index.php?id=connectingspaces_en
About soundpocket, presenter of Around
soundpocket is a registered charitable organization in Hong Kong, founded in 2008 as a direct response to the increasing interest of sound art in Hong Kong, the demand for public awareness and education in the sense of hearing and deep listening, and the need for cultural sensitivity in creative practices. As a promoter, educator, facilitator, and gatherer, soundpocket is committed to the long-term nurturing of active listeners. Since its inception, soundpocket has collaborated with non-profit organizations, small enterprises, independent voice-workers and musicians, and curators of contemporary art on various art and cultural projects. soundpocket positions itself in the fields of sound, art and culture by initiating interdisciplinary projects that bring multiple art forms and a variety of cultural contexts into the focus of sound and listening. In this sense, soundpocket supports not just an art form, but ideas and possibilities that engage with aesthetically meaningful, culturally-grounded and publicly relevant sonic practices, which have a lot to teach about how we understand the world and the experiences yet to be valued. www.soundpocket.org.hk
Media Enquiry
Alice Wong
Manager of Curatorial Affairs
E: alice@soundpocket.org.hk
T: (852) 2356-2226 / 6015-4224