MARCIN DUDEK
'Sovereign Heads'
Yeo Workshop, Singapore
[Press Release]
Yeo Workshop is delighted to announce a solo presentation of by Marcin Dudek, Sovereign Heads, curated by art historian Przemyslaw Strozek.
Inaugurating the exhibition with a bang on the opening night, Marcin Dudek wilI perform a new work that will leave its traces at the doors of the gallery.Following this, the opening weekend will be full of an exciting line-up of events — talks, a magazine launch and an outdoor party.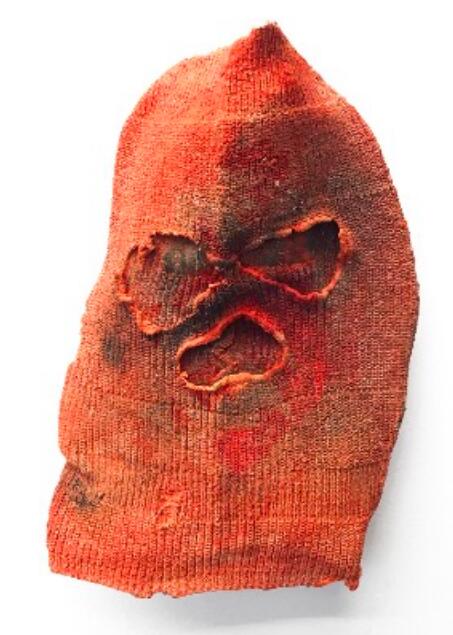 A minuscule photograph found in a private archive by the artist is the auto-biographical starting point for this larger-than-life exhibition. The photograph was taken in 1997, and presents Dudek and his fellow club supporters from Cracovia Kraków in balaclava masks at Górka, a legendary hill that was a tribune of the radical Arka Gdynia football fans, who were allied with Cracovia supporters. As the centrepiece and gateway to the exhibition, the photograph is positioned as an iconic piece of aesthetic history, inserted at the gallery entrance in a dedicated white cube.
Within the gallery, Marcin Dudek has recreated the Górka hill with soil and steel, erecting silicon sculptures of balaclava masks as monuments to his fellow club mates. The masks have been formed according to the unique characteristics of each of these individuals, just as Dudek remembers them. An abstract collage has been obsessively pieced together from medical gaffer tape, and a video has been shot on the same principles as collage. They both are infilled with the same wild memories that now inhabit the gallery.
The reconstruction of a stadium atmosphere in a gallery portrays football subculture differently from how it happens during a real game.The found photograph functions as a document that confirms Dudek's involvement in a hooligan group, but now it becomes aestheticised after being a part of an exhibition structure.
Together with "ready-made" sculptures, the video, and a collage that speaks the language of abstraction, the artworks relate to each other and confront the world of the visual arts with the world of violence. The gallery space becomes thus a place where Dudek's personal experiences clash with the issues of mob psychology, reflecting on his own studies around "the society of the spectacle", and the universal tension between the individual and the crowd.
Marcin Dudek's practice and research has always attempted to reconcile his own violent past as a teenage delinquent and hooligan, with the professional rigour and demands of a contemporary artist. With Sovereign Heads, this tension is unravelled in visceral, manic yet at the same time, meditative ways as the artist's memories and mementos emerge from the earth and soil.
In tandem with the exhibition, a limited edition artist zine has been published with curatorial essays and photographs. Official media partner OOF Magazine will be retailing Issue One at the gallery.