Squint: Kenny Wong's Kinetic Light Installation
[Press Release]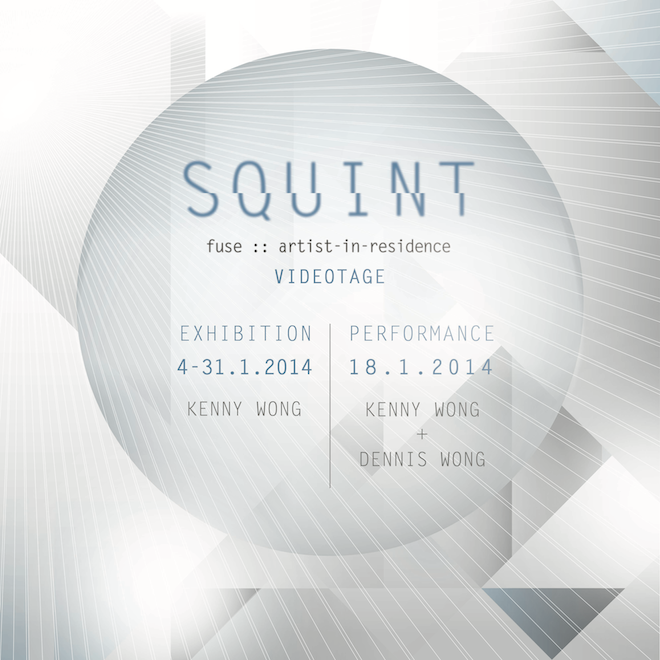 Press release
(13 December 2013, Hong Kong) Videotage is pleased to present the exhibition Squint by the FUSE resident Kenny Wong from January 4th to 31st. Squint is a kinetic light installation consisting of 50 mirrors, inspired by Wong's curious observation of the sunlight bouncing around in our artificial habitat. Moving through the space and at times capturing the flickers, the audience is guaranteed a playful exploration of the nature of light.
Squint draws from various daily experiences in its abstraction and incites the audience to expand their interpretation of lights and perceived imagination into a non-linear experience. Everyday people are dynamically moving around in the city, sunlight reflects and flickers even when it is indirect and hidden behind objects. As we move, we constantly experience the shift of light intensity, visual patterns and textures. These varieties of light form inspire Wong to explore the potential of light textures, and to select and sort out the combined complexity in urban spaces. In the exhibition space, the mirrors track and reflect lights on the audience's face with composed patterns of movements. It extends the generated perception by focusing on how lights pass across our visual senses physically, and combines with our perception of images through flickering.
EXTENDED EVENTS
Audiovisual Performance
7:15pm – 8:30pm, 18 Jan 2014 (Saturday)
Sound Artist Dennis Wong aka Sin:Ned will cross over with Kenny's installation, depicting the sound of Kowloon City amid the flickering of mirrors. Dennis collected 13 sound tracks on 13 old streets in Ma Tau Kok. In the performance, Dennis will interpret the sound of "13 Street" with experimental and electronic process, and orchestrate them with the installation. Mingling in the light and space, the audience is going to hear the humming of little stories, a song about the uncertain future of an abandoned glory age, or nothing but a pale and rootless nostalgia?
Workshop I
3pm-5pm, 11 January, 2014 (Saturday)
Sound artist Dennis Wong will guide the participants to make music instrument by using second hand electronic components. By re-cycling the abandoned second hand components, the participants' will not only be able to enjoy the creative process but to play music together with Dennis at the end of the workshop.
Workshop II
2pm-5pm, 18 January, 2014 (Saturday)
The participants will create an artistic sound device by using second-hand electronic components at the workshop hosted by the multi-media artist Kenny Wong. Through the workshop, the participants will understand more about what is multi-media art and its creative process, as well how to create an art piece from a green approach.
*RSVP: email info@videotage.org.hk / call 2573-1869
Squint: Kenny Wong's Kinetic Light Installation
Exhibition:            4 Jan – 31 Jan 2014 (Monday to Sunday), 12noon – 7pm
Performance:    Saturday 18 Jan 2014, 7:15pm – 8:30pm
Workshop:     3pm-5pm, 11 January, 2014 (Saturday) & 2pm-5pm, 18 January, 2014 (Saturday)
Venue:           Videotage, Unit 13, Cattle Depot Artist Village, 63 Ma Tau Kok Road, To Kwa Wan, Kowloon
Fee:                     Free Admission
Guided tour and artist talk can be arranged per request, please email info@videotage.org.hk or call (852) 25731869 for further information.
About Artists
Kenny WONG
Kenny Wong Chi-Chuen is a Hong Kong media artist. He received his Bachelor of Arts (Hons) in Creative Media from City University of Hong Kong in 2011.Wong puts emphasis on art and multi-discipline research to express the delicate relationship between daily experiences and perceptual stimulations. Wong's interests include exploring visual patterns, alternative perceptual states, sound textures and presenting work of art by creating new experience for audience as the form of interaction. Wong's recent neuroscience-art work "10Hz" received the Gold Award at the 16th Hong Kong Independent Short Film and Video Awards and was exhibited in various exhibitions. His video work "Human Body" has been exhibited across Hong Kong and Korea. Furthermore, as a collaborating artist, multimedia designer, mechanical engineer/designer and art researcher, Wong actively collaborates with other media artists, sound artists and theater performers.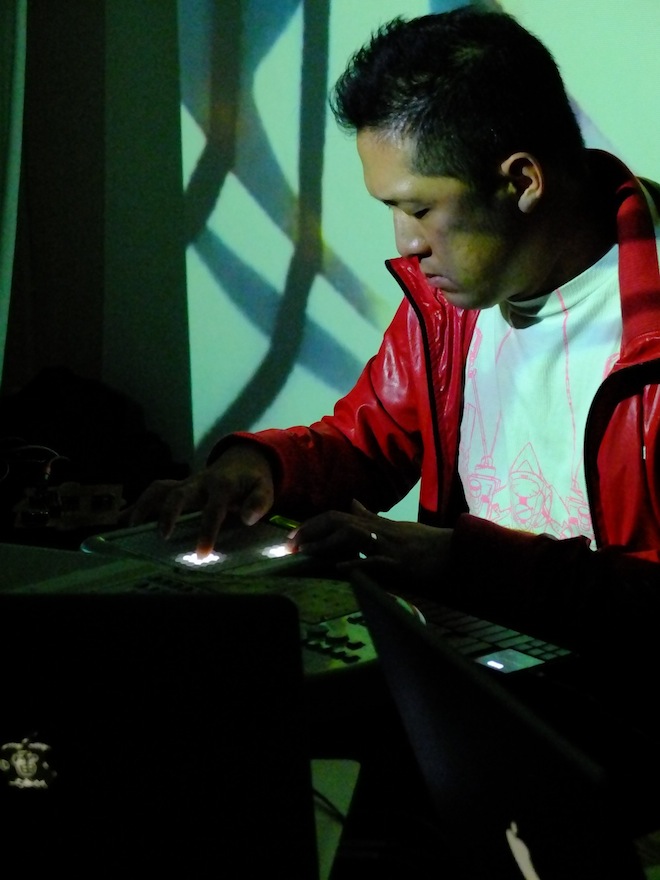 Dennis WONG aka Sin:Ned
Improviser, experimentalist and noise practitioner from Hong Kong. Advocator of sonic mysticism for freedom against the system in chaos and errors. Co-founder of Re-Records (www.re-records.com) and advisor of soundpocket (www.soundpocket.org.hk). Founding member of No One Pulse and After Doom. Currently running the live performance series NOISE to SIGNAL. Being a veteran writer of the legendary Hong Kong alternative music magazine MCB (Music Colony Bi-Weekly), his writings had influenced a wide spectrum of experimental musicians and listeners in Hong Kong and China. As a sound improviser, he has offered performance and creative work for concert, sound installation, workshop, audio-visual and theatrical performance. He had taken part and performed in HK Sound and Vision Festival (2003), Get It Louder (2007), Hong Kong & Shenzhen Biennale of Urbanism/Architecture (2007, 2009), Architecture is Art Festival (2009), Notch Festival 2009 Guangzhou Station (2009), Against 2012: Fukuoka Extreme Music Festival (2012), New Vision Arts Festival (2012), Miji Festival (2013)…etc, and collaborated with artists such as Zbigniew Karkowski, Otomo Yoshihide, Kazuhisa Uchihashi, Alfred 23 Harth, Yan Jun, Torturing Nurse, dj sniff , and Dickson Dee…etc.
About Videotage
Videotage (www.videotage.org.hk) is a leading non-profit organisation in Hong Kong focusing on the promotion, presentation, creation and preservation of video and media art. Founded in 1986, Videotage has developed itself from an umbrella for video artists, to a network of media art and culture for cross-disciplinary cultural productions, and platform to facilitate international exchange. Videotage conceives new media art as a cultural movement that brings art, science and technology into fruitful nodes of intersection.  As a platform, it facilitates interdisciplinary dialogue between artists, scientists, academics and entrepreneurs. In an era where the society is mediated by images and saturated with information, Videotage strives to offer critical perspectives on advances in art & technology and its social and cultural implications.
Videotage also aims at nurturing emerging media artists and developing the local media arts community. It has offered many activities over the past twenty-plus years including exhibitions, presentations (Dorkbot), festivals (Wikitopia), workshops, performance, residency program (FUSE) and cultural exchanges, distribution of artworks through its network and publications; and developing an extensive offline and online video art archive (VMAC).
About FUSE
fuse:: is a regular artist in residence program of Videotage, which aims to support art workers from medium to develop their art concept and to showcase their work to a wider community. The program provides a great opportunity for art and cultural exchange as well as to benefit the local community by sharing a range of programs. The past FUSE residents include Marco De Mutiis (It.), Gillian Wylde (UK) and Ellen Pearlamn (NY).