SU XIANGPAN:A FUZZY DECISION – 55 Gallery
[Press Release]
55 is proud to present a solo exhibition "A Fuzzy Decision" by artist Su Xiangpan, curated by Wang Kaimei.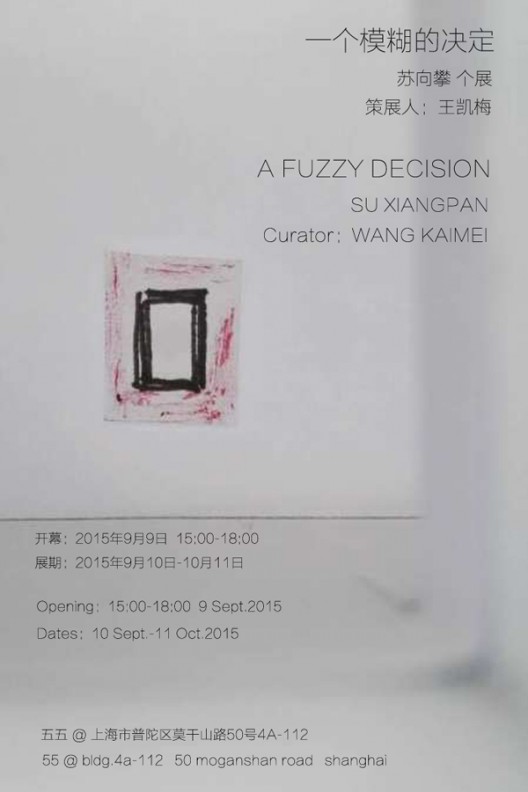 Su Xiangpan has made many fuzzy decisions in his life, including becoming an artist. He spends a lot of time thinking about the making of a painting and its relation with creativity. The final art works of abstract paintings and 3-dimensional sculptures have become the outcome of his thoughts. The paintings, filled with lines, colors and forms, are seemingly based on rational decisions but may as well be intuitional. They present to the viewers a visual experience similar to poem-reading: one can always stop in the middle of a page, putting the book away and returning to it after a while, either starting from where one left or picking up any page any line and read it backward or forward. New meanings and comprehensions start to reveal during such reading and arouse various personal associations: happy and cheerful, heart breaking and melancholy. For the artist, life is about filling such emotional gutters with different encounters. Su Xiangpan's decision of taking his artworks out from his studio and present them in this exhibition is at first hand an invitation to the viewers to share a moment of meditation over some very well-made and beautiful abstract paintings and sculptures. Whether one is affected by his inviting and enjoy these art works or walk away indifferently, it is a gift from the artist to the viewers and vise vice.
"A Fuzzy Decision" contains latest paintings and sculptures by Su Xiangpan. Abstraction has been Su Xiangpan's artistic language, where he explores the dialogue between color, form and background, and which leads to the extended space within the language of abstract sculpture. His seeks harmony with distinctive, well-balanced color scale and invents unexpected intruders to disturb such balance. The aesthetic experience sprouts with vigorous color and calligraphic structure. Thus the poetic lies in the unexpected. As the artist says himself: " I am a snake soaked in a wine jar. Occasionally, I emerge bubbling, hello, stranger…"
Su Xiangpan was born in China in 1984. He obtained his B.A. And M.A. Degrees in Mural Paintings from China Academy of Art in Hangzhou in 2010 and 2014 respectively. He got a Summer residency at Laforet in Italy in 2015. Su Xiangpan 's recent major exhibitions include: "Splendid Night" (Duge Private Art Space, Beijing, 2015); "Art in the City" (chi K11 Art Museum, Shanghai, China, 2014); "Slow Impulses" (55, Shanghai, China, 2014, solo show); "WEIBO" (Song Zhuang Art Museum, Beijing, China, 2013); "Wordless" (West Lake Contemporary Art Museum, Hangzhou, China, 2013).