Swimming in Sand; Growing Rice Under an Umbrella
[Press Release]
Swimming in Sand; Growing Rice Under an Umbrella
Contemporary art as research in South-East Asia
Daily screenings at Big Screen, Federation Square: 25 November – 7 December 2014
Public programs directed by Mikala Tai
Catalogue: fully illustrated catalogue, with an essay by Roger Nelson and a Foreword by Bala Starr, will be available 1 November 2014
Presented by Anita Archer Fine Art
Participating artists:
Alfredo and Isabel Aquilizan (Philippines/Australia)
Chan Dany (Cambodia)
Khvay Samnang with Nget Rady (Cambodia)
Nge Lay (Myanmar)
Nguyen Thi Thanh Mai (Vietnam)
Phan Quang (Vietnam)
Piyarat Piyapongwiwat (Thailand)
Curated by: 
Roger Nelson and Anita Archer
Inquiries:
anita@anitaarcherfineart.com.au
Links: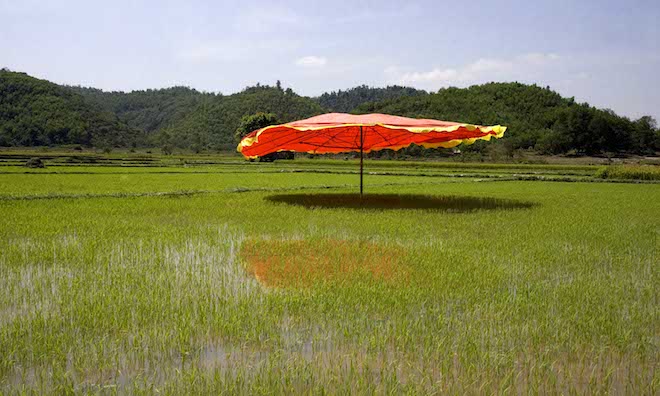 Swimming in Sand; Growing Rice Under an Umbrella presents a new generation of leading contemporary artists from Southeast Asia, highlighting works that have never before been shown in Australia. The exhibition features ambitious projects that approach artistic practice as a mode of research, emphasizing the diversity of methods with which artists in Southeast Asia creatively investigate the world around them. Encompassing photography, video, installation and textiles, a recurrent theme in the exhibited works is a focus on local concerns that intersect with global forces. The emphatically specific merges with the unavoidably universal.
The exhibition's title conveys a sense of the futility—yet this is a gesture of playfulness, taking its cue from the strategies of resistance adopted by the exhibited artists. The works on show are seductively beautiful, yet they also speak of the complex challenges that each artist identifies in various local contexts. In daring to look closely at their world, and in venturing to present that process of research in their practice, these artists defy simplistic understandings of Southeast Asia, and of the role of the artist in the contemporary world.
A highlight of the exhibition is a specially commissioned three-channel video, with accompanying photographs, by leading Cambodian artist Khvay Samnang with dancer Nget Rady. Titled Where Is My Land, the collaborative work features hauntingly beautiful dance sequences filmed and photographed on location in three charged sites in Phnom Penh, including a lake that has been filled with sand and a riverbank that has collapsed as a result of sand dredging. These are places where environmental destruction has been matched by human disaster, in the form of forced evictions and deaths. Where Is My Land is Khvay Samnang's first collaboration with dancer Nget Rady, and the artist's first ever multi-channel video work. It premieres ahead of Khvay Samnang's solo exhibition of multi-channel video at the Jeu de Paume museum in Paris in June 2015, coinciding with his 12-month residency at the Kunstlerhaus Bethanien in Berlin. The work also follows Nget Rady's performance at the Guggenheim Museum in New York City in 2013.
Many of the exhibited artists have enjoyed significant international success at biennales, which are an important marker of respect and achievement in Southeast Asia, in the absence of museums collecting or exhibiting contemporary art in many nations. In the past two years, Khvay Samnang has exhibited at the Moscow International Biennale for Young Art, the Asian Art Triennial, Taipei and the Singapore Biennale; Phan Quang has exhibited at the Fukuoka Asian Art Triennale; Nge Lay has exhibited at the Singapore Biennale and Art Stage Singapore, and Alfredo and Isabel Aquilizan have exhibited at the Sharjah Biennale and the Moscow Biennale for Contemporary Art. Moreover, Piyarat Piyapongwiwat has exhibited in thirteen countries to date, and Nguyen Thi Thanh Mai is in 2014 a recipient of prestigious grants from the Pollock-Krasner Foundation and the Cultural Development and Exchange Fund.
Swimming in Sand; Growing Rice Under an Umbrella includes a dynamic schedule of public programs, and is accompanied by a fully illustrated catalogue including an essay by co-curator Roger Nelson. As such, the exhibition actively engages a diversity of audiences in Melbourne. Moreover, the exhibition offers an unprecedented opportunity for collectors and institutions in Melbourne and beyond to view and acquire work by some of the most exciting and respected artists in Southeast Asia. All works are exhibited for the first time in Australia and all are available for acquisition.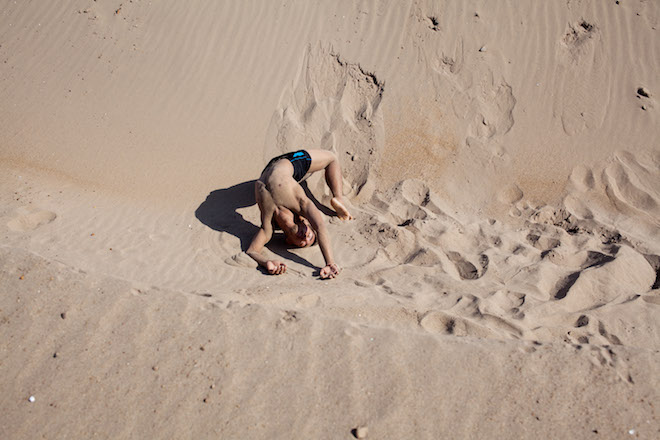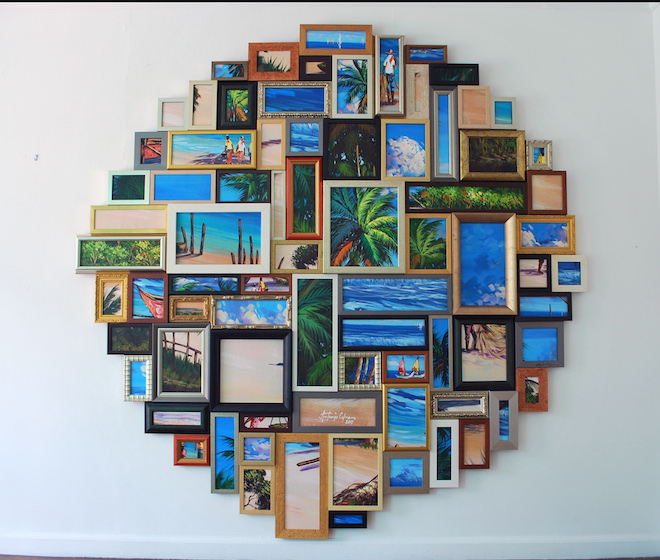 About the curators
Anita Archer is director of Anita Archer Fine Art which was established in 2002 and is one of Australia's leading independent art consultancies specialising in Australian and contemporary Asian art. Anita trained at Sotheby's in London and has held senior corporate and auctioneering roles for major auction houses from Australia, Indonesia, Korea, Japan and Hong Kong. As well as advising significant Australian collectors on the establishment and development of their collections, Anita has co-curated a number of exhibitions including Closing the Gap: Contemporary Indonesian Art at MiFA, Melbourne. Anita is the curator of Mainland Art Fund, Australia's only collector group focused on contemporary Asian art.
She is also a PhD candidate at the University of Melbourne researching the market for contemporary Chinese art.
Roger Nelson is an independent curator based in Phnom Penh, and a PhD candidate at the University of Melbourne researching contemporaneity and recent Cambodian art. He publishes internationally on Southeast Asian contemporary art, including in ArtAsiaPacific; Artlink; Art Monthly Australia; Contemporaneity: Historical Presence in Visual Culture; The Phnom Penh Post; Randian and The Lifted Brow. Recent catalogue essays include Pinaree Sanpitak at Yavuz Fine Art, Singapore; Khvay Samnang at Tomio Koyama Gallery, Singapore; and Khvay Samnang at Taipei's Asian Art Biennial (co-authored with Erin Gleeson). Roger recently spoke on performance in Cambodian visual art at New York's Museum of Modern Art, and is currently working on curatorial projects in Cambodia, Singapore, Thailand, the United Kingdom, and Vietnam.