Tedious Paradise
Wang Yuping
Tang Contemporary Art Hong Kong
[Press Release]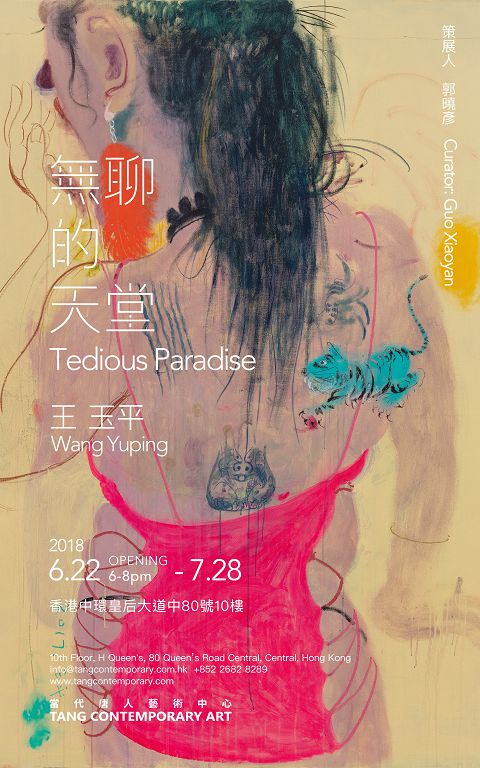 Tang Contemporary Art Hong Kong is proud to announce the opening of Wang Yuping's all-new solo exhibition "Tedious Paradise" at H Queen's on June 22, 2018. Curated by Guo Xiaoyan, the exhibition primarily showcases work Wang made while traveling in Thailand, including the locally-flavored Tuk Tuk and Lady Boy, the watercolor series Cat, and the small Starbucks works. The exhibition will also present Beihai Park, his Beijing sketch series acclaimed for its relaxed, virtuoso technique. When shown together, the works are both moving and delightful.
In looking at Wang Yuping's paintings, we are often unintentionally influenced by things that we never expected, but we are also inexplicably moved by the richness of the images, first by the special emotional quality achieved through his contemplation of the medium, and second, by the colors of his painting. Here, we can see the truth of painting, namely that they always contain deep perceptions, even if they are often ignored. Wang Yuping uses his distinctive painting language and combination of paint to put on a banquet, showing people that he is an artist who continues to create pictorial magic.
His paintings most often come from reality and memories. Reality is the ordinary lived landscape of cities, streets, and people in an era in which time passes too quickly; time flows like water even in our memories, allowing us to feel the afterglow. Wang Yuping uses simple, languid, and quiet emotion to depict the Beijing in which he lives, but those leaping, obvious, and enthusiastic colors show that he has never abandoned the core of painting, namely, the visual sensation of color, and the joy of physical, breathing color. With regard to Wang's use of color in his paintings, the writer Ah Cheng once analyzed it in this way: "Wang Yuping excels at shading. Many people do not do it well and cannot find the right relationships. Wang's pairing of grey tones and shading is incisive, sensitive, and charming."
This Hong Kong exhibition tells the story of his ordinary, relaxed days in Bangkok and Chiang Mai. Wang Yuping said that, more than ten years ago, he traveled to Thailand often. In his eyes, Thailand was a friendly, easy place where people coexisted harmoniously with the natural environment, but the longer he stayed, the more he felt that it was too comfortable and empty— a "tedious paradise." On this trip to Bangkok, he lived in an alley apartment, a quiet place just off a busy street. He went to Starbucks every day to eat breakfast, and he liked to sit there and watch the world go by. The Westerners there made him think of pirates, and he was cheered by a pretty Thai woman walking slowly down the street. He sat there staring, thinking that the world was both tedious and wonderful. The 24 Starbucks works in the exhibition present these interesting figures and scenes, randomly captured on paper napkins.
In this body of work on Thailand, he chose to use acrylic and oil pastel on canvas, as well as paper. His casual, detached images bring us back to vacation. Paintings (figures), like words, are visible, and when people look at the paintings, it's like looking at the figures. The figures exist in these two-dimensional paintings, but we are actually looking into the depths, the depths of memory.