Teppei Kaneuji: Towering Something
[Press Release]
Press Release
Teppei Kaneuji: Towering Something
Teppei Kaneuji (b. 1978, Kyoto) is a sculptor of the everyday absurd. His assemblages, at once playful and powerful, transform objects both ordinary and iconic into sculptural and cut-paper collages, allowing deeper meanings to emerge beyond the preordained social and economic values usually assigned to their components. Consisting of works created on-site by Kaneuji during a residency at UCCA during summer 2012, "Towering Something" is here presented in four series, each displaying Kaneuji's varying methods of seeking out symbol-object relationships and intentionally smothering their projected meanings. By connecting lines, turning shapes inside out, and flip-flopping roles of "inner" and "outer," Kaneuji creates a space in which common objects seem suddenly unfamiliar—resulting in a whimsical separation of purpose and form as well as a dialogue on fundamental human desires and commercial consumption. What's more exciting is that during the exhibition's time at the Shanghai K11 Art Mall, the artist will tailor a new work of art based upon his interpretation of the Art, Humanity, and Nature of the chi K11 art space and display the new work in the exhibition.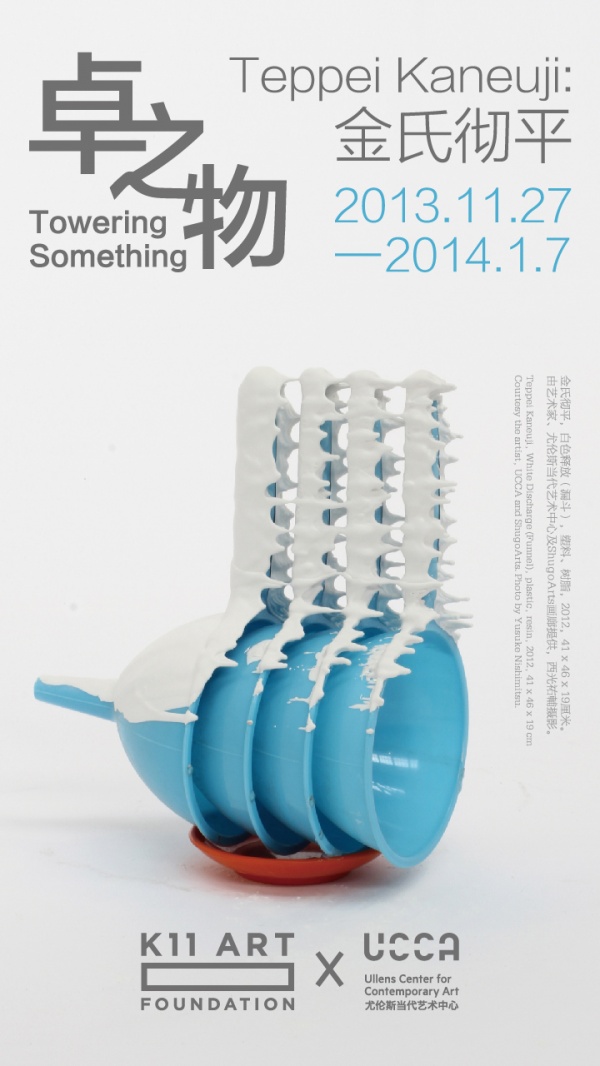 This Exhibition is the first project that organized by K11 ART FOUNDATION and UCCA jointly.
Duration 2013.11.27—2014.1.7
Opening Nov 27, 2013, 17:00, Wednesday
Artists: Teppei Kaneuji
Venue chi K11 art space (Shanghai K11 Art Mall, B3, 300 Huaihai Zhong Lu)
Artist: Teppei Kaneuji
Teppei Kaneuji studied sculpture at the Kyoto City University of the Arts, completing his MA in 2003. His sculptures are fashioned from found objects whose original functions—symbolic and otherwise—are anything but obscure. Employing consumer items including coat hangers, plastic toys, marker pens, and even a set of kitchen knives, Kaneuji's works explore the possibility of interacting with materials in ways other than those preordained by the social and economic values usually assigned to them.
Institution: K11 Art Foundation
Founded in 2012, K11 Art Foundation is a non-profit organisation that is poised to become a dynamic incubating platform where emerging artists and art communities are nurtured and prized for their ideas and contribution to society. K11 Art Foundations' mission and vision is to offer guidance and support to passionate young artists and art enthusiasts in Hong Kong and Asia, providing them with opportunities to collaborate, experiment and ultimately realise their full potential. Leveraging on the success and relentless efforts of K11 Art Space Workshops, K11 Kollection and K11 Artist Klub, participation in these highly-accessible avenues allow K11 Art Foundation to attract a concrete stream of relevant audiences and maximise the exposure of local artists and programmes. The extensive network of K11 in Hong Kong and China inspires a further dialogue between artists, consumers and patrons to strengthen public art appreciation and awareness.