The Curiosity Box (Hong Kong) – The Hometown Tourist by Lam Tung Pang
[Press Release]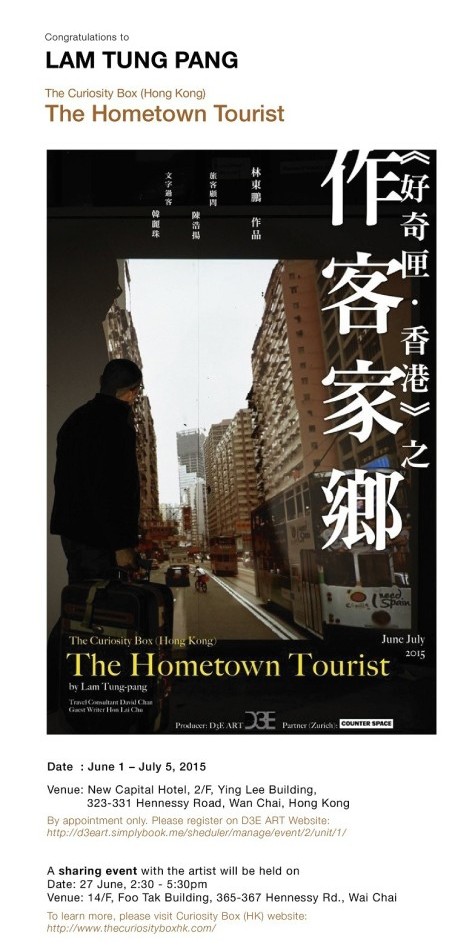 In 2013, artist Lam Tungpang traveled to New York City for the first time to live and work for 2 months, turning his apartment there into a semi-public/semi-private space where he created an installation with drawings and found objects, while inviting friends and strangers to join this creative process. Sponsored by the Asian Cultural Council, the artworks created during this residency were subsequently installed at the Chinese Culture Centre of San Francisco, and thus began Lam's ongoing creative project: The Curiosity Box, and thus began Lam's ongoing creative project: The Curiosity Box. With the New York residency as the first phase and the San Francisco exhibition the second, Lam Tungpang is now embarking on the third phase of his Curiosity Box: The Hometown Tourist.
(To learn more about the project, please visit its official website: http://www.thecuriosityboxhk.com/)
During a time of growing awareness of self-identity within Hong Kong, artist Lam Tungpang has decided to appropriate the role of a "tourist" within his own city. Lam muses that perhaps Hong Kong is undergoing a rebirth, and feels the desire to "re-visit" his hometown anew. To achieve this, the artist will move into a local hotel for 5 weeks, apart from his family, to restage the curiosity that he felt while traveling in the United States. His intention is to create a sense of estrangement with a place he is supposed to be most familiar with.
Lam's home away from home will be the New Capital Hotel in Wan Chai, whereby he will create an in situ installation inside individual rooms that will eventually take up an entire wing of the hotel. Artworks from the San Francisco exhibition will be reconfigured according to the physical constraints of this new setting, shown alongside a new body of artworks created over the course of his 5-week stay.
Lam believes that the line separating art and life is blurry, and the notion of play in an everyday situation or space encourages an intimate interaction with the audience. The Hometown Tourist subverts the necessity of a museum setting for consecrating the value of an object. Adding further layers of alternate reality, Lam has invited a local writer Hon Lai Chu to collaborate as well by writing a travelogue (as a tourist herself) based upon what she discovers during her visit to the Curiosity Box; as well as UK based writer Jennifer Wong (originally from Hong Kong), who will create poetry inspired by the project. Finally, working alongside the local hotel space is a satellite project at a gallery space in Zurich (Counter Space), where Tungpang will embark on a 'virtual residency', exhibited concurrently with his hometown visit. Framed as 'letters to mum', the artist will be feeding content to his alternate, fictional home in Switzerland.
Artist Statement:
Curiosity Box is an on-­‐going project. It started from my 3 months trip to America in 2013 which included objects collecting, drawings, writings, video, cooking and travelling etc as the medium for expressing thoughts that provoked during the trip. A year after returning from U.S., in late 2014, I propose "Being Tourist in hometown" as the third phase of Curiosity Box. In this contradictory statement, I will stay away from family and spend one month in a local hotel. By visiting my hometown instead of travelling to Zurich for a residency, a "virtual" home and family members will be setup in Counter Space (Zurich) to make a possible cultural exchange, at the same time turning my hotel room in Hong Kong as a suitcase, collecting thoughts that made during that month, some "souvenir" or writing etc will send to my "family" in Zurich.
I have no ideas what will come up, maybe everything goes failure in this contradictory statement, but I think that's what happened around me, and "re-visiting" hometown is crucial to my generation, as I have strong sense of lost, or some people may say it's a born of a new city.
Lam Tung-pang
February 2015, at home