Zhang Xuerui
The Everyday as Ontology
Galerie Urs Meile, Lucerne
Galerie Urs Meile is pleased to announce The Everyday as Ontology, the first solo exhibition of Chinese artist Zhang Xuerui (*1979, lives and works in Beijing) at our Lucerne gallery. The exhibition will present Zhang Xuerui's most recent paintings as well as her textile installations.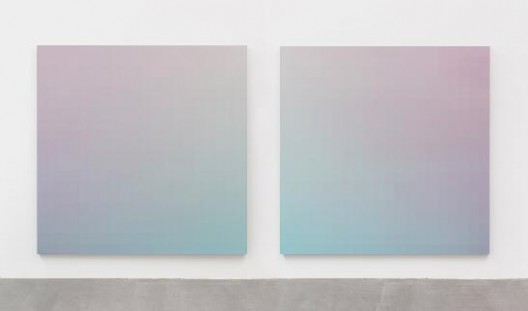 Zhang Xuerui's paintings are often categorized as "abstract painting" within the context of Western contemporary art, however, her "abstraction" takes the root in Chinese aestheticization. The methodology Zhang Xuerui applied on her paintings is to strictly divide the canvas into an orderly grid, and to fill the units in that grid with gradually shifting colors. When she focuses her attention within each single unit in the grid, the act of painting, the control of the body's movements, form an immersive experience. The highly compressed color contrasts of the neighboring squares focus the audiences' attention on the finest color perceptions, so that the viewing of the painting has, just like the act of painting itself, entered into a linear experience. In this way, Zhang Xuerui's painting touches on the sense of the everyday we all inhabit, magnifying a detail, or extending a moment, concentrating on a single shaft of bamboo while ignoring the forest around it.