The Time is Now: A Solo Exhibition for Nigel Rolfe
[Press Release]
From February 1 to February 25, 2018, Red Brick Art Museum will host the solo exhibition "The Time is Now" for legendary performance artist Nigel Rolfe (b. 1950, Isle of Wight, UK). The exhibition, curated by Red Brick Art Museum senior curator Jonas Stampe, will open on January 31. Over a career that began in 1969, spanning five decades, Nigel Rolfe has been one of the most active and prominent practitioners of performance art. This exhibition reviews Rolfe's artistic practice through his past work, site-specific photographs, and more recent pieces. In addition, the exhibition presents important video works by the artist.
Despite his age, Nigel Rolfe will present three live performances during his stay in Beijing. In addition to the performance during the exhibition opening, the artist will also present site-specific performances at the Great Wall and in the garden of Red Brick Art Museum. As an ancient military fortification and a grand landmark in human civilization, the Great Wall has been a creative element in artists' work and and a source of inspiration for performance art. Through his customary methods of analysis, Rolfe will engage in a dialogue with an array of cultural implications and symbolic meanings that the Great Wall has borne throughout history, but he will also address and question the way in which these cultural and symbolic elements have been used in the context of contemporary art. As a contemporary reflection of traditional garden design, the Red Brick Art Museum gardens reflect the spatial aesthetics of the East, providing the artist with a multi-layered cultural context. Switching between ancient and contemporary times and spaces, these three performances, will give Chinese audiences a unique experience through the inclusion of sites with a specific Chinese cultural meaning.
Jonas Stampe, curator for the upcoming exhibition, says, "to experience a live action by Rolfe is to live a unique moment. Mastering his body and mind in time with a profound sense of detail, Rolfe knows how to show presence. He seizes the moment in movements and in stillness, inventing sensible images of beauty and meaning. Rolfes' interactions with the worlds of matter and thought are of course ephemeral, just like life, but the images he creates are powerful and at times, breathtaking. "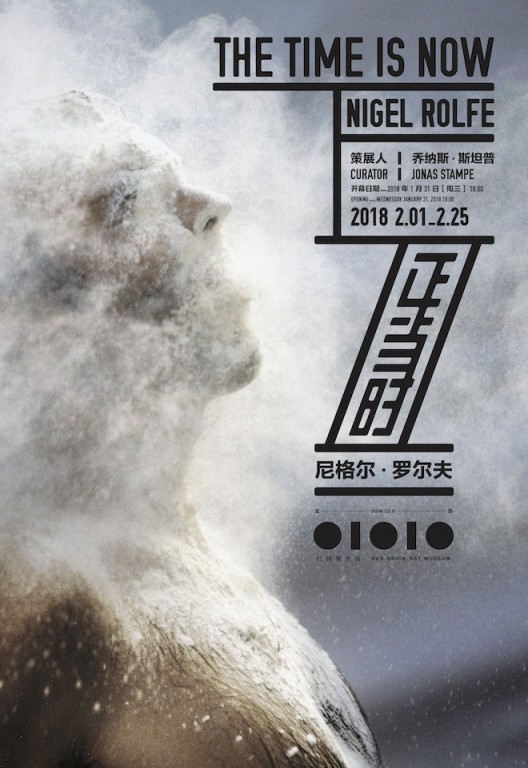 Nigel Rolfe's performance art is rooted in the early movement of performance art in the 1960s, and he sees his body as "sculpture in motion" and a painting tool; the artist directly interacts with or resists water, fire, air, earth, wood, and other raw materials and environments. He seeks and builds a dynamic and visual process of balance, chaotic violence, and collapse. He has always seen his body as a tool for challenging biological and psychological limits and revealing the fragility of life. In recent years, Nigel Rolfe has moved into photography and video, though nearly always trading in images relating to his performance work, or to specific objects used in his performances, permeated with his social engagement.
As one of the great practitioners of performance art and a knowledgeable, analytical scholar, Nigel Rolfe has held retrospective exhibitions at the Irish Museum of Modern Art in Dublin and the Musée d'Art Moderne de la Ville in Paris. The artist has been showcased at the biennials of Dublin, Paris, Venice, São Paulo, Busan and Kwangju. He has taught at Yale University, the Art Institute of Chicago, the University of Pennsylvania, the China Central Academy of Fine Arts, and Goldsmiths, University of London. He is currently a professor at the Royal College of Art in London. His video work, 'Hand On Face' was shown worldwide to an audience of 600 million people in 67 countries at the Free Nelson Mandela Concert in 1988 at the Wembley Stadium in London.