Times Heterotopia Trilogy III – The Man Who Never Threw Anything Away -Guangdong Times Museum
[Press Release]
Participating artists: Theater 44, Chen Yin-Ju, Duan Jianyu, Geng Jianyi, Ha Bik Chuen (Leo Li Chen as Research Curator), Huang Xiaopeng, Liu Chuang, Luo Jr-Shin, Tang Kwok-Hin, Wang Jianwei, Yan Xing, Yang Yuanyuan, Yip Kin Bon
Curated by: Nikita Yingqian Cai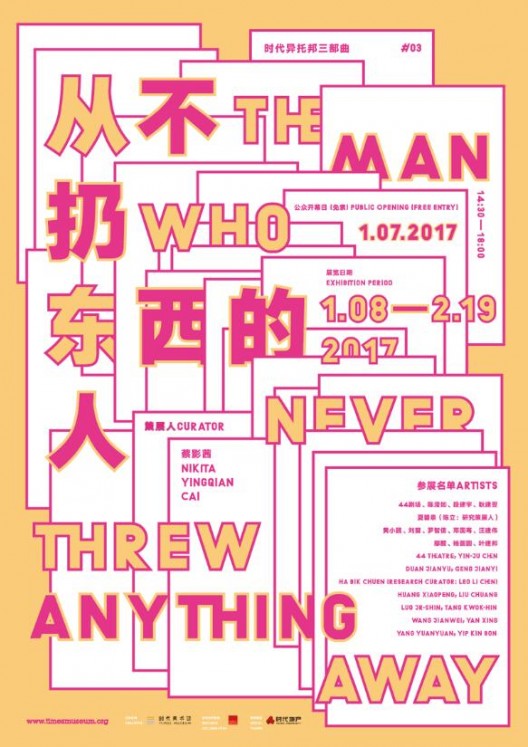 The Man Who Never Threw Anything Away borrows its title from an installation of the same name in Ilya Kabakov's Ten Characters (1988). Kabakov constructed the fictional character of a crazed hoarder: his room like a landfill of memories, full of all sorts of labeled objects, yet this mysterious occupant was almost never seen. As an artist of the former Soviet Union, the recognition of Kabakov and his works in the West occurred alongside the Post-Cold War period's increased accessibility and gradual democratization of archives. Once moving beyond the Cold War ideology, "The Man Who Never Threw Anything Away" can be seen as a fable of the internet era: the archive can now be expanded to hold records of all media. In addition to printed matter and physical objects in a material sense, it also includes dematerialized forms of intelligence, information and data. The concept of "physical evidence" has been challenged, and archives that exist completely in a material sense are undergoing yet another "death"—what the The Man Who Never Threw Anything Away leaves behind might only exist in cyberspace.
It is not a problem for internet surfers to trace a fact or an identity through the internet, though the challenge is more to establish a relationship between the multiple narratives or histories and the personal experience and perception. Image as pure existence has become the one and only immediacy in real time: there is an inexhaustible online archive on one hand; and on the other, non-stop streams of webcast and performances. This fever to keep and store every personal moment and memory presents an attack on the exclusive mode of archiving and interpreting, and the static and materialized forms of authority; the infinite visualization of information eclipse the origins of image and the legitimacy of the author.
For those artists who are motivated by the "archival impulse," the creativity of working with archive lies in the suspended moment that the archive is removed from its original context, and yet to be rendered as meaning. Artists do not only collect existing images, materials, information, documents, and footages produced by others, but also carry out processes of editing, reconfiguration, and even fictionalization. The archive—dead or alive—provides freedom for artists to move nomadically between text and image, between perceptual networks and systems of knowledge. Their passion for the archive has always contained a concern for affect, materiality, and form.
As a collector of the old world and an archivist of the new world, what does the temporal-spatial presence of a museum contribute to our cognitive process and probe for knowledge? Can artists and artworks offer answers about objects and images different from those that can be found through searching engines? The Man Who Never Threw Anything Away is the final episode in the Times Heterotopia Trilogy, a continuation of A Museum That Is Not (2011) and You Can Only Think About Something If You Think of Something Else (2014). In these self-referential projects, Times Museum explores the possible role that an art institution might play in contemporary society's complex and diverse realities, histories, and futures.