Tina Keng Gallery| Moist and Burnt: As Ink Breathes, Yuan Hui-Li Solo Exhibition
[Press Release]
Contemporary ink painter Yuan Hui-Li, ideologically inclined by her perception of tradition, history, and context, has long been on the path to innovation. Her second solo exhibition at the Tina Keng Gallery, Moist and Burnt: As Ink Breathes continues the artist's exploration of ink and possibilities of modernity within this medium, as she draws parallels between the condition of air and the two physical properties of ink. Classical painting theories emphasize the vivacious expression of swirling clouds of mist in ink. This principle gave rise to the "moistness" in literati painters' use of the medium, which has prevailed for centuries. The traditional view of moistness in ink, when confronted with the scorchedness in the air induced by modern-day industrialization, appears to be antiquated. Out of these circumstances was born "Fiery Ink," Yuan's original series where she juxtaposes the "burntness" of smog and the "moistness" of ink, bridging the gap between traditional and contemporary contexts for this age-old medium.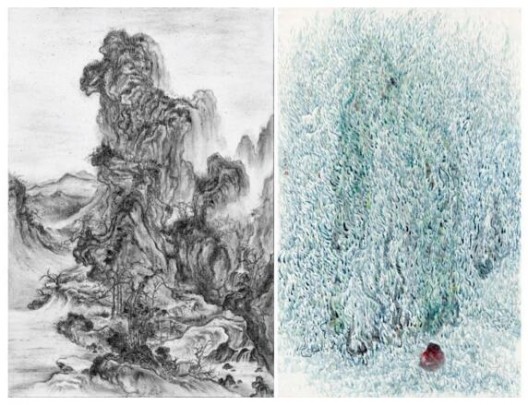 Informed by the artist's knowledge of ancient art history and contemporary practice, as well as her distinct experience of two forms of respiration, the exhibition is a dialectical response to humanity's status quo which draws a contrast between mist and smog, moistness and burntness, traditional ink and fiery ink. The transformable physicality of ink echoes her observation and reflection on the changing environment and its impact on human existence. Juxtaposing the natural elements of water and fire, the artist proposes a dialectic between two kinds of ink aesthetics in an examination of the human respiration. To reinterpret classical Chinese painting in fiery ink, just as famed curator Xia Ke-Jun once said, "is a restructuring of traditional ink painting after its withering," and "an authentic expression of modern aesthetics."
Yuan Hui-Li will conduct a performance from her latest series "Fiery Ink" on July 8 at 4:30 p.m., where she presents Fiery Ink, Early Spring by Guo Xi (2017), finalizing the piece through a bodily act, as she worships classical art while underlining the catastrophic impact of modern civilization on the environment. Please join us at the Tina Keng Gallery on the opening day and witness firsthand the creative process of the "Fiery Ink" series.
About Yuan Hui-Li
Born in 1963 in Taipei, Taiwan, Yuan Hui-Li is also known as Yuan Shu. She received a bachelor's degree from the first Chinese ink painting program of the National Institute of the Arts (now TNUA) in 1987, a master's degree in ink painting from the Taipei National University of the Arts in 2005, and a doctoral degree in art creation and theory from the Tainan National University of the Arts in 2016. She was a lecturer at the department of arts and design at the National Hsinchu University, and the department of architecture at the Tamkang University. Her work is housed in the collection of several international institutions, including the UBS (Union Bank of Switzerland), London, UK; Kaohsiung Museum of Fine Arts, Kaohsiung, Taiwan; National Taiwan Museum of Fine Arts, Taichung, Taiwan; Kuandu Museum of Fine Arts, Taipei, Taiwan; Juming Museum, New Taipei City, Taiwan; and Han House Museum, Hangzhou, China. Notable exhibitions include Reading the Landscape: Stories from Artists, Kaohsiung Museum of Fine Arts, Kaohsiung, Taiwan (2016); A Place of One's Own: Juming Museum Collection, Juming Museum, New Taipei City, Taiwan (2016); Reshaping Tradition, China Central Academy of Fine Arts, Beijing, China (2015); Plural Landscape: Yuan Hui-Li Solo Exhibition, Tina Keng Gallery, Taipei, Taiwan (2014); and Element.Rhythm: Yuan Hui-Li Solo Exhibition, Han House Museum, Hangzhou, China (2010).
(Read more)