TOUGH GUYS DON'T DANCE
[Press Release]
[Press release]
HE An Solo Exhibition in MadeIn Gallery
Opening: Nov 11, 2014, 15:00
Exhibition period: Nov 12—Dec 28 (Tue to Sun, 11:00 – 18:00)
Venue: MadeIn Gallery (4F, Bldg 7, 50 Moganshan Road, 200060 Shanghai)
On the 11th of November, MadeIn Gallery will present "Tough Guys Don't Dance", a solo exhibition by HE An. On this occasion, the artist will create a new series of installations.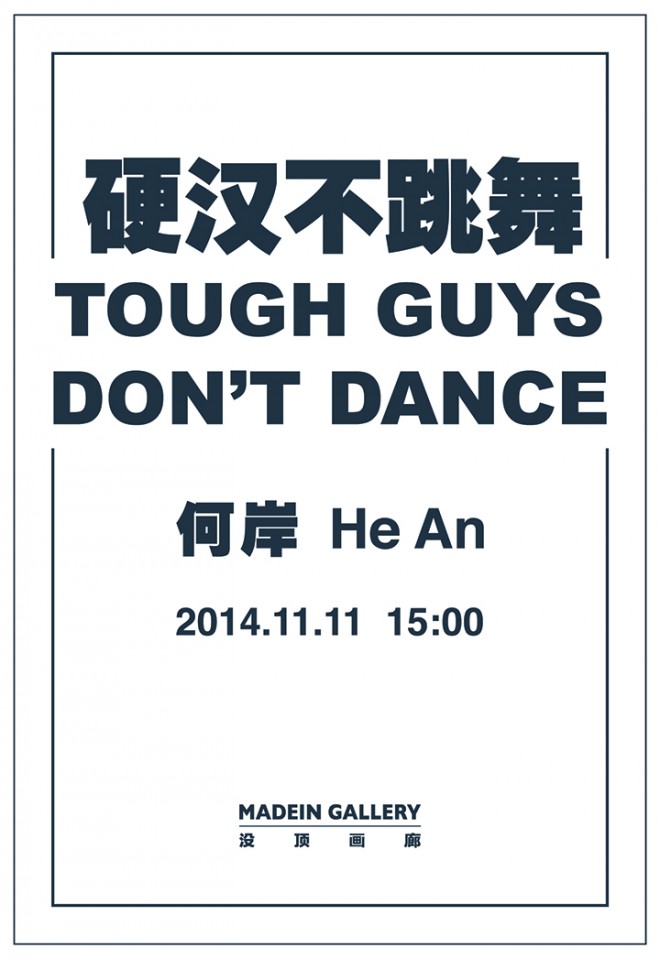 HE An is one of the most representatives artists of his generation; his practice covers installation, sculpture, photograph and other media. With the Chinese economic expansion as a background, HE An's works reflect the phenomena of Chinese urbanization and its psychological or emotional repercussions. Combining light boxes, billboards, neon lights and other materials, HE An turns urban symbols into a language. In his search for the city's emotional truth, the artist creates various set-ups with architectural elements, inviting viewers to experiment a space affected by violent, romantic, intimate, almost obsessional thoughts.
This exhibition in MadeIn Gallery "Tough Guys Don't Dance constitutes" a new emotional projection. The title "Tough Guys Don't Dance" comes from a novel by the American author Norman Mailer. HE An borrowed the contradictory powerlessness highlighted in this story. A scene where an old man kills a prostitute on a beach brought several thoughts to the artist: "memory is multi-layered, fragments that have been repeatedly held back. How many memories can make people think that they weren't growing in an illusion. Each time I grit my teeth, I can clearly remember the feeling of concussion when the car accident occurred. It wasn't a blasting sound but more like a thump. The body is like a deflating balloon: in fact, attempting to change every negative attitude into a pop feeling, might be a beneficial difficulty."
"Tough Guys Don't Dance" will present new creations by HE An. Aside from this exhibition in MadeIn Gallery, a selection of artworks will be displayed in the Art021 Art Fair in Shanghai.
About HE An:
He An is one of the most representative artists of his generation in China.
Born in 1972 in Wuhan, he lives and works in Beijing. His practice covers photography, sculptures and installations. He has exhibited in Japan (2000), New York (2001) and Canton (2003) and participated in collective international exhibitions, such as "The Real Thing" at the Tate Liverpool in 2007, "Rendez-vous 2008" at the Musée d'art contemporain (MAC) in Lyon, "Art Basel Unlimited" in Art Basel 2013 and "The 2013 Carnegie International" (Carnegie Museum) in Pittsburgh.
About MadeIn Gallery:
Established in 2009, MadeIn Company, is a contemporary art creation company, focused on the production of creativity and devoted to the research of contemporary culture's infinite possibilities. In 2014, MadeIn Company founded MadeIn Gallery, a gallery dedicated to the promotion of talented international artists, holding high quality art events and exhibitions, with an accent on contemporary culture development and communication.
Exhibition details:
Venue: MadeIn Gallery
4/F, Bldg 7, 50 Moganshan Road, 200060 Shanghai, China
Contact: Nico Liu
Tel: +86 21 6070 9561 |+86 152 5789 1263
Email: nicomadein@gmail.com, info@madeingallery.com
www.madeingallery.com