TOUS LES CHEVAUX DU ROI
Tabula Rasa Gallery
[Press Release]
Tabula Rasa Gallery is proud to announce the opening of TOUS LES CHEVAUX DU ROI, a group show curated by Wang Paopao, on September 22, 2018. The exhibition will feature the works of 5 artists and run until October 26, 2018.
Focusing on the concept of "work", TOUS LES CHEVAUX DU ROI groups together artworks that have been "reified" by their creators as well as artists' ongoing projects, dreams yet to be realized, future plans and research directions, etc.
With this exhibition, we hope to touch on—to varying degrees—different aspects of the relationship between artists and the form of production and organization known as "work", such as the individual's role, value relations and responding strategies, and to unveil and discuss some of them in detail.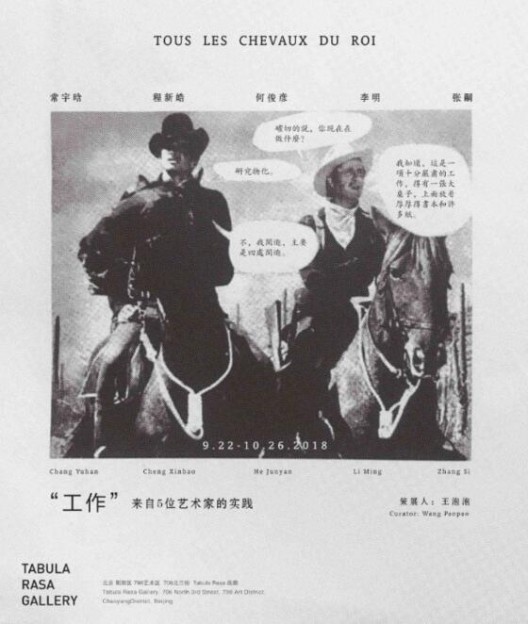 Preface
"What do you do, exactly? I have no idea."
"I reify."
"I see…serious work, with big books and a big table cluttered with papers."
"No…I walk. Mostly I walk." [1]
The conversation above comes from All the King's Horses (Tous les chevaux du roi) (1960), a novel by Michèle Bernstein that seems quite gossipy to readers today. Bernstein was the first wife of the philosopher Guy Debord, and the subject of gossip in the book is her Situationist husband.
This does not mean or suggest, however, that we've put together an exhibition on or about the Situationists.
The focus of this exhibition is "work", and there's no better way to start than opening the discussion with Debord's quote, "Ne travaillez jamais (Never Work)!"
Is work still work when it's put in quotation marks?
Is "work" holding work incommunicado for the sake of investigation? Is it fighting against work? Is it dispersing and cutting up highly organized social division of labor?
It's doing all these things, but they are either not enough or too much.
This exhibition raises a difficult question: if art is reconditioned as an ordinary job assigned to the individual by the system, will the "work" of an artist still have any special value when it's only being distinguished and emphasized rhetorically? When we attempt to talk about "work" on the merits of "work", how should the dimension of an artwork be heeded and inquired into?
One possible theory is that the artwork still exists, but it will be summoned and presented in court as evidence of "work"; the artwork will be re-measured, reevaluated and transformed into criticism and exposure of the artist's work and his or her individual system: the meaning of a meaning is that it must be calculated within a much bigger plot and juxtaposed with more than one meaning.
We have invited five young artists to participate in this exhibition.
Li Ming is in it deeper than he wants to be; is breaking away from his decade-long career as an artist his most urgent "work"? Cheng Xinhao is someone who is least likely to answer the question of "work" by saying "I walk…mostly I walk"; He is committed and absorbed, and keeps questioning the genealogy of the reality of capitalism like a workaholic. He Junyan, who works and lives in Zhuhai, chooses to respond to the way the grand narrative of cosmology manipulates people and places with limited factual and physical practices. Zhang Si and Chang Yuhan are two young artists who refuse to be formatted: Zhang performs his own disproportionate inversion and dissolution on traditional aesthetics and everyday memory, whereas Chang's work expresses a persistent desire to manipulate the spectacles of knowledge and identity in the context of globalization…
What kind of big data can mitigate and clarify the variety of peculiar passions artists have given to their "work"?
Perhaps the question of "work" can only be answered with the quote, "ne travaillez jamais".
Wang Paopao