Video Art Exhibition Beyond Frozen Point Coming up in Shanghai -
[Press Release]
Artists: Are&Sturla Pilskog (Norway), Elle Marja Eira (Norway), Xiaofei Li, Liselotte Wajstedt (Sweden), Tobias Bernstrup (Sweden), Rui Wang, Lian Yi, Bohua Tang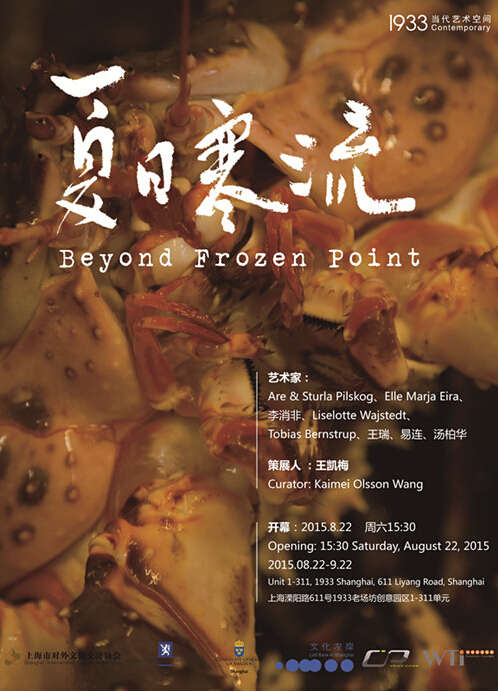 We are very pleased to present Beyond Frozen Point, a video art exhibition curated by independent critic and curator Kaimei Olsson Wang, featuring artworks made by artists from China and Northern Europe. Throughout the exhibit, we will extend the notion of a cold climate as a physical experience as well as a state of mind, showing a visual art exhibition of video art and multimedia installations. The works shown emerged from the artists' research of classical paintings and texts as well as indigenous mythologies, from personal emotions to collective forms of remembrance.
Destruction, desolation, disillusionment, and dystopia are some of the keywords of the artworks in the exhibition that in first hand deal with the physicality of low temperature. However, the journey is also filled with images of love, empathy, faith and unexpected discoveries at the northernmost end of the Earth. The artworks are all from the geographical territory near the North Pole, and meditate over timeless and fundamental questions of life and love.
Finally, as a special screening event, we are very honored to show the 71th Venice Film Festival Golden Lion winner "A Pigeon Sat On A Branch Reflecting On Existence" directed by Swedish director Roy Andersson to conclude our search for Nordic identity and interrogation of the meaning of life.
This project is generously sponsored by the Shanghai International Culture Association, the General Consulate of Sweden in Shanghai, the General Consulate of Norway in Shanghai and the Finland Film Institute.
About the Curator
Kaimei Olsson Wang, born in Inner Mongolia, China and studied in Beijing and lived in Sweden and Singapore for longer period. Kaimei worked with cultural exchange between Nordic countries and China, made TV-programs and wrote and translated books on this theme. She worked as Nordic correspondence for Xinhua News Agency. She holds a MA on contemporary art at the Sotheby's Institute of Art and established herself as an art critic and exhibition curator in Shanghai.
About 1933 Contemporary
Located in 1933 Shanghai, the unique historical art deco style architecture restored from a former abattoir and derelict factory, 1933 Contemporary occupies an exhibition space of 400 square metres devoted to contemporary art across disciplines and culture through working closely with curators and leading intellectuals in the field. The gallery is committed to representing and exhibiting fascinating visions. Founded in 2011, the gallery was previously located in Moganshan 50, in which it worked as a platform for emerging talents having organized eighteen exhibitions over the past three years, launched and fostered the career of some of China's most prominent young artists out of Shanghai.