FAIZAL YUNUS
'Vortext'
Richard Koh Fine Art, Kuala Lumpur
Richard Koh Fine Art (RKFA) is pleased to announce a solo exhibition by Faizal Yunus at Richard Koh Fine Art, 229, Jalan Maarof, Bukit Bandaraya, Bangsar 59100, Kuala Lumpur. Vortex is the artist's second solo exhibition with the gallery and is scheduled to run from 26 June – 14 July 2018. The exhibition, presenting 19 floor and wall mounted canvas pieces, is a visual documentation of the artist's response to the shifting landscapes due to pollution and global warming. The Opening Reception will take place on Tuesday, 26 June 2018, from 5 – 8pm.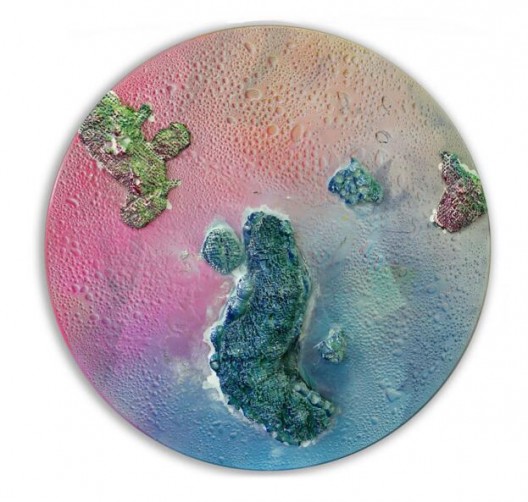 Constantly seeking to employ printmaking methods beyond the confinements of a traditional printmaking studio, Faizal Yunus goes deeper into the conditions of his main inspiration, Mother Nature. Realizing the impact and consequences he had knowingly or unknowingly contributed to, he uses construction net and polyutherane, as symbols for the main polluting agent, to make a statement. This new adaptation allows him to inject more dimension throughout his investigation and exploration for print techniques and on nature. The artworks are a poetic representation of new landscapes considered from new perspectives, imagined and removed from the desolation it carries, bringing awareness to an apparent reality that we are living in.
Presented on singular, multi-paneled and circular format, they call for new attention to global warming at a time where the rising sea levels, newly formed earth cracks and rise of volcanic activity constantly hitting the news. Faizal documents this geological epoch by recreating imagined coastal lines and aerial view of landfills delivered through the presentation of wall mounted painted prints, as though the earth was sliced through from crust to core. While the circular floor works of earthen hues, neon accents and reef-like relief put forward the impression of debris islets lost at sea, the artist's representation of the Great Pacific Garbage Patch, also known as the Pacific trash vortex, one that eludes the surveillance of Google Earth satellites and one that sparked him on his very journey.
Vortex calls for awareness on the crucial and necessary discussion on the dire state of our surrounding environment. It considers the many issues choking on Mother Nature today, a statement and visual documentation of shifting landscapes as a consequence of poor stewardship. They are the dits and dahs of a distress code from the earth, seeking awareness to prevent the detrimental loss of our entire eco system through the mindless consumptions of mankind compounded over time.