WHO CARES, Hu Weiyi | Wang Man dual solo show |Don Gallery
Photography | Video | Installation
Don Gallery is delighted to present the dual exhibition WHO CARES of HU Weiyi and WANG Man, opening April 11th, 2015. While the title refers mostly to an attitude amongst the young and restless in China, it is less the big agendas these young artists are concerned with, rather what is tangible for them on an immediate level-although, not particularly without asking further questions as "The Personal is Political". The exhibition includes recent and new works in photography, video and installation, which could be described as various "representations" of body. Moreover, these corporeal tendencies are not without close relation to the complexities of life, obscurities of emotions and our relation to others.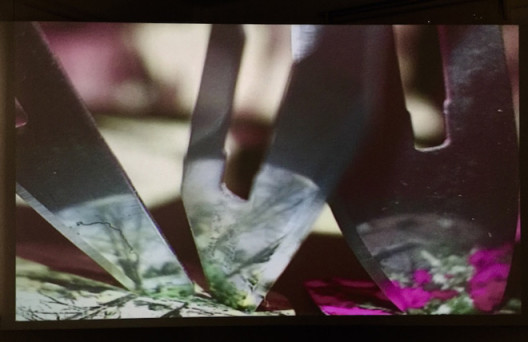 Focusing on the ontology of a dispersed and manipulated rather than objective body, HU Weiyi's 14 Minutes photography series presents imprints left of underwear and accessories on a young female's skin. Missing a face is adding anonymity to the artificiality of her fragmented body, and we wonder about the way these imprints might have been caused, suggesting even a little torture. Using the body as an aesthetic surface and experimental ground, while counting the minutes theses traces need to disappear, we also wonder about the possible implications of this moment of "evidence" as we look at it in the face of time. Whereas in HU's real time video installation, with three cameras filming a trisection of landscapes-body, nature, and consumption goods reflected on the edge of blades-the artist continues to arouse our senses by displaying a harmed, and possibly harmful, relationship in their encroaching co-dependency.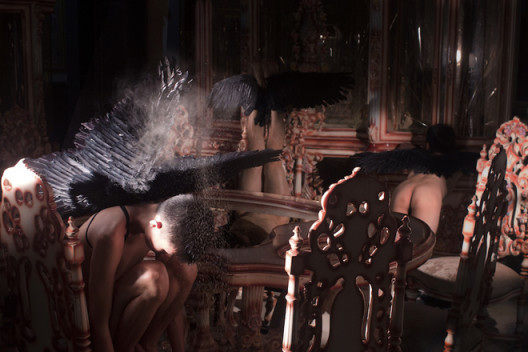 The works of WANG Man sense a stronger emphasis on the performative and self-participatory in his art. In Night, enactments of masculine nudity against a staged, dream-like background are at the centre of his photographic composition. One cannot but wonder about the meticulous arrangement of pose and setting; seeming symbolically charged, showing various chapters of an emotional cocktail that is provoking and seeking balance at the same time. Using the body as a carrier of emotions, in his video work, WANG Man tries to make their complexity visible: like the invisibility of pain in Taming; or the different expressions of emotional understanding, presented as a three-channel video with the artist either participating as stage prop, or main role, in the company of music and dance.
Wang Man, born in 1988 in Wenzhou, graduated from the department of public art at China Academy of Art in 2013. He currently studies at China East Normal University where he earns his MFA under Tian Weiyu. Since 2012 he participated in various group exhibitions, including at V Art Center, Shanghai (2013), Space Station, Beijing (2013) and Minsheng Art Museum, Shanghai (2014).
Born in Shanghai in 1990, Hu Weiyi graduated from the department of public art at China Academy of Art in 2013. He currently earns his MFA at the media department under Zhang Peili. He recently held his first solo exhibition at M50 Art Space, Shanghai (2014). For his photography installation Flirt, he was awarded the grand jury prize by Sanya Arts Festival Arima Youth Award (2014). He participated in various group exhibitions at Momentum, Berlin (2014), Wuhan 3rd Documentary Exhibition of Fine Arts, Wuhan (2014) and the second CAFAM Future show, Beijing (2015). He held a residency at V2, Rotterdam in 2013.