YANG FUDONG: Moving Mountains, OCAT Xi'an
[Press Release]
OCAT Xi'an is particularly proud to host Yang Fudong's new work, the feature-length film piece entitled Moving Mountains, which is also one of the latest artist commission from the Rolls-Royce Art Programme.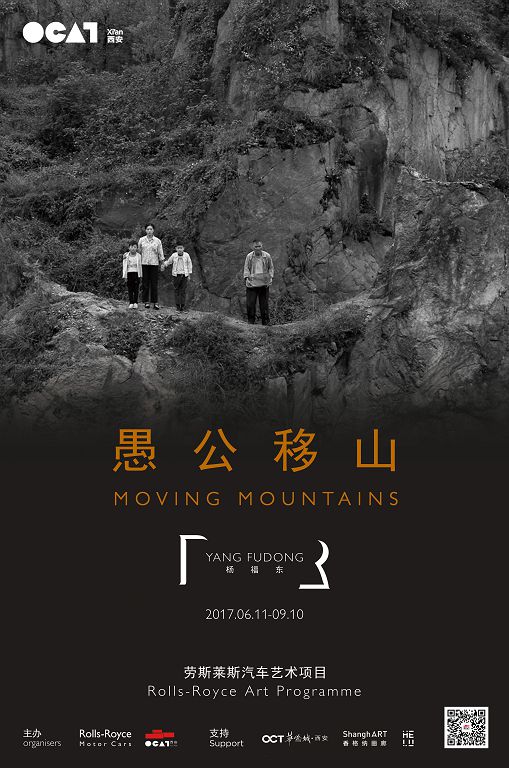 Moving Mountains is inspired by the ancient tale of a man, whom some called foolish for seeking to move a mountain. Yang Fudong makes this story a poetic reflection upon human nature and the shifting values to which it can be subject, presented in a 46-minute black-and-white film, Moving Mountains, completed in November 2016 at the invitation of the Rolls-Royce Art Programme.
A primary inspiration here is an untitled but nonetheless masterful ink painting produced by Xu Beihong (1895-1953) in the early 1940s. The film mirrors the spirit of endurance that Xu Beihong's painting extolls. It further muses upon the virtues of perseverance and willpower attached to the well-known Chinese fable. Yet, Moving Mountains explores a new interpretation by taking the old metaphoric story of the foolish man as an outlet for a contemporary reflection upon life's trial. The spirit of motherhood is central and embodied in a character played by the popular actress Wan Qian.
Age old stories can be hard to tell visually; how not to be illustrative? How to transcend time and place? With Moving Mountains Yang Fudong returns to the naturalistic monochromatic palette that has come to characterise his oeuvre, as seen in the distinct landscape of multi-channeled video installations such as East of Que Village 2007 and Blue Kylin 2008. Blue Kylin, in particular, offers a particular parallel in its rumination on the labor of workers in a stone quarry, with all the attendant environmental issues. Moving Mountains shares the weight of human toil, in environs that are their own closed world. With Moving Mountains the challenge Yang Fudong set himself is well met. In making the tale his own, he has produced a moving cinematic experience that is dark and poignant.
For the exhibition at OCAT Xi'an, the film Moving Mountains is the focal point of a display which combines a second moving image work, A Resolute Woman 2016, 10'31" (雷厉风行的女人), together with multiple elements from the production process.
It is particularly rewarding for OCAT Xi'an, as a young institution, to partner with Rolls-Royce, Two parties jointly foster creativity and, in particular, enabling artists to explore new areas of their practice. Art and creative endeavour are at the heart of Rolls-Royce and its motor cars are commissioned for their aesthetic power. By creating an Art Programme, Rolls-Royce has formally acknowledged this unique shared ethos with the world of art. Partnerships like this one with Rolls-Royce enable us to set our standards high and continue this extraordinary journey in the heart of China, the ancient city of Xi'an.
OCAT Xi'an would also like to thank ShanghART Gallery, which represents Yang Fudong and has supported his artistic endeavor from his first film Estranged Paradise, 1997/2002, for its support in producing this exhibition; and thanks also goes to Shanghai HELU Culture Communication Co., Ltd., for loan of the equipments for Yang Fudong's project.
About the artist:
Yang Fudong (b. 1971) is an artist and cinematographer whose work is internationally celebrated. He began working with film in the late 1990s, producing his first feature, Estranged Paradise, in 1997/2002. He has since produced a major body of film work and multi-screen installations. These largely explore the socio-cultural paradigm of contemporary China, with a particular focus on the experience of his own generation, and characters that find themselves at odds with society. To date, Yang Fudong's works have been exhibited world-wide. Born in Beijing, Yang Fudong has lived and worked in Shanghai since 1998.