YANG SHEN
'Garden Oddity'
MadeIn Gallery, Shanghai
[Press Release]
MadeIn Gallery is pleased to present for the first time "Garden Oddity" an exhibition of Yang Shen's oil paintings from 2011 to 2018, opening on March 24th, 2018.
The uncommon narrative, enigmatic and absurd atmosphere, along with the black humor that emanate from Yang's works stem from the artist's distortion and fabrication of reality and memory. Creating whimsical sceneries he untangles both intimate and alienated relations between himself and the times using painting.
Yang graduated from the Central Academy of Fine Arts in Mural Art. Through continuous practice and unceasing exploration of painting language, Yang gradually established in a period of almost ten years his creation theme: the connection between personal memories, experiences, fantasies and historical times.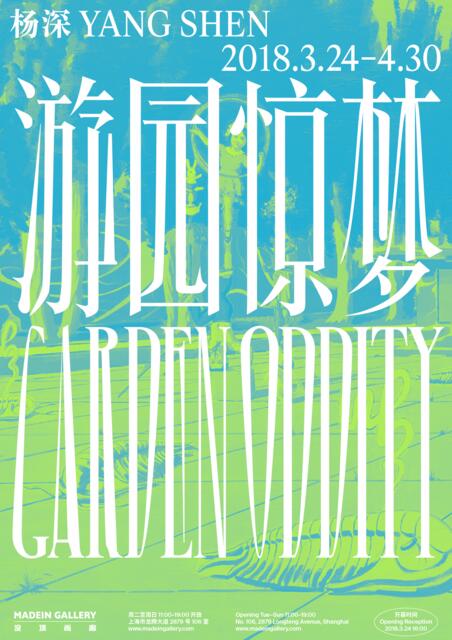 Yang's paintings are profoundly narrative-oriented, using illusory imagination to transform daily scenes into absurd and surrealistic experiences. The source of his inspiration is abundant, comprising childhood memories, unusual scenes from science fiction films, as well as diverse images from the biological world. Applying narrative logic as a foundation, he twists visual elements such as comic strips, commercial posters and artistic fonts, to create a two dimensional magical realistic dream – although with an odd appearance, they are rooted in a common indescribable experience of the times.
The title of the exhibition, "Garden Oddity," is based on the artist's eponymous work and reflects the subject of the painting while constituting a metaphor for the experience of the times. Throughout the past eight years of Yang's creation, one can feel the artist's statement as an individual born in the 70's, facing the changes of the time and the cultural consequences. In a fastly developing contemporary society, he constantly employs the language of painting to excavate hidden subconscious mines, and provide a specimen and a possibility to humorously handle his relation to this era.