Zhang Enli: Space Painting
[Press Release]
Press release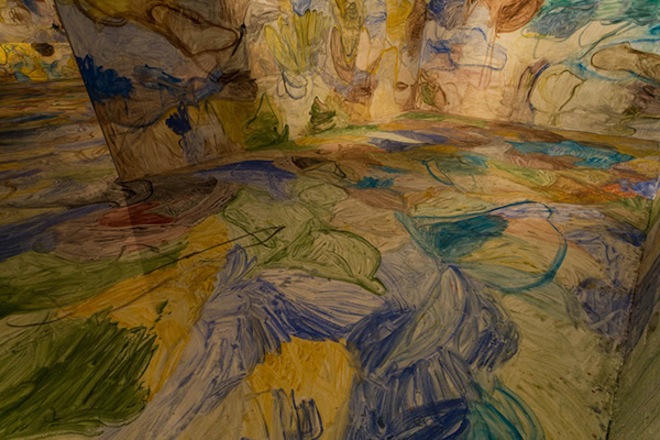 16 October 2013 – 22 December 2013
ICA Theatre
Free entry
Exhibition Preview
Tuesday 15 October, 6-9pm
This unique project with Shanghai-based artist Zhang Enli transforms the ICA Theatre with a painting encompassing the floor and walls.
Enli's previous paintings featured seemingly mundane urban objects such as tangled wires, empty cabinets, cargo netting and stacked cardboard boxes. As with the objects he paints, the spaces are empty rooms that show signs of decay and come complete with dirt marks. Semi-transparent layers of paint and the traces of brush strokes draw the viewer's focus to the materiality of the painting, and in turn the newly created spacial environment.
Enli always paints with artificial light in a studio located in Moganshan Road art district, an industrial compound filled with galleries and artist studios in Shanghai. Looking at the tones and colours that permeate his work this lack of natural light is evident and enhances the presence of an artificial atmosphere. Enli's work embodies a very personal relationship with his surroundings and for the ICA he aims to stretch colours across the space 'like human skin' with thin washes of pigment creating a 'space painting'.
Having grown up in the provincial town of Jilin in the north of China, Enli's work continues to be strongly marked by his experience of this transition, 20 years ago, to the sprawling metropolis of Shanghai. He represents this extreme contrast to the smaller city he was accustomed to, not through the consumerist preoccupation so common in contemporary Chinese painting coming from its major cities, but by looking at the ordinary, unpretentious objects that surround him and the immigrants travelling from the countryside to Shanghai.
Zhang Enli was born in 1965 in the province of Jilin in China. In 1989, he graduated from the Arts & Design Institute of Wuxi Technical University and relocated to Shanghai to teach at the Arts and Design Institute of Donghua University, a transition that greatly affected his artistic practice and the evolution of his painting.
Zhang Enli's paintings have been featured in numerous important exhibitions, including solo exhibitions at Hauser & Wirth Zürich (2012); Shanghai Art Museum, Shanghai, China (2011); Hauser & Wirth New York NY (2011); Minsheng Art Museum, Shanghai, China (2010); and Ikon Gallery, Birmingham, England (2009).