ZHANG RUYI | PAUSE | WHITE SPACE BEIJING
[Press Release]
We are pleased to present Zhang Ruyi's second solo exhibition "Pause", will be opened on April 23, 2016. It will showcase the artist's newestlatest paintings and sculptures. The dynamic relation between Zhang Ruyi's personal artistic experiences and the materials gleaned from everyday life as expressed in this exhibition is subtle and contains a tensile force. The artist's subversive resourcefulnesswit is implanted revealed within the fragmented exhibition space. The exhibition duration of Pause will last until May 29, 2016.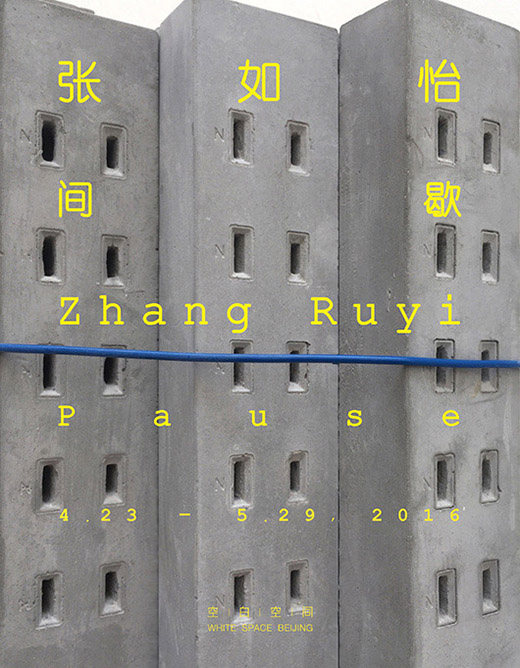 Zhang Ruyi's artistic creations exist within the logic of life. As described by the artist herself, she carefully observes natural settings and objects in life that have become baptized by industrial civilization. She questions the cumbersome relationships of bondagebonding that are produced under the reiterating repeating industrial model. At the same time, she attempts to exploregive the thus systemized the possibilities which she has found during her creation of artsa place in her artistic creation process. To an artist,For the artist this is a recurring and ponderously lingering state which she e. From the gently withering clues, she simultaneously filters out the weaknesssoftness and strengthhardness from the gently withering clues out of her of individual experience. In fact, the relationship between Zhang Ruyi's individual experiences and the world around her is either a realistic contradiction paradox, or a spiritual 'running-in', or perhaps an emotional restraint. Confronted with these layers upon layers of collisions, she brings the rationality of artistic exploration back to the world of everyday life (Lebenswelt). In her artistic practiceworks she clearly highlights the insignificant objects that common sense the world would typically deemseem mundane and trivial.
In the words of Michel Foucault: "It was a matter of knowing how to govern one's own life in order to give it the most beautiful form possible (in the eyes of others, of oneself, and of the future generations for whom one could serve as an example)." The various hints displayed in Pause, whether it'sincluding images produced as extensions of the manipulation and mutation of plant shapes (cactuses), paintings that result from the three-dimensional progression between surfaces and the space as a whole, andor sculptural works that lie scattered and weave through the exhibition space, they all these allude to the erosion and occupationinvasion of individual serenity and spatial resources as a result of modern civilization's rapid progress. The artist uses post-minimalist forms to consciously make subtle interventions in the objects that make up the fabric of her life. One example would be her 'modification' of power sockets that support the loop ports of modern mechanisms. Throughout her artistic creation, Zhang Ruyi attempts to strip away her personal artistic language, letting the 'material' itself become the driving force. Otherwise put, Zhang Ruyi deliberately retains an appropriate distance to this world, occasionally pausescoming to a standstill and leavesving the behind silence behind. In these moments of pauses, she managed to painstakingly construcrecreatets a part of her life which redefines some complex. In doing so, she achieves a renewed annotation of intricate issues.
Zhang Ruyi (b. 1985, Shanghai, China). Recent exhibitions include "A Beautiful Disorder", Cass Sculpture Foundation, London, England (2016); "We, A Community of Chinese Contemporary Artists", K11 Art Museum, Shanghai, China (2016); "Non-Figurative", 21st Century Minsheng Art Museum, Shanghai, China (2015). Zhang Ruyi currently lives and works in Shanghai, China.