Zhang Zipiao, WHITE SPACE BEIJING
[Press Release]
We are pleased to announce that Zhang Zipiao's second solo exhibition Blooming at WHITE SPACE BEIJING will be on view on July 18, 2020, in the gallery spaces and online program "spaces" simultaneously.
Unlike the approach adopted in her earlier work based on socially imagery content, Zhang Zipiao's paintings in the last years return to the actual taste of life as the impetus of her practice. Through amassing everyday experiences and paying attention to the subtle feminine sensibilities and translating these clashes, contradictions, and contentions between the flesh and the mind onto the canvas.
The Position series, which began in 2019, is an expressionistic portrayal of the typical female body, a motif found throughout the history of art. The artist's personal and everyday approach distinguishes from the female figures in the history of art – where only the female body is opaquely left on canvas, her audacious brushwork challenges and responds to the objectification of the female body. As this series develops, the gender specificity of these bodies becomes indistinguishable or even abandoned, and the body becomes pure and swarming flesh. (i.e., Melting 2, Meat Mate 2, etc).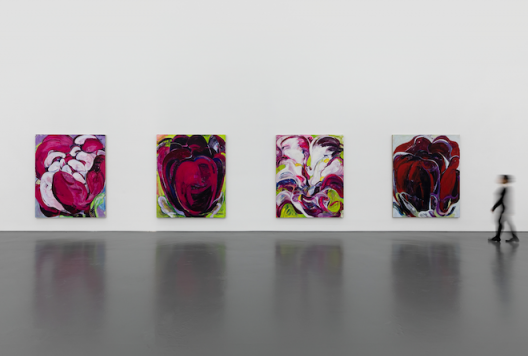 Hereon, all of these works on canvas about the body and mind in the general sense have given the flesh the possibility to be fluid through the artist's detailed and transformative use of color. The exposed skeletal frame brings everything together and provides the spatial structure to the image, supporting and integrating the form while contending with each other; the distorted flesh manifests the tension in her painting while channels the compelling and complex emotions.
For the other relatively new works entitled with floral nomenclatures (Cherry Blossom, Tulips 02, Lily 04, etc.), the artist projects the physical and mental experiences to the depiction of flowers. These full and expanding single branch flowers, their explosive budding blossom extends their momentary bloom beyond the canvas with a contentious flare; unlike the paintings mentioned above of the flesh, each work unites the struggle, anguish, joy, and ecstasy together.
Compression, distortion, and blossom, these tenuous notions are the movements and moments that fascinate the artist. This vocabulary and notions not only come from her everyday observations and realizations but collide with the way in which painting administers the artist's desire from body and mind. By reiterating the subjectivity and autonomy of the female, their subjective desires and mental state could be emancipated from the materialistic gaze, in an attempt to reveal the potential of life in the finite time and space. Instead, the exhibition Blooming is a personal manifesto that awakens consciousness and struggles under pressure and contradictions.