Art Basel Unreport—Beautiful But Boring?
"Always the same thing. How boring! Pedants definitely!" said Oblomov, yawning.
Basel is still the best art fair in the world. You knew that already. It runs as smoothly as Swiss Rail. No air-conditioning problems here!
Yet there is a growing sense Art Basel is getting predictable. At first, I thought it was just me, perhaps I was developing an ennui worthy of Gilbert Osmond. But no, after talking with collectors from across Europe, China and America, there is a definite sense that the malaise is wider. And the concern is both that it is somewhat undeserved yet completely understandable. The machine works too well. It is a perverse criticism because predictability is partly why Basel dominates. And yet, not only does it have to look fresh, the magic has to feel fresh. The grandest art show on earth must always conjure a spell that is unique, exclusive and Avant-garde. It has to promise eternal life and beauty.
It is not threatening trade wars, political instability, mass migration and environmental calamity that are distracting us: politics is hardly ever discussed at Art Basel anyway, even when it is displayed. Not even the gathering tsunami of millennial brand indifference and lack of materialism seems to bother Baseler. No, it is old-fashioned entropy.
Even LISTE, Basel's upstart fair for emerging artists looks more and more the same as it ever did, with a few exceptions, mainly solo shows (see below)
Chinese collectors, closely courted by Art Basel and umpteen Western galleries, were present en masse. Not so much though Chinese galleries…or artists. ShanghART, Long March Space, and Vitamin Creative Space were there as usual, along with Hong Kong's esteemed Hanart TZ and Beijing's AYE Gallery and White Space (also showing He Xiangyu at Art Unlimited) were present, as were Shanghai's Madein Gallery and Antenna Space at LISTE
Speaking of which, both Madein Gallery and Antenna Space deserve to be at Art Basel proper, though the same can be said for many great galleries now–demand necessitates restrictions. Even so.
Unlimited, the 'curated' section of big stuff, was also less exciting–do we really need to see another Ai Weiwei? Unlimited loves Fred Sandback too, now that he's dead. So many dead artists now–where do they all come from? And where do the living go? It seems that contemporary art galleries are becoming mausoleums. Of course, there were marvels at Unlimited too. Yu Hong's epic "Old Man Yu Gong Is Still Moving Away Mountains" shows an artist who is finally showing the power of her past promise. Meanwhile, Douglas Gordon's video installation homage to video-art godfather Jonas Meckas (b.1922) was bewitching and compelling.
Now, before we get carried away, it's still Basel. Long after continents are laid waste by war, plague and flood, the VIP lounge will still be open. Then again, the reason Unlimited took place on the top floor of Halle 1 this year, where the children's pen used to be, is that Baselworld, Messe Basel's even-bigger and more established trade fair for watches, had to offer clients the opportunity to keep their super-expensive displays from one year to the next. So who knows. Yes, what does such existential angst mean for all other art fairs?
At the end of the day, a Sunday, when the hotels and the Halle are empty, it doesn't really seem to be Basel's fault. It continues to do what it has always done. So who is to blame? Please, not the artists. But the galleries—maybe they are simply adapting to new environmental conditions? Is it the collectors then who are driving this race to back in time? Maybe. Maybe they can't help it. Maybe it is fate.
There was a song by Radiohead once, No Surprises . It ends—
Such a pretty house
And such a pretty garden
No alarms and no surprises
No alarms and no surprises
No alarms and no surprises, please
La Grande Bellezza
Italian galleries were somehow more prominent this year and not only because of lots of Alberto Burri. Italian gallery booths have a habit of being beautiful.
Treasure
Look and ye will find.
China
MEISTER & MEISTERIN
UNLIMITED
the fun bit of Art Basel, with all the big stuff, the bit that pretends to be like a real live biennale, was upstairs this year, because bigger than Art Basel Basel World, the watch-fair apparently has been losing exhibitions
So Basel World offered exhibitors the opportunity to keep their hugely expensive displays, in situ….so the art is in the attic. Actually, it's fine. Now it is easy to move directly between Design Miami and Unlimited and for hobnobbing, there is a direct entrance into the VIP Lounge.
Art Unlimited—Lots of Alberto Burri, Fred Sandback again, Ai Weiwei very again, Michael Rakowitz continuing with his project to recreate artifacts stolen from the National Museum of Iraq, Baghdad following the 2003 US-led coalition and continuing iconoclasm by Islamic State and related fundamentalist groups.
LISTE
As everyone knows, there is only one satellite fair worth going to at Basel, not least because galleries at the other fairs—Scope, Volta—have virtually NO chance of ever getting a place in the big top (though the specialist focus of the inaugural Paper Positions fair in Basel, a works-on/with-paper show in the old town near Les Trois Rois, was definitely more interesting).
Antenna Space brought Li Ming but the gallery's founder-director, Simon Wang definitely needs a bigger space to work with. Actually, Simon bore the same expression as Leo Xu did last year in the exact same space. Leo is now at David Zwirner. Sigh. Meanwhile, Madein Gallery brought Lu Pingyuan's latest—dogs now, not cats! Otherwise, my favorite shows at LISTE were all solo shows. Jeanette Mundt at Société is a really interesting painter whose work needs time to digest, with an MO that damns masculinity by pastiche.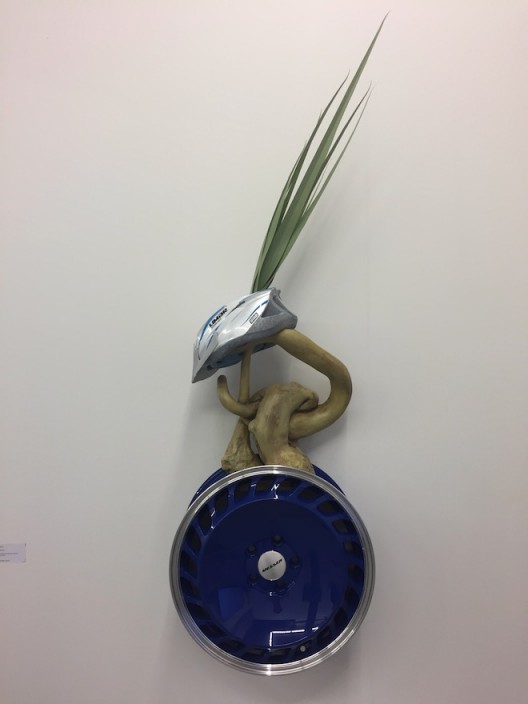 MUSEUMS
171,000 people live in Basel and they have a ridiculous number of exceptional museums. If bored of Art Basel, visit Basel museums. You can walk, tram or even swim to them. Here are some of the best on now: Bacon and Giacometti at Fondation Beyeler, at Kunstmuseum Basel were Theaster Gates "Black Madonna", Martha Rösler and Hito Steyerl with "War Games", Maria Lassnig "Zweigespräche", Sam Gilliam "The Music of Color", Bruce Nauman retrospective at the Shaulager and Lynn Hershman Leeson "Anti-Bodies" at HeK (Haus der elektronischen Künste).
*Quotes from Oblomov from Ivan Alexandrovich Goncharov, Oblomov, a novel, trans. Marian Schwartz (Seven Stories Press: New York, 1859)