Julia Stoschek Opens Temporary Collection Space in Berlin
Julia Stoschek, the renowned German art collector, inaugurated a temporary exhibition space in Berlin last week, expanding her Düsseldorf museum to another location. The curatorial intent for the satellite is to display  Stoschek's most recent acquisitions, which have a strong emphasis on digital themes by mostly millennial artists, ranging from Rachel Rose to Ian Cheng and Timur Si-Qin—20 artists in total.  It is the first time a private collection has attempted such a survey show, and to augment the narrative, there are several loans including a piece by Camille Henrot.
The space in central Berlin continues the collection's focus on time-based and video art with an exhibition entitled "Welt Am Draht" ("World on a Wire") after a film by the German filmmaker Rainer Werner Fassbinder. In the film, a computer simulates an artificial world and its attendant inhabitants, the "identity units" and their innocence regarding their digital status and interaction with the real world.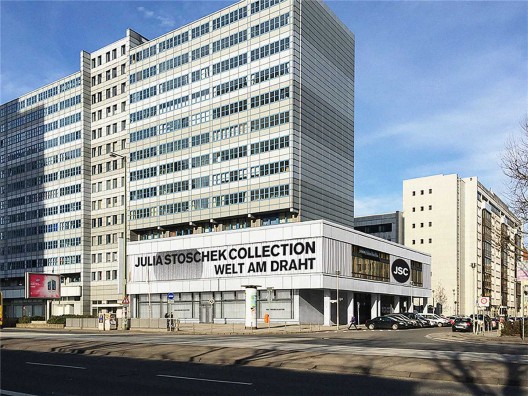 Likewise, the exhibition takes art's current fascination with the digital world as its point of departure, uniting recent acquisitions and loan pieces from a generation of artists. A key piece is Ian Cheng's "Emissary in the Squat of the Gods" (2015), a live simulation of a primitive society governed by an artificial intelligence algorithm which enables the protagonists to interact. The interactions become more complex as the simulation iterates, mirroring the identity units of Welt am Draht. The theme of virtual worlds is continued in Cao Fei's "RMB City" (2007), a video based on the popular Second Life online platform, which allows players to assume digital identities. Subjectivity in the age of the internet is also scrutinized, with Camille Henrot, Loretta Fahrenholz and Wu Tsang all looking at how digital interaction shapes identity. While well-known within the art scene, it is still rare to see these artists exhibited together on such a scale.
There are close links, both in terms of the artists exhibited and the exhibition's theme, with the current Berlin Biennial. As the collection's director Monika Kerkmann commented during the press conference, the artists can be seen in the context of a private collection rather than an institutional setting.
The space itself, the former Czech Cultural Centre on Leipziger Strasse, spans 2500 square metres over two floors and was renovated by the Berlin-based architect Johanna Meyer-Grohbrügge.  The space is slated to remain open until December 2016, but, as Stoschek said during the press conference, she hopes for a permanent location in Berlin that would add to the city's stock of publically accessible collections.