Look Left – Look Right: Solo Exhibition of Xenia Hausner
Hong Kong Arts Centre's "Look Left—Look Right: Solo Exhibition of Xenia Hausner" opening ceremony successfully took place on June 5, 2014, featuring Hausner's recently completed large-scale paintings. Portaiture with a strong feminine bent dominates Hausner's oeuvre. Through the artist's untamed brushwork, relationships and stories are brought to life amid intense colours and imposing compositions, reflecting her ideology towards themes of loneliness, injury, and love. Many of her paintings incorporate her past travels and journeys in Hong Kong and in greater Asia. In fact, the title of exhibition "Look Left – Look Right" comprises words exactly gleaned from traffic signage printed on roads in Hong Kong.
Officiating guests included Ms. Florence Hui Hiu-fai, SBS, JP, Under-Secretary for Home Affairs; Dr. Claudia Reinprecht, MBA, Consul-General, Austrian Consulate General Hong Kong & Macau; Mr. Sebastian Law, Member, Board of Governors, Hong Kong Arts Centre and Chairman, Hong Kong Art School Council; Ms Catherine Maudsley, guest curator; and Xenia Hausner, the artist.
Hausner studied stage design at the Academy of Visual Arts in Vienna and at the Royal Academy of Dramatic Art in London. She designed sets for over one hundred theater and opera productions, including some at the Burgtheater in Vienna and Covent Garden in London. Since 1990 she has dedicated herself to painting, graphic and mixed media. Her works have been exhibited internationally at galleries and museums—in New York, Vienna, Berlin, Munich, Shanghai, etc. In the year 2000 she was awarded the Ernst Barlach Prize. Xenia Hausner currently lives and works in Berlin and Vienna.
Dr. Claudia Reinprecht, MBA, Consul General, Austrian Consulate General Hong Kong & Macau remarked, "The Austrian Consulate General is excited about the first solo exhibition of Xenia Hausner, one of Austria's most renowned artists, in the HKAC. This unique and important exhibition is the cultural highlight of the Consulate jubilee festivities celebrating 160 years of relations between Hong Kong and Austria. The theme of the exhibition points to the need for intercultural dialogue in particular in times of growing inter-connectivity and globalisation. Hong Kong as well as Austria have both a longstanding strong tradition in bridging the East and the West."
Xenia Hausner shared her ideology behind the exhibition with us: "It is not my goal to present clear solutions, but to be precise in fragments whose mystery I am unable to solve. I found the intense, dynamic contradiction that lies in the city—Hong Kong—particularly interesting. The Asian culture, the Chinese background and the Hong Kong twist….all the elements are so strong to me and hard to be missed and ignored. The contrast between the East and the West is so vivid, and yet in this tiny place they are made to co-exist. Such a fact fascinates me and drives my curiosity."
Ms Catherine Maudsley, Guest curator, commented,"Look Left – Look Right: Solo Exhibition of Xenia Hausner is an important contribution to cross-cultural dialogue. The artist's bold and unflinching work exposes much about the human condition, just as it shows her quest to understand the unknown, both psychological and cultural. All the Asian images in Xenia Hausner's paintings come from first-hand experience."
Ms. Connie Lam, Executive Director of the HKAC, stated, "The Arts Centre has been actively involved in educational efforts on contemporary art for decades. Xenia Hausner's solo exhibition will be an exciting addition to our roster of shows that have promoted understanding and education of contemporary art, as well as fostered currents of cultural exchange across borders. Her works exhibit a chromatic intensity and a dramatic flair that point unabashedly to her academic training and professional experience in stage design. Whether reminiscent of stills captured from movies or painted billboards advertising in outdoor spaces, Hausner's paintings cannot divorce themselves from such filmic and cinematic associations. Much of her imagery incorporates her past travels and journeys in Hong Kong and in greater Asia. In fact, just in 2011 the artist has had a solo show Xenia Hausner—Damage mounted at the Shanghai Art Museum. I trust it will be a true joy for our local audiences to see the various faces of their hometown seen through the eyes of the artist. "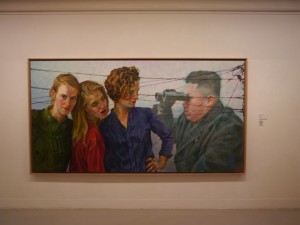 Xenia Hausner, "Look Left – Look Right", oil on paper on dibond, 149 x 284 cm, 2014
候絲娜,《看左-看右》,油畫紙本、鋁塑復合板,149 x 284 cm,2014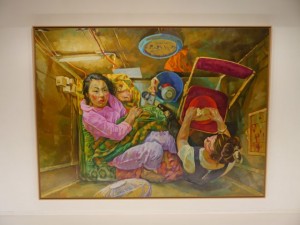 Xenia Hausner, "Cage People", oil on hardboard, two panels overall 260 x 350 cm, 2014
候絲娜,《籠中人》,油畫硬紙板,兩面整體為260 x 350 cm,2014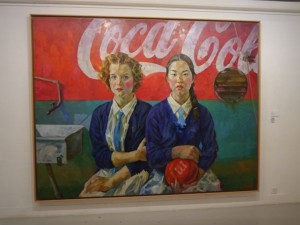 Xenia Hausner, "St. Francis", oil on paper on dibond, two panels overall 225 x 290 cm, 2014
候絲娜,《聖方濟各》,油畫紙本、鋁塑復合板,兩面整體為225 x 290 cm,2014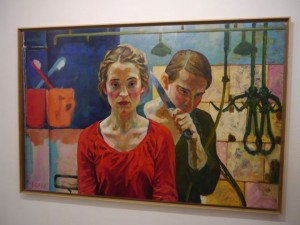 Xenia Hausner, "Pensée Sauvage", oil on paper on dibond, 140 x 213 cm, 2011
候絲娜,《野蠻之想》,油畫紙本、鋁塑復合板,140 x 213 cm,2011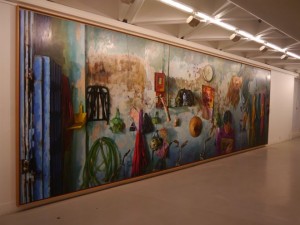 Xenia Hausner, "Survival", oil on paper on dibond, five panels overall 250 x 815 cm, 2012
候絲娜,《生存》,油畫紙本、鋁塑復合板,五面整體為250 x 815 cm,2012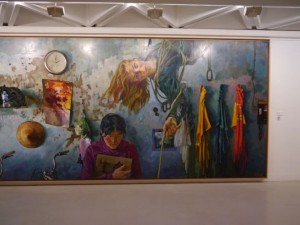 Xenia Hausner, "Survival", oil on paper on dibond, five panels overall 250 x 815 cm, 2012
候絲娜,《生存》,油畫紙本、鋁塑復合板,五面整體為250 x 815 cm,2012
Xenia Hausner, "Survival", oil on paper on dibond, five panels overall 250 x 815 cm, 2012
候絲娜,《生存》,油畫紙本、鋁塑復合板,五面整體為250 x 815 cm,2012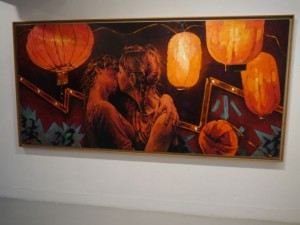 Xenia Hausner, "Fever", mixed media on dibond, 128 x 269cm, 2007
候絲娜,《狂熱》,混合媒體、鋁塑復合板,128 x 269 cm,2007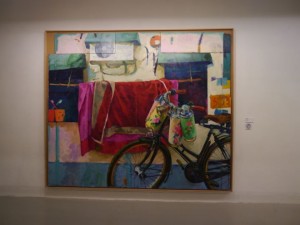 Xenia Hausner, "Hotel Shanghai", acrylic on hardboard, 128 x 269cm, 2007
候絲娜,《上海旅館》,混合媒體、丙烯硬質纖維板,250 x 290 cm,2010
Xenia Hausner, "bond", oil on paper on dibond, 126 x 293 cm, 2014
候絲娜,《連接》,油畫紙本、鋁塑復合板,126 x 293 cm,2014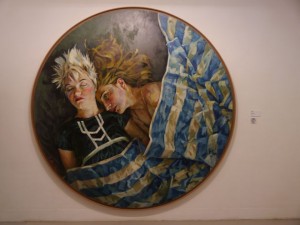 Xenia Hausner, "round trip", oil on paper on dibond, d.230 cm, 2012
候絲娜,《往返旅程》,油畫紙本、鋁塑復合板,d.230 cm,2012
Xenia Hausner, "crew cabin", oil on paper on dibond, 200 x 255cm, 2014
候絲娜,《船員倉》,油畫紙本、鋁塑復合板,200 x 255 cm,2014