Artistic programming for Art Brussels 2016
[press release]
Art Brussels is pleased to announce its artistic programming for the 34th edition of the fair, which will take place in a new location, Tour & Taxis, a stunning example of monumental industrial architecture from 1904.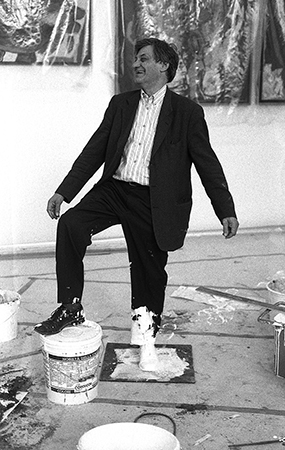 This year, the fair has been significantly reduced in size by 50 galleries to a total of 141 galleries, from 28 countries. Art Brussels continues to uphold its profile as a fair that brings together emerging artists and galleries in DISCOVERY, with more established names in PRIME. The fair also launches a new section this year: REDISCOVERY. Featuring 14 galleries, this is dedicated to art created between 1917 and 1987. It presents important artists from the historical avant-garde who have been underestimated, overlooked, or unduly forgotten. Art Brussels also continues to place emphasis on SOLO presentations, with 24 solo shows by artists from 18 countries, spanning Europe, the Middle East, Asia and the Americas.
The flagship artistic project for Art Brussels 2016 is Cabinet d'Amis: The Accidental Collection of Jan Hoet, presenting the collection of the late, internationally acclaimed Belgian curator Jan Hoet (1936–2014). Hoet's collection is highly idiosyncratic. It is the result of relationships forged with artists throughout his career, not a strategically assembled accumulation of works of art. Many works were gifts from artists, resulting in a collection joined not by design or intent, but almost by accident, with no deliberate intent to form "a collection." Of the over 500 works in the collection, most are modest in scale. The exhibition pays tribute to Jan Hoet but also provides insight into his artistic vision and his relationships with artists. It also includes unique documentation in the form of photographs, letters, correspondence with artists, notes, postcards, artists' sketches and drawings, collages, objects, faxes and texts from Hoet's personal archives, which in turn give unique insight into his curatorial trajectory, and which have never before been accessible to the public.
Artists in the exhibition include: Richard Artschwager, Joseph Beuys, Guillaume Bijl, Christian Boltanski, Michaël Borremans, Ricardo Brey, Marcel Broodthaers, Cai Guo Qiang, Thierry De Cordier, Raoul De Keyser, Wim Delvoye, Jessica Diamond, Marlene Dumas, Jimmie Durham, Rodney Graham, David Hammons, Kris Martin, Bjarne Melgaard, Mario Merz, Marisa Merz, Cady Noland, Panamarenko, Richard Prince, Charles Ray, Luc Tuymans, Patrick Van Caeckenbergh, Royden Rabinowitch, Andy Warhol.
The exhibition is curated by Katerina Gregos, Artistic Director of Art Brussels, with the kind co-operation of the family of Jan Hoet and S.M.A.K., Gent, Belgium. The exhibition scenography is by the Brussels-based artist Richard Venlet (Austria, 1964).
Cabinet d'Amis will be on view at Hôtel de la Poste, adjacent to the fair, in the Tour & Taxis complex, exclusively on the four days of Art Brussels. The exhibition has been made possible through the generous sponsorship of Anglo Belge Special Risks and Stibbe.
On the occasion of Cabinet d' Amis, Art Brussels and Contemporary Art Heritage Flanders (CAHF) co-organize a series of conversations and readings on contemporary collecting, in the company of the exhibition. For the full programme see the website.
Each year Art Brussels also invites a number of non-profit institutions to the fair and gives them a "carte blanche" to develop an experimental artistic project. This year, the participants are: Black Market (Brussels), Bureau des Réalités (Brussels), DOC (Paris), EKKM – Museum of Contemporary Arts of Estonia (Tallinn), HISK – The Higher Institute of Fine Arts (Gent), Khiasma (Paris), Nest (The Hague), and State of Concept (Athens).
For the first time, Art Brussels is also adding a sculpture route to the fair, entitled OUT OF THE BOOTH. As visitors navigate the fair, they will discover 12 sculptures dispersed throughout the building, outside the gallery booths, at key locations in the space. These works are by 12 international artists working in the medium of sculpture: Nathan Coley (UK, 1967), Johan Creten (Belgium, 1963), Brian Duggan (Ireland, 1971), Kristof Kintera (Czech Republic, 1973), Honoré d'O (Belgium, 1961), Visible Solutions LLC (Estonia, 2010), Leon Vranken (Belgium, 1975), Hank Willis Thomas (US, 1976), Finbar Ward (UK, 1990), Clemens Wolf (Austria, 1981), John Wallbank (UK, 1990) and Raphaël Zarka (France, 1977).
Highlights of the artistic programming also include a special installation by Rafaël Rozendaal (Netherlands, 1980) entitled Complex Computational Compositions conceived especially for the entrance of the fair. Here, Rozendaal will present a special montage of his websites, juxtaposing some of his classic sites with new creations where viewers will experience an ever-changing display.
The scenography for Art Brussels 2016 is by Tom Postma Design.