CCAA ART CRITIC AWARD 2017 PROPOSAL OPEN CALL
[Press Release]
Since it was founded, CCAA has become one of the oldest and best-known art prizes in China. The prize was first awarded in 1998 and will come into the 20th anniversary edition. CCAA alternates between Artist Award and Art Critic Award every two years. In early November this year, the 6th Art Critic Award will be held in Beijing, and entrants are required to submit the proposal before 20 September 2017.
CCAA Critic Award was set up in 2007 and it is the oldest art critic awards in China. The award is open to all. Prospective applicants should submit a research proposal that has not been published in any way before. All valid proposals will initially be sorted by CCAA committee, then translated into Chinese (for English entries) or English (for Chinese entries). After jury members' discussion and selection, the prize singles an outstanding contribution to contemporary art and awards for a publication in the preceding year.
CCAA aims at establishing an academic platform to communicate the ideas about contemporary Chinese art, thus forging public's critical understanding, enriching the relevant discussion, and encouraging those independent writings whose extraordinary contributions have not yet reaped the recognition they deserve. Instead of praising the outcome, CCAA Critic Award prefers to provide supports in the early stages of the research writing of art.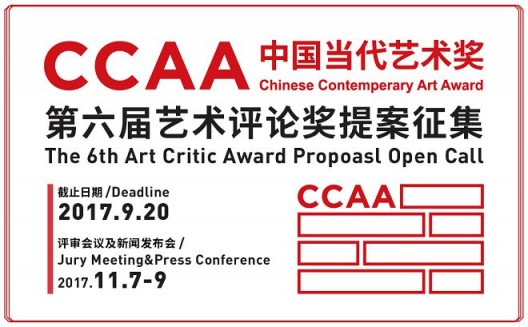 THE AWARD
- A grant of 10,000 Euros for a research to be completed independently in 1-2 years
- Publication of the resulting essay in Chinese and English version
SELECTION CRITERIA
- Had never been published before
- Relevance for the current discourse on Chinese contemporary art
- Originality in analysis and conclusion
REQUIREMENT
- The applicants must live in or working predominantly for PRC, Hong Kong SAR or Taiwan
- The applicants must work for the independent critic work in the long term
JURY MEMBERS
CCAA 2017 Art Critic Award jury will be consisted of 5 members who come respectively from professional institutions internationally and domestically. The list of names will be announced in late September.
APPLICATION DEADLINE
- Sep 20, 2017
JURY MEETING AND PRESS CONFERENCE
- Time: Nov 7-9, 2017
- Place: Beijing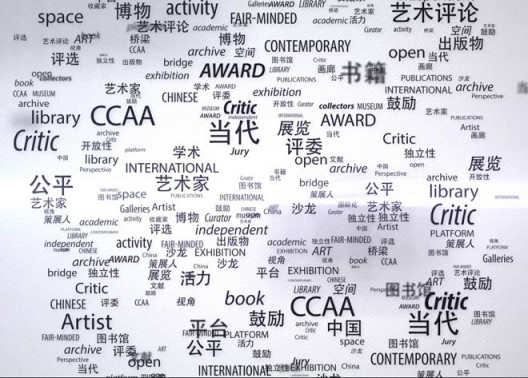 APPLICATION MATERIAL
1. Fill in the Application Form (Download: www.ccaachina.org)
2. Writing Proposal (No more than 3000 characters in Chinese or 1500 words in English; or, ideally, in both languages)
3. CV in Chinese and English
4. Previously published writing sample
5. Sample publication works: might be provided for jury member's reference, and also be included into CCAA Archive afterwards for future academic research and public education
(Note: Please send the digital files of the material no. 1-4 to:awards@ccaachina.org,and no. 5 to the following address.)
CCAA Cube ADDRESS
Chinese Contemporary Art Award Foundation
No.43, Rixin Road, Tiangezhuang West, Houshayu, Shunyi District, Beijing, China, 101318
Tel: 010-80414817
CONTACTS
Coordinator: Zhao Na E \ zhaona@ccaachina.org
Coordinator: Yao Pinhui E \ pinhui.yao@ccaachina.org