David Joselit lecture: Dark Cloud
Speaker: David Joselit
Language: English (with Chinese translation)
Interpreter: Rachel Huang
Time: 2015.08.05, 19:00-20:30
Venue: Chronus Art Center
Address: Building 18, No 50 Moganshan Road, Shanghai
This is a free event, please click to RSVP.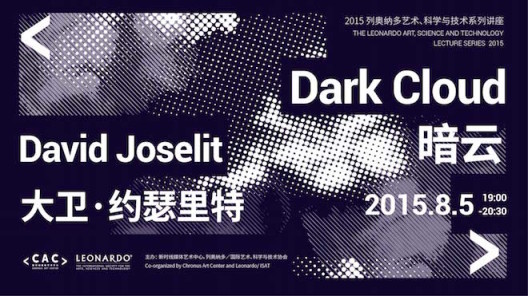 Chronus Art Center is pleased to announce that David Joselit, renowned art historian, Professor in the Art History PhD Program at the CUNY Graduate Center will inaugurate the Leonardo Art, Science and Technology Lecture Series 2015 with a lecture titled Dark Cloud on 5th August.
This lecture will explore how the metaphor of "the cloud" as an elastic and scalable information storage system applies to artists' efforts to demonstrate the shapes that information can assume—in other words, information's plasticity.  Two primary themes will be addressed:  profiling as a technique for personifying configurations of data, and extraterritoriality, as the capacity for information (like the weather) to break free from particular locations and thus to challenge territorial forms of sovereignty.  Are spaces of extraterritorial information also sites from which political claims can be made?  Or on the contrary, do we need to protect ourselves from information's easy circulation—operating not from a darknet but from a Dark Cloud?
This is the inaugural lecture of the "Leonardo Art, Science and Technology Lecture Series 2015", and additional lectures featuring Sean Cubitt (Professor/Goldsmiths and Leonardo Book Series Editor in Chief) and Rudolf Frieling (SFMOMA Curator of Media Arts) are scheduled in the coming months at CAC and The Central Academy of Fine Art in Beijing (CAFA)—stay tuned!
About David Joselit
David Joselit is a Distinguished Professor in the Art History PhD Program at the CUNY Graduate Center. He has taught at the University of California, Irvine, and Yale University where he was Department Chair from 2006-09.  Joselit is author of Infinite Regress: Marcel Duchamp 1910-1941 (MIT, 1998), American Art Since 1945 (Thames and Hudson, 2003), Feedback: Television Against Democracy (MIT, 2007), and After Art (Princeton University Press, 2012). He is an editor of the journal OCTOBER and writes regularly on contemporary art and culture.
About THE LEONARDO ART, SCIENCE AND TECHNOLOGY LECTURE SERIES
Co-organized by CAC and Leonardo/ISAST in collaboration with leading Chinese art institutions, each installment of the series will feature renowned guest speakers from around the world on topics within the ever-expanding scope of Art/Science. CAC and its partner institutions will provide the venues for the events.
About Leonardo
Leonardo/The International Society for the Arts, Sciences and Technology (Leonardo/ISAST) serves the global network of thinkers and practitioners working in the realms where art, science and the humanities connect. Since its beginnings nearly 50 years ago, Leonardo has fostered and supported the work of artists, scientists and scholars dedicated to breaking down the barriers that often separate fields of endeavor.  Today, Leonardo/ISAST continues its leadership in cross-disciplinary creativity through the publication of content on evolving platforms (in collaboration with the MIT Press); the presentation of events, residencies and art/science projects; and other programs designed to address the interests of the art/science/humanities community.