Edouard Malingue Gallery is opening a new space in Shanghai, designed by BEAU Architects.
[Press Release]
Edouard Malingue Gallery is thrilled to announce the opening of its space in Shanghai, designed by BEAU Architects. Located in the West Bund, a new art hub where two private museums, art galleries, collector spaces and the West Bund Art& Design fair are situated, the 480 sqm space is committed to offering greater freedom of expression to its artists and an enriching experience for viewers. Edouard Malingue Gallery, Shanghai will create a wider exhibition platform for its roster of artists and build on the gallery's existing programme that emphasisesdynamic solo exhibitions and curatorial projects with emerging and established Asian and international contemporary artists.
Inaugurating the space will be the solo show 'Festival' with emerging Chongqing-based artist Cui Xinming (b. 1986). A recent graduate from the Sichuan Academy of Fine Arts, Cui is a rising Chinese artist who creates expansive oil on canvas works that express, in an elaborate and vivid painterly style, the tumultuous thoughts andreections of a younger Chinese generation that is living through a period of con-stant change. From Cui's early series 'Black Hole of Memories' to his most recentbodies of work 'A Sleepwalker's World' and 'Journey to the East', Cui continually addresses, in an evolving painterly style, how his peers and compatriots are castinginto oblivion the past along with its rich memories in an attempt to relentlessly attain a new stage of modernity.
Featuring an entirely new series of works, 'Festival' presents the artist's apprehension of the self and his perception of a shifing reality over the past two years. Taking inspiration from the four distinct seasons of Northern China, and the memories Cui harbours of his hometown, the paintings point to the forgotten corners of China's second and third tier cities. Through the use of vivid imagery and bright tonal varieties, Cui reflects on how these towns, ever more prevalent, have been hesitantly turned into bizarre, near surreal scenes by the repercussions of an era, embedded in development. Stemming from Cui's position as a now distant onlooker,the viewer becomes privy to his personal perspective regarding his hometown,eshing out at once a state of recollection as well as one of discontinuity. Old friends, ceremonies, and celebrations placed on empty, desolate backgrounds;dimensions of plants and houses broader than traces of human life; a fluorescent green colour and embellished festival atmosphere permeating the painting; and animplied vigilance of the artist towards the notion of momentary glory and success:all are revealed in the scenes of Cui's hometown memories in 'Festival'. His first emerging self-portrait is a response to his reflection and introspection of recent years.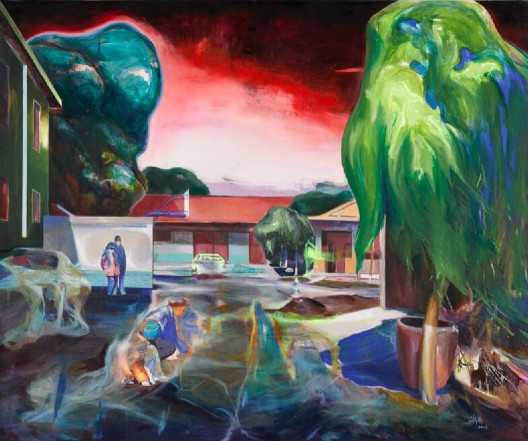 This exhibition embraces Cui's lm-like images and creative style. Taking on therole of lm director he writes scripts, draws rough sketches and undergoes a regular selection of 'actors'. Full of coincidence, his work detaches certain elementsfrom traditional meanings, trying to discover where reality and imagination coincide. "Taking a moment from a specic dimension, to create the real world": this ishis platform or channel of exchange with the outside world. Apart from purely relying on inspiration, this also provides him with a basic image that he can continueto develop. He has a unique sensitivity towards working class society, yet he rarely depicts facial features. The subjects of his paintings ofen have their backs turned,their dress and movements alone revealing their background and identity. For ex-ample, the images of people in 'Glory – 201512' originate from accidentally pho-tographed motorcycle-taxi drivers, an individual or a group of them reoccur throughout his work. His obsession with fable-style narratives perhaps comes fromthe Qingzhou ancestral folk tales of his childhood. Background roles ofen takecentre stage in these fantasy stories and an ambiguous mix of animals, gods, and everyday objects provide us with an insight into the artist's notion of the 'real'.
Compared with works in previous exhibitions, 'A Sleepwalker's World' (2013) and 'Journey to the East' (2014), Cui's recent works are simpler and show a sense of restraint. A complex storyline is condensed and the addition of narrative gives it a modern poetic style. In becoming an expert in delicate strokes and a creating rich picture, Cui lef his comfort zone. By painting in layers and subsequently scraping them away, he is able to transform a large area of monochrome waterfall into rosy clouds; his preferred grey-blue colour evolves from the dark background and at- tened perspective. His work has retained its religious elements: he emphasises mankind's feeling of helplessness in entrusting its hope in Gods; yet scenes of shrines and sacrice, which were easily recognisable in his earlier paintings, are now hidden in the details, they become symbols such as the bishop's red hat in 'Glory – 201602', and the characters' clothing in 'Untitled (Watering the Tree)'. However, the painting process has been all but shortened, no longer completely cover- ing layers of pigment, he leaves traces of each layer, giving the painting a feeling of slow movement and real time.
Cui unwaveringly paints notions of recollection and stories from Northern China. His works are self-grooming tools in times of confusion and conict; they have an inherent sense of weight and anxiety. The real world in which we live is so distant and absurd that if feels like facing a 'living fossil'. Additionally Cui works with dra- matic allegorical works, which are inadvertent extensions of social observation and analysis, in order to verify the absurdity of existence. "I hope to present an inde- pendent parallel, an alternative world, allowing you to imagine rather than to recol- lect a painting."
Cui Xinming is a highly regarded emerging contemporary Chinese artist based in Chongqing. His work has been exhibited in Hong Kong, Istanbul, Berlin, Beijing and Chengdu, amongst other locations. In 2010 he was nominated for the 1st Zhang Xiaogang Graduate Contemporary Art Scholarship and was a runner up for the 2nd Chinese Institute Annual Art Exhibition.