H QUEEN'S INJECTS VITALITY TO HONG KONG ART SCENE One of Hong Kong's Largest Public Art Hoardings Takes Centre Stage
Hong Kong, 25 February 2016 – Henderson Leasing Agency Company Ltd., as a wholly ownedsubsidiary of Henderson Land Development Company Ltd. (collectively called "Henderson")as well as the leasing and marketing agent of the development H Queen's (HQ), hasannounced a new public art programme Time & Scale: 10 Hong Kong artists at HQ inpreparation for the 2017 launch of its latest development.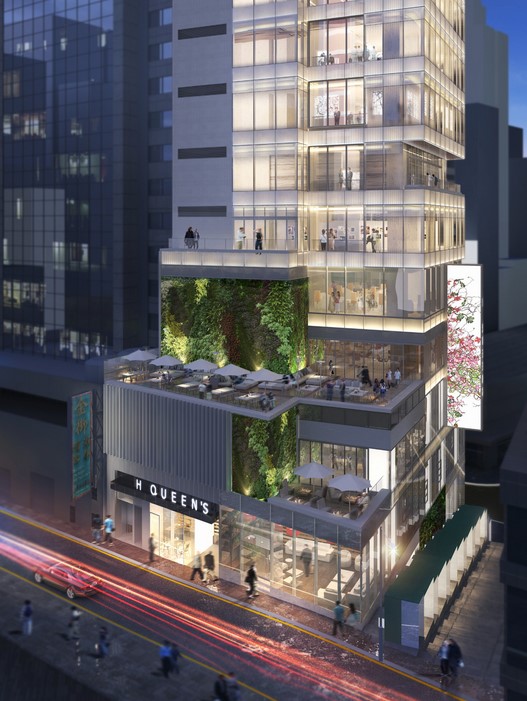 "Over the years, Henderson has witnessed the growth in Hong Kong's art and culturallandscape. The art scene has transformed dramatically in recent years and we hope toinspire conversation about the role of Hong Kong on the global art stage through compellingpieces by Hong Kong talents," says Kristine Li, Assistant General Manager of HendersonLeasing Agency Company Ltd., "HQ is a game changer. The building incorporates an historicsetting with an advanced modern design and a premium tailored space that capitalises onthe urban backdrop of Central. Committed to forging a creative community and making HongKong a more vibrant place to live, HQ presents this programme to bring art closer to thegeneral public."
To be unveiled on 21 March during Hong Kong's period of art celebration when connoisseurs globally flock to the city, Time & Scale: 10 Hong Kong artists at HQ is the first time 10 notable Hong Kong contemporary artists have joined forces to create captivating artwork on the building's hoarding. This select group of established and emerging contemporary artists were invited to answer the question of what it takes to make or change a culture and have their responses showcased in one of the largest scale public art hoardings seen in Hong Kong. HQ's hoarding, an art platform widely visible to the public until the last quarter of 2016, comprises three sections, Queen's Road Central (measuring 12 metres x 5 metres), Pottinger Street (36 metres x 3 metres) and Stanley Street (22 metres x 3 metres). Artists featured include Frog King (Kwok Mang Ho), Lam Tung-pang, Ho Sin Tung, Bosco Law, South Ho, Damon Tong, Esther Poon, Stanley Siu, Tony Ng and Peggy Chan.
Designed by renowned architect and artist William Lim of CL3 Architects and occupying a prime location on 80 Queen's Road Central, HQ will be an architectural icon and a showcase for the city's top artistic and lifestyle ventures. With an emphasis on spaciousness, functionality, eco-friendliness and energy efficiency, HQ is specially designed with ideal spaces for art exhibitions, as well as floors dedicated for exclusive retail and dining establishments. Situated in the centre of Hong Kong's art and lifestyle hub, the award-winning building offers aesthetes and gourmets around the world an unparalleled contemporary experience.
Featured Artists
The outdoor exhibition will feature works by celebrated Hong Kong artists, including Frog King (Kwok Mang Ho) and Lam Tung-pang. Since 1967, Frog King has exhibited his works in over 3,000 art events worldwide. In 1998, he received the coveted Hong Kong Arts Development Council Emeritus Fellowship award, and also represented Hong Kong at the 54 th Venice Biennale in 2011. In 2015, his works were featured in Mobile M+: Live Art presented by West Kowloon Cultural District. Known for his eccentric style, Frog King will enhance HQ's hoarding with his distinctive, playful and multi-layered art.
An MA graduate of Central St Martins College of Art, London, Lam Tung-pang is recognised for his paintings and sculptures that interpret social content using a combination of traditional and modern techniques. He has received numerous scholarships and awards including The Schoeni Prize – Sovereign Asian Art Prizes (2006) and Young Artist of the Year – Hunting Art Prize, U.K. (2005). From 21 March, the Stanley Street faade will double as a canvas for Lam's drawing that incorporates old and new images of Hong Kong.
The HQ public art programme will also present works from 8 emerging artists. Representing the next generation of contemporary artists, Ho Sin Tung, Bosco Law, South Ho, Damon Tong, Esther Poon, Stanley Siu, Tony Ng and Peggy Chan will apply their creative visions to the foot tunnel adjacent to HQ. The site-specific art forms will range from intricate illustrations to photography and mix-media collages to colourful yarn installations. Many of the exhibits will feature interactive elements to engage and connect passersby.
About HQ
HQ is an award-winning 24-storey development on 80 Queen's Road Central, a truly prestige position that will transform the cultural dynamic right in the heart of Central. The development houses spaces for exhibition with the interest of promoting the arts as well as expanding the audience for art. Designed by renowned architect and artist William Lim of CL3 Architects, the building's unique architecture provides maximum flexibility and eco-friendly features. The building's design boasts multifunctional layouts, optimum floor-to-ceiling heights, bi-folding doors and expansive balconies to accommodate a wide range of exhibition and entertainment needs. HQ's integrated building maintenance unit is designed to facilitate the smooth delivery of artwork and includes a custom-made mechanical system to protect valuable art pieces. With a design that maximises Central's urban backdrop, unparalleled flexibility and energy efficiency, HQ is destined to become an architectural icon and a lifestyle destination. The project is scheduled for completion in mid-2017.