H Queens to mark completion in November 2017
[Press Release]
CL3, one of Asia's leading architecture and design firms, is delighted to announce the completion date for H Queens in Central, Hong Kong. CL3 conceived the concept to create a 24-storey purpose-built stacked gallery building. Custom designed for the growing art industry and the dense Hong Kong urban environment, it will be a new vibrant art and lifestyle destination. The building is set to be completed in November 2017 and be fully operational in 2018, with gallery tenants announcing their inaugural shows in Q1 2018.
H Queens is at the heart of Hong Kong and just three blocks away from the city's largest historic preservation project, Tai Kwun, a new centre for heritage and art. In-between the sites will lie H Code at 45 Pottinger Street. A lifestyle high rise building with a F&B focus featuring a multi-functional exterior glass skin that can be converted to create balcony spaces. The concept is approached with the same vertical typology, and is also designed by CL3.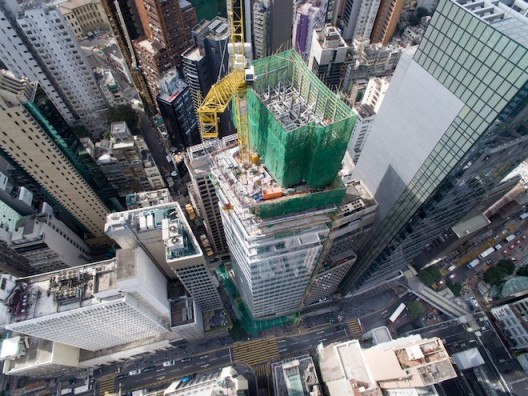 Founded in 1992, CL3 is led by William Lim, its founder and Managing Director, and consists of 60 professionals working across offices in Hong Kong, Beijing, Shanghai, and Shenzhen. Lim, an acclaimed artist, patron and art collector, converged his knowledge of contemporary art with CL3's architectural and design expertise in the H Queens masterplan. Dedicated to art businesses, restaurants, and retail, H Queens will transform the urban environment by creating a new focus for art and entertainment in dialogue, with its location in Hong Kong's historic Pottinger Street.
Developed by Henderson Land LTD, the building is clad in laminated low-e IGU curtain wall with ceramic fitting. A glass shuttle lift in the building also allows visitors to observe the vibrant art activities going on and showcases the full exhibition of the stacked art galleries through the G/F to the 10/F. The 3800 sq. ft net area per floor with a loading rate of 5-10 kPA is ideal for an art gallery, that until now, Hong Kong had not provided. Due to the intimate complexities of the urban density, an integrated building maintenance unit (BMU) features a gondola system to provide a bespoke solution to facilitate the delivery of artworks. Works up to a 1.25 tons will be lifted up from the street through an operable facade (approx. 3.5 m by 4 m) on each gallery floor. With dual entrances at Stanley Street and Queen's Road Central, the building meets the busy Pottinger Street with gradually enlarged floor plates on the bottom few floors to create a cascade of outdoor green terraces. Other distinctive architecture features, which are rare in the region, are the operable windows and green features. These are complimented by the large exterior terraces for al fresco dining on restaurant floors, as well as a dramatic roof top bar with views across the Victoria Harbour.
Major international art businesses took up tenancy at the early stage of construction. They include David Zwirner Gallery, Pace Gallery, Pearl Lam Galleries, Seoul Auction, Tang Contemporary Art Gallery, Whitestone Gallery, as well as fine dining restaurant group Le Comptoir.
In an additional accompaniment to the original concept, H Queens will be welcoming tenant architects, including Selldorf Architects and Kengo Kuma.
William Lim, award-winning architect and founder of CL3, commented, "I believe architecture has the potential to go beyond its physical boundaries, to reach out into the urban context and catalyses or propels the neighbourhood to share its positive energy. This is in line with the Chinese philosophy of Yin-Yang. The new building does not displace the old neighbourhood, but stimulates it to create a more vibrant urban fabric. This is in the case of H Queens and H Code, and definitely in Gaysorn Village. The idea of Chi (Flow) and Feng Shui also comes into play when planning these contemporary structures. H Queens received a top score from a Feng Shui Master recently. Our portfolio comprises celebrated designs for hotels and restaurants, as well as commercial, residential and corporate developments. These projects have felt like the precursor to H Queens, as they exemplify our ability as a firm. We started with a meticulous forensic examination of the concept, and in doing so were able to present this context to display contemporary art within."