Leonardo Art, Science and Technology Lecture Series 2016 "Curating After the Internet"
[press release]
Leonardo Art, Science and Technology Lecture Series 2016
Curating After the Internet
Lecturer: Michael Connor
Time: 2016.06.05 15:00-17:00
Venue: Chronus Art Center (Building 18, No 50 Moganshan Road, Shanghai)
Language: English with Chinese translation
Organizer: Chronus Art Center, CAFA School of Experimental Art, Leonardo/ISAST
About The Lecture
What does it mean to be a curator now that the role is no longer defined by art objects or the white walls of a gallery? In this talk, Michael Connor will revisit fundamental issues at stake in born-digital curatorial practice. He will use examples from the archive and history of digital art nonprofit Rhizome, of which he is Artistic Director, to discuss the philosophical and practical implications of collecting and exhibiting net art. In particular, Connor will focus on Dragan Espenschied's idea that digital culture is composed of "practices, not objects," and argue for a "user-centered" form of curation.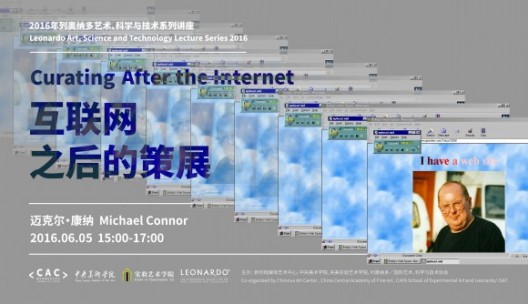 About The Lecturer
Michael Connor is Visiting Assistant Professor in the Department of Photography & Imaging at the Tisch School of the Arts at New York University. He teaches courses on photography and imaging with an emphasis on the cultural implications of new technologies.
Connor is Artistic Director of Rhizome at the New Museum, a digital art non-profit founded in 1996. There, he leads Rhizome's events program, journal, online exhibitions, and artists' commissions, and curates its digital art archive. While at Rhizome, he organized "Do You Follow? Art in Circulation" with the ICA London in Autumn 2014, a three-day series of panels exploring the ways in which networked images are changing our understanding of art, place, and the body. Connor also hosts Seven on Seven, Rhizome's annual conference pairing tech luminaries with leading artists for one-day collaborations. Connor's current focus at Rhizome is using emerging tools for digital preservation to improve the depth and diversity of its collections and their interpretation.
As a curator, Connor has organized exhibitions at venues including Cornerhouse (Manchester, UK), Artists Space (New York, with Independent Curators International), TIFF Bell Lightbox (Toronto), Museum of the Moving Image (New York), and Yarat (Baku). From 2007-2009, he acted as Coordinating Curator for Screen Worlds, a $6 million permanent exhibition about the moving image in all its forms, on view for several years at ACMI in Melbourne.
In addition, Connor has acted as adjunct faculty in a wide range of programs, including the MFA Computer Arts department at School of Visual Art, Fine Arts and Performance and Interactive Media at Brooklyn College, NYU's ITP program, and the New School's Design and Digital Technology MFA. From 2002-2005, Connor worked as Curator at FACT, Liverpool, before going on to work as Head of Exhibitions at BFI Southbank in London from 2005-2007.
About THE LEONARDO ART, SCIENCE AND TECHNOLOGY LECTURE SERIES
Co-organized by CAC and Leonardo/ISAST in collaboration with CAFA School of Experimental Art, each installment of the series will feature renowned guest speakers from around the world on topics within the ever-expanding scope of Art/Science. CAC and its partner institutions will provide the venues for the events.
About Leonardo
Leonardo/The International Society for the Arts, Sciences and Technology (Leonardo/ISAST) serves the global network of thinkers and practitioners working in the realms where art, science and the humanities connect. Since its beginnings nearly 50 years ago, Leonardo has fostered and supported the work of artists, scientists and scholars dedicated to breaking down the barriers that often separate fields of endeavor. Today, Leonardo/ISAST continues its leadership in cross-disciplinary creativity through the publication of content on evolving platforms (in collaboration with the MIT Press); the presentation of events, residencies and art/science projects; and other programs designed to address the interests of the art/science/humanities community.
About Chronus Art Center
Established in 2013, Chronus Art Center (CAC) is China's first nonprofit art organization dedicated to the presentation, research / creation and scholarship of media art. CAC with its exhibitions, residency-oriented fellowships, lectures and workshop programs and through its archiving and publishing initiatives, creates a multifaceted and vibrant platform for the discourse, production and dissemination of media art in a global context. CAC is positioned to advance artistic innovation and cultural awareness by critically engaging with media technologies that are transforming and reshaping contemporary experiences.