Lisson Gallery and Fosun Foundation bring the first major solo exhibition by Julian Opie to China
[Press Release]
Lisson Gallery, in collaboration with Fosun Foundation, brings the first major solo exhibition by British artist Julian Opie to China
March 2017
Fosun Foundation
Bund Financial Center, Shanghai, China
Lisson Gallery, in collaboration with Fosun Foundation, brings the first major solo exhibition by British artist Julian Opie to China. Opening in March 2017, the exhibition will be the held at the new Fosun Foundation building, co-designed by Foster + Partners and Heatherwick Studio, located in the Bund Financial Center (BFC) in Shanghai.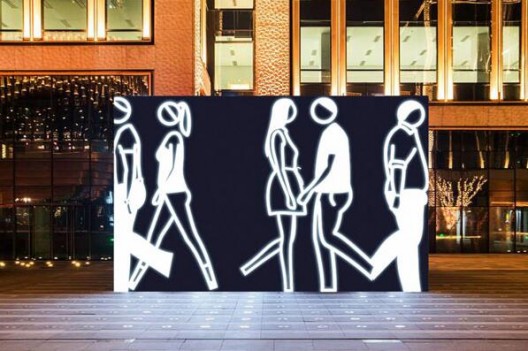 The exhibition covers two floors of the Fosun Foundation, featuring over 50 works, many made especially for the exhibition, including paintings, sculptures, mosaics, tapestries, wall drawings and LED and LCD films.
With public commissions from Seoul to New York, Luxembourg to Zurich and an uninterrupted flow of large museum exhibitions internationally, the work of Julian Opie is known throughout the world. Opie's distinctive formal language is instantly recognisable and reflects his artistic preoccupation with the idea of representation, and the means by which images are perceived and understood.
"Everything you see is a trick of the light." Opie writes. "Light bouncing into your eye, light casting shadows, creating depth, shapes, colours. Turn off the light and it's all gone. We use vision as a means of survival and it's essential to take it for granted in order to function, but awareness allows us to look at looking and by extension look at ourselves and be aware of our presence. Drawing, drawing out the way that process feels and works brings the awareness into the present and into the real world, the exterior world."
Always exploring different techniques both cutting edge and ancient, Opie plays with ways of seeing through reinterpreting the vocabulary of everyday life; his reductive style evokes both a visual and spatial experience of the world around us. Taking influence from classical portraiture, Egyptian hieroglyphs and Japanese woodblock prints, as well as public signage, information boards and traffic signs, the artist connects the clean visual language of modern life, with the fundamentals of art history.
About Julian Opie
Julian Opie was born in London in 1958 and lives and works in London. Hegraduated from Goldsmith's School of Art, London in 1982. Solo exhibitions includeKunsthalle Helsinki, Finland (2015); Museum of Contemporary Art Krakow (MoCAK), Poland (2014); National Portrait Gallery, London, UK (2011); IVAM, Valencia, Spain (2010); MAK, Vienna, Austria (2008); CAC Malaga, Spain (2006); Neues Museum, Nuremberg, Germany (2003); Ikon Gallery, Birmingham, UK (2001); Kunstverein Hannover, Germany (1994) and Institute of Contemporary Arts, London, UK (1985). Major group exhibitions include the Victoria & Albert Museum, London, UK (2016), Barbican Art Gallery, London, UK (2014), Tate Britain, London, UK (2013), the Shanghai Biennale (2006), 11th Biennial of Sydney (1998), documenta 8, Kassel, Germany (1987) and XIIème Biennale de Paris (1985). His public projects include works for hospitals, such as Barts & the London Hospital (2003) and the Lindo Wing, St Mary's Hospital, London (2012), Heathrow Terminal 1 (1998), the prison Wormwood Scrubs, London (1994) and his design for the band Blur's album (2000), for which he was awarded the Music Week CADS for Best Illustration in 2001. Opie's work is held in many major museum collections including the Arts Council, England; British Museum, London, UK; Carnegie Museum, Pittsburgh, PA, USA; IVAM Museum of Modern Art, New York, NY, USA; MoMAT Tokyo, Japan; National Gallery of Victoria, Melbourne, Australia; National Portrait Gallery, London, UK; Stdtische Galerie im Lenbachhaus, Munich, Germany; Stedelijk Museum, Amsterdam, Netherlands; Tate Collection, London, UK and the Victoria and Albert Museum, London, UK.
About Lisson Gallery
Lisson Gallery is one of the most influential and longest-running international contemporary art galleries in the world. Established in 1967 by Nicholas Logsdail, it pioneered the early careers of important Minimal and Conceptual artists, such as Art & Language, Carl Andre, Daniel Buren, Donald Judd, John Latham, Sol LeWitt, Richard Long and Robert Ryman among many others. In its second decade the gallery introduced significant British artists, including Tony Cragg, Richard Deacon, Shirazeh Houshiary, Anish Kapoor and Julian Opie. It is also responsible for raising the international profile of a number of prominent artists from across Asia, such as Liu Xiaodong, Lee Ufan, Rashid Rana, Ai Weiwei and Tatsuo Miyajima, as well as a younger generation of artists led by Cory Arcangel, Nathalie Djurberg & Hans Berg, Ryan Gander and Haroon Mirza. Today Lisson Gallery supports and develops 51 international artists across two exhibition spaces in London, one in Milan and a fourth under the High Line in New York.
About Fosun Foundation
Located in the Bund Finance Center, Fosun Foundation presents 4,000 square meters of exhibition space co-designed by British design firm Foster + Partners and creative director Heatherwick Studio. As part of an ambitious cultural program, Fosun Foundation will host a variety of events, such as art exhibitions, fashion shows, conferences, performances and summits. The foundation will partner with the world's leading art organizations, connecting China with international culture, art brands, and services. Fosun Foundation aims to satisfy the growing Chinese demands for diverse cultural products, thereby forging a robust artistic scene linked to the greater global industry.