M+ Screenings: City Limits
[press release]
M+ Screenings: City Limits explores urbanisation on screen, presenting a weekend-long programme of artist videos, narrative films, documentaries and animations depicting different Asian cities in transition. Beginning with the Pearl River Delta, the world's largest, most densely-populated urban expanse, City Limitsprogressively broadens its focus to encompass other parts of China and Asia. Each video and film responds to changes in daily life this century, where urban development is a catalyst for intense social, political, economic, environmental and creative transformation.
This programme is organised in conjunction with the exhibition Canton Express, on view at the M+ Pavilion from 23 June to 10 September 2017.
Date:
4-6 August 2017 (Friday-Sunday)
Venue:
Broadway Cinematheque, Yau Ma Tei
Tickets:
Tickets are now available at the Broadway Cinematheque box office and self-service ticketing machines, as well as online at www.cinema.com.hk.
Standard Tickets: HK$85 per screening
Concessions: HK$65 per screening (children, seniors, and students)
M+ Pioneers Member Packages: HK$145 for 2 tickets (for same screening)
bc VIP Member Tickets: HK$68 per screening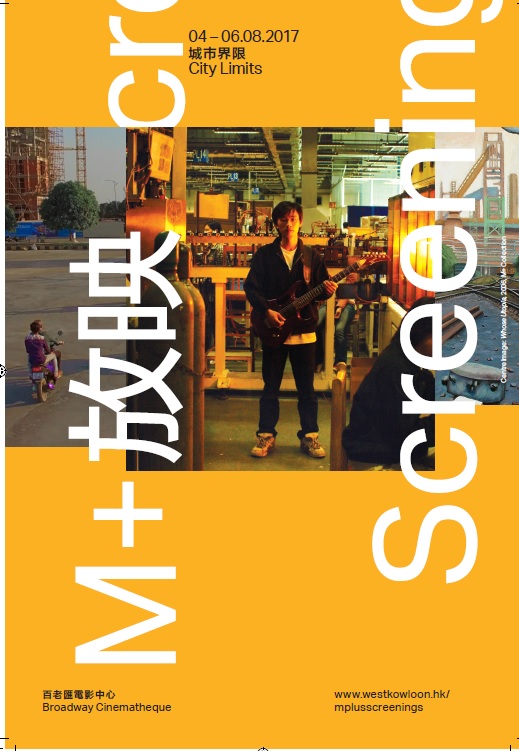 4 Aug (Fri) 8pm
Concert Hall of Zheng Daoxing
Post, Pause
Ink City
Whose Utopia
One Day (Guangzhou)
5 Aug (Sat) 3:30pm
San Yuan Li
5 Aug (Sat) 5:10pm
Lunar Dial
Still Life
5 Aug (Sat) 7:30pm
Living Elsewhere
The Chinese Mayor
6 Aug (Sun) 1pm
Walker
Threshold
Diamond Island
6 Aug (Sun) 3:30pm
Made in Myanmar
In Time to Come