Nobody Knows Where, Zhang Enli × Christopher Doyle
Duration: 9th June (Tue.) – 20th August (Sun.) 2015
Curator: Shaway Yeh, David Quadrio
Art Director: Zhou Jie
Organizer: Aurora Museum
Special Support: Shanghai International Culture Association, Arthub
"Nobody Knows Where" is the very first collaborative exhibition of Australian photographer Christopher Doyle and Shanghai contemporary artist Zhang Enli.
Zhang Enli employs objects and figures from personal memory to express feelings in his paintings, passing on those emotions in a rather simple, direct and silent way. The utilization of subjects for subsided sentiments brings out the distinctive aesthetic experiences. He employs objects and figures from personal memory to express feelings in his paintings, passing on those emotions in a rather simple, direct and silent way. The utilization of subjects for subsided sentiments brings out the distinctive aesthetic experiences.
While Doyle, a giant in filming photography, is accomplished in transforming the powers between subjects and people into lights and shades and representing beauty and souls in characters with dramatic camerawork. With this vigorous and unrestrained style, he is accustomed to seeking calm within chaos.
Art lies everywhere. "Nobody Knows Where" presents together Doyle's photos and films, Zhang Enli's paintings and installations, as well as collaborated creations by both of them, within which audience will be able to experience the magic in lights changing and space swifts.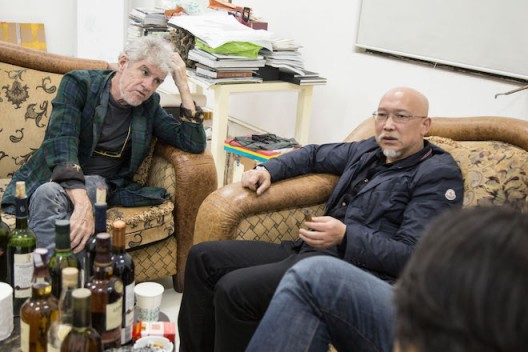 About Christopher Doyle
Amongst his forty-two awards and nineteen nominations at film festivals around the world, notable mention should be given to the Grand Technical Prize at the Cannes Film Festival presented for Doyle's film In the Mood for Love, as well as the Osellad' Oro for Best Cinematography awarded for Ashes of Time at the Venice International Film Festival. The artist has made over fifty Chinese-language films including: Chungking Express, Temptress Moon, Hero, Happy Together, Dumplings, 2046 and many others.
In the late seventies, Doyle was "re-birthed" as Du Ke Feng, which means "like the wind." The poem from which his name derives says a man of "quality " should be like the wind–Chris is still contemplating whether this translation means that he is an intransigent individual or not. This description would be befitting of Doyle, whose unwillingness to compromise his artistic beliefs has made him highly esteemed within the industry.
For "Nobody Knows Where" the curators selected seven of Doyle's best-known series spanning different periods in his career. These varying stages, distinctively unique in their contrasting perspectives, aim to interpret and define Doyle's signature shooting style and the alphabet he has created throughout his artistic journey.
In addition to the presentation of Doyle's movies, the artist will also be showing other types of work, this includes his collages and water drop pieces. Combined alongside Zhang Enli's paintings, Doyle's other presented styles will form a very delicate connection between the two artists. The space in Zhang's paintings appears to absorb Doyle's splendid exaggeration of light and color.
About Zhang Enli
Zhang Enli was born in Jilin province in 1965. He graduated from Wuxi Technical University Arts and Design Institute in 1989 and is currently living in Shanghai. Enli is a famous contemporary artist in China and one of the first of his generation to be recognized abroad. He has been invited to participate in Art Basel and a number of Biennials around the world. Additionally, Enli has launched solo exhibitions at the Museo d' Arte Contemporanea di Villa Croce in Italy, Shanghai Art Museum, Kunsthalle Bern in Switzerland, Ikon Gallery in U.K. and other major art galleries and museums. Collections of Enli's work can be found at the Long Museum Shanghai, Rubell Family Collection, Yuz Foundation, Tate London, Shanghai Art Museum and the UBS Art Collection.
In Zhang Enli's comparison of painting and photographic filming, there exist clues and stories in films while only a short moment of existence in painting. For the exhibition, Zhang will create a space nestled within a larger space, by using cartonboard in the public area of the Aurora Building to partition off a more intimate enclosure. Cartonboard, used as a conceptual vessel, has long existed as a favored material in the artist's life. Simple cartonboards are the symbols for packing and immigrating; Zhang capitalizes on their deeper implication, by using them to represent the resignation of people during migration. In front of these boxes is the artist's installation "Trees", in which the windows will be transformed with seven gigantic external installations. Zhang creates an immersive and dappled shadow atmosphere with this installation, which strongly contrasts the man-made enclosures that lay beneath it.
Within "Empty Room", Doyle will present a work in which he has captured the creative process of Zhang Enli In his own studio from above. In the video Zhang paces the room, waves his brushes, and contemplates his work—we are given a unique insight into his creative process, while ironically standing within the final product of his previous efforts.
The two artists who have never been acquainted, find within their control of space and interpretation of art a commonality: they both integrate into their creations the lights, shadows and spaces around them, creating harmoniously existing artworks that become inseparably interconnected with the real world surrounding them.
Curators Introduction
Davide Quadrio is an Italian curator based in China. He founded and directed for a decade the first not-for-profit independent creative lab in Shanghai, Bizart Art Center. After that he created Arthub Asia, as a platform to foster the local contemporary art scene. He is currently working as contemporary curator for the Aurora Museum, Shanghai and the part of the Curatorial Board of PAC, Pavilion of Contemporary Art of Milan. The exhibition "The Making of A Museum", in partnership with the 10th Shanghai Biennale in 2014, and "Signs, Surfaces and the Instant, An encounter by n+n Corsino and Aurora Museum", one of the best exhibition programs during "France – Chine 50″ and the "2014 Croisements Festival" are also curated by Davide Quadrio.
Ye is China's key opinion leader on Fashion and Design. She curates "Pierre Cardin in China"(2010),"A plus, an exhibition of art and style by China's new fashion talents" (2011), "Dressing the Screen UK and China fashion films exhibition" (2012). Yeh extends its creative panache and unique editorial point-of-view to digital platform and launched iFASHION, the first fashion video and moving images-based mobile app in China. She curated a special section "Fashion film from china" for ASVOFF at Pompidou Center in Paris. Yeh has played a crucial role in developing fashion media in China and oversees a vast portfolio of digital and print publications, and she is part of the BoF 500 in 2014, as the key peson shaping the global industry.
About Arthub
Arthub is a Shanghai based and Hong Kong registered not-for-profit platform devoted to contemporary art creation and diffusion. Arthub (born in 2007 as Arthub Asia), stemmed from the desire of exploring and experimenting with the possibilities of collaborative platforms. Acting as a transcultural mediator, Arthub orchestrates collaborations between Asian and overseas artists and institutions through the production of artworks, exhibitions, publications and educational activities.
About Aurora Museum
Since its establishment in 2013, while focusing on protecting and inheriting Chinese antiques, Aurora Museum has also gone through a series of contemporary art explorations: "Qiu Zhijie: The Unicorn and The Dragon" at the Venice Biennale, "The Making of A Museum" and others. This year the museum began promoting the concept of "Movi(e)ing Museum", to present movies and video clips from all over the world, while simultaneously promoting diversified exhibition projects relevant to films and image art within their own space.
Sponsor: Le Baron Shanghai, Activation Linquid PR Company, Aurora Office Furniture, WTi Nationwide.
Media Support: Arton.net, Bazaar Art, Touch Media, LEAP, I weekl, yiFashion, JCDecaux, Eastradio
Special Support: Government of Canada, Toronto International Film Festival, ShanghArt Gallery