PANDAMONIUM Group Show Finnisage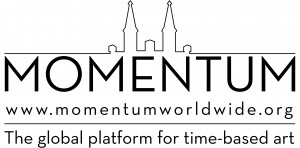 presents:
PANDAMONIUM MEDIA ART FROM SHANGHAI
FINISSAGE
at Kunstquartier Bethanien – Studio 1, Marrianenplatz 2, Berlin Kreuzberg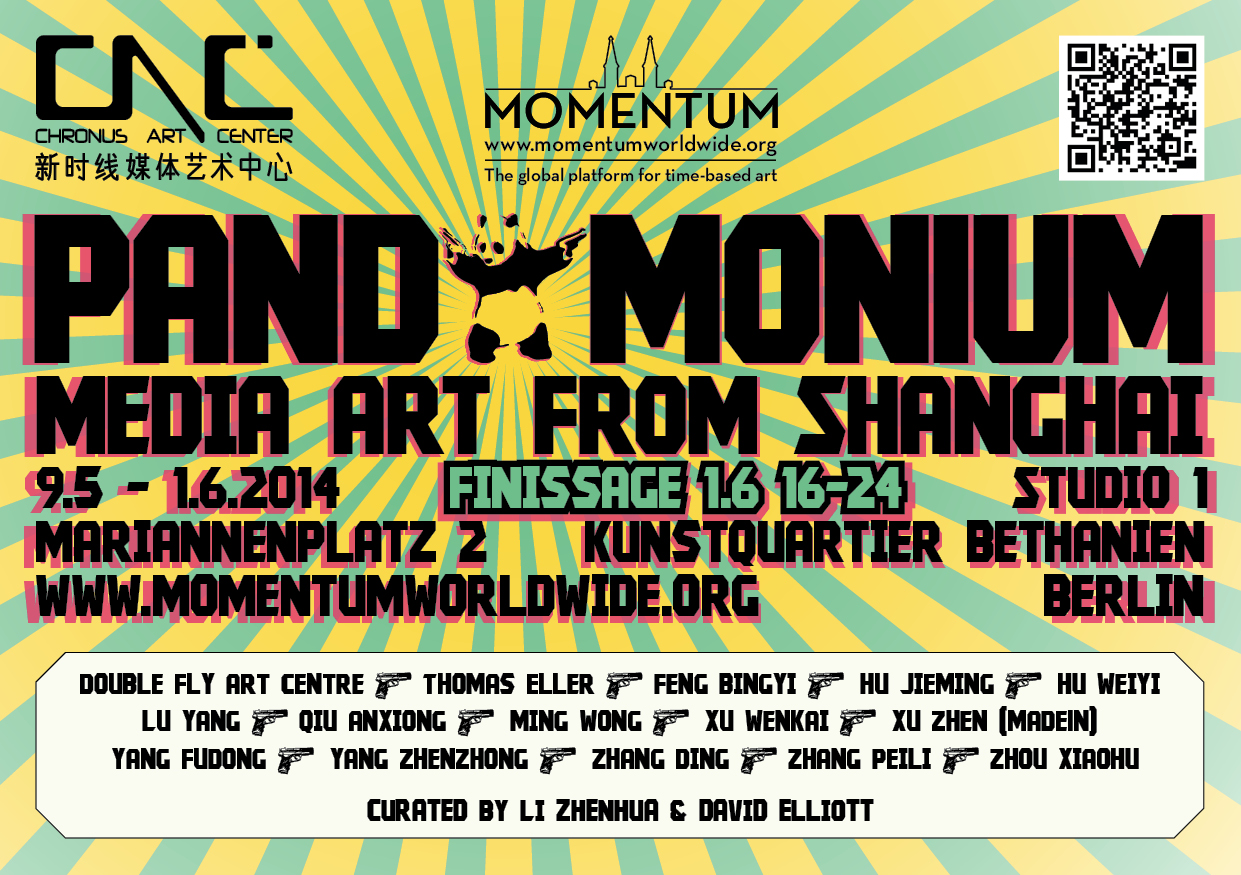 PROGRAM:
16:00 
Guided Tour with the Curators
Li Zhenhua and David Elliott
17:00 – 19:00
Symposium:
China Through The Looking Glass: Shanghai – What's Next?
Speakers:
DAVID ELLIOTT and LI ZHENHUA / Curators of PANDAMONIUM: Media Art from Shanghai
GABRIELE KNAPSTEIN / Head of Exhibitions, Hamburger Bahnhof
SIEGFRIED ZIELINSKI / Chair of Media Theory, Archeology and Variantology of the Media at UDK
FENG BINGYI, QIU ANXIONG and XU WENKAI (AAAJIAO) / PANDAMONIUM Artists-In-Residence
19:00
Performances by Cai Yuan + Jian Jun Xi (Mad For Real)
MNM (Christian Graupner with Mieko Suzuki and Ming Poon)
20:00 – 24:00
Party by MNM with DJ Mieko Suzuki
SYMPOSIUM
China Through The Looking Glass: Shanghai – What's Next?
Speakers:
DAVID ELLIOTT and LI ZHENHUA / Curators of PANDAMONIUM: Media Art from Shanghai
GABRIELE KNAPSTEIN / Head of Exhibitions, Hamburger Bahnhof
SIEGFRIED ZIELINSKI / Chair of Media Theory, Archeology and Variantology of the Media at UDK
FENG BINGYI, QIU ANXIONG and XU WENKAI (AAAJIAO) / PANDAMONIUM Artists-In-Residence
17.00 – 18.00
Session 1
Discussion on Media Art in the Chinese Context
David Elliott, Gabriele Knapstein,
Li Zhenhua, and Siegfried Zielinski
18.00 – 19.00
Session 2
PANDAMONIUM Artists-In-Residence
in Dialogue with the Curators
Feng Bingyi, Qiu Anxiong, & Xu Wenkai (AaaJiao)
in dialogue with Li Zhenhua, and David Elliott
SPEAKERS: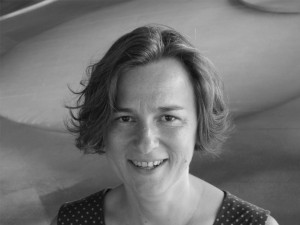 GABRIELE KNAPSTEIN
Dr. Gabriele Knapstein (b. 1963) is an art historian, living in Berlin. Her PhD thesis on the event scores by Fluxus artist George Brecht was published in 1999. Since 1994, she is working as a curator for the Institute for Foreign Cultural Relations (ifa) and other institutions. In 2001 together with Hou Hanru and Fan Di'an, Knapstein curated the exhibition "living in time. 29 contemporary artists from China" at Hamburger Bahnhof – Museum für Gegenwart – Berlin. Since 2003, she has worked as curator at Hamburger Bahnhof, becoming Head of Exhibitions in 2012. Since 1999, Knapstein has been working on the realization of the ongoing series "Works of Music by Visual Artists". Selected recent exhibitions at Hamburger Bahnhof: "Susan Philips. Part File Score" (2014), "Wall Works" (2013-2014), "Ryoji Ikeda. db" (2012), "Architektonika. Art, Architecture and the City" (2011-2012), "Bruce Nauman. Dream Passage" (2010).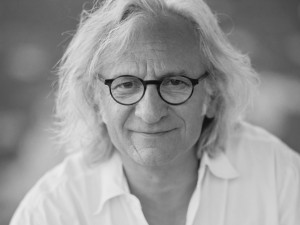 SIEGFRIED ZIELINSKI
Prof. Siegfried Zielinski is professor of media theory, archaeology & variantology of the media at the Berlin University of the Arts (UDK), Michel Foucault Professor for techno-aesthetics and media archaeology at the European Graduate School Saas Fee (CH), and director of the Vilém Flusser Archive in Berlin. He was co-inventor of the first course for media studies and media consulting in Germany (1982) and was Founding Rector of the Academy of Media Arts Cologne (1994–2000). He is the author of numerous books and articles as well as editor of the series Variantology: On Deep Time Relations between the Arts, Sciences, and Technologies, of which six volumes have been published so far (2005–2013). Zielinski is a member of the North-Rhine-Westphalia Academy of Sciences, Humanities, and the Arts, the Academy of the Arts Berlin, the European Film Academy, the Magic Lantern Society of Great Britain, the Kuratorium of the ZKM | Karlsruhe.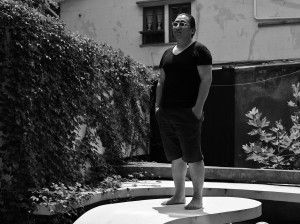 Li Zhenhua has been active in the artistic field since 1996, his practice mainly concerning curation, art creation and project management. Since 2010 he has been the nominator for the Summer Academy at the Zentrum Paul Klee Bern (Switzerland), as well as for The Prix Pictet (Switzerland). He is a member of the international advisory board for the exhibition "Digital Revolution" to be held at the Barbican Centre in the UK in 2014. Li Zhenhua has edited several artists' publications, including "Yan Lei: What I Like to Do" (Documenta, 2012), "Hu Jieming: One Hundred Years in One Minute" (2010), "Feng Mengbo: Journey to the West" (2010), and "Yang Fudong: Dawn Mist, Separation Faith" (2009). A collection of his art reviews has been published under the title "Text" in 2013. http://www.bjartlab.com | http://www.msgproduction.com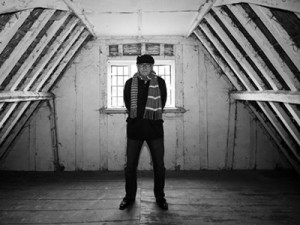 DAVID ELLIOTT
David Elliott is an English born curator and writer. From 1976 to 1996 he was Director of the Museum of Modern Art in Oxford, England, Director of Moderna Museet [The National Museum of Modern and Contemporary Art] in Stockholm, Sweden (1996-2001), founding Director of the Mori Art Museum in Tokyo (2001-2006), the first Director of the Istanbul Museum of Modern Art [Istanbul Modern] (2007), Artistic Director of the 17th Biennale of Sydney (2008 – 2010) and Artistic Director of the 1st Kiev International Biennale of Contemporary Art (2011-12), Artistic Director of the 4th International Biennale of Work by Young Artists in Moscow (2014-2014), Rudolf Arnheim Guest Professor in Art History at the Humboldt University, Berlin (2008) and Visiting Professor in Museum Studies at the Chinese University in Hong Kong (2008/11/13). From 1998 until 2004 he was President of CIMAM (the International Committee of ICOM for Museums of Modern Art). He is Hon President of the Board of Triangle Art Network/Gasworks in London and on the Asia Advisory Board of the Guggenheim Museum in New York.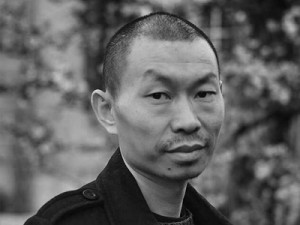 QIU ANXIONG (b. 1972, Chengdu) was born in the capital of Sichuan province in the southwest of China. There, he studied under the progressive artistic practice of Ye Yongqing and Zhang Xiaogang. Qiu and his friends collectively founded a bar which became a hub for the blossoming underground music and art circles in Sichuan, and his colleagues included He Duoling, Zhou Chunya, and Shen Xiaotong. In his animated films, Qiu co-mingles the classical and the contemporary, using the traditional Chinese ink-and-wash style to transpose contemporary social and environmental issues onto traditional Chinese landscapes. A friend and neighbor of Yang Fudong, Qiu has exhibited broadly internationally, having studied contemporary international art and traditional Chinese culture at the Kunsthochschule Kassel, Germany. In 2004 he began teaching at Shanghai Normal University and currently lives and works in Shanghai. Qiu received the Chinese Contemporary Art Award in 2006 and has exhibited widely, including a recent solo-show, titled Qiu Anxiong, The New Book of Mountains and Seas II at the Arken Museum of Modern Art in Ishøj, Denmark (2013) and group exhibition 'Ink Art' at the Metropolitan Museum of Art in New York (2013). He is one of the artists undertaking the PANDAMONIUM Residency, and has producing a new work premiered in PANDAMONIUM.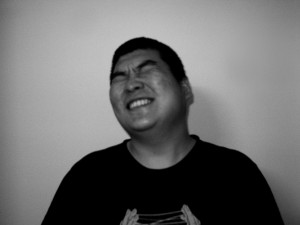 XU WENKAI (Aaajiao) (b. 1984, Xi'an) is one of China's foremost media artists, bloggers and free culture developers. Having studied physics and computers, Xu Wenkai is self-taught as an artist and new media entrepreneur. In his works he focuses on the use of data and its various forms of display. In 2003 he established the sound art website cornersound.com and in 2006 he founded the Chinese take on the blog We Make Money Not Art: We Need Money Not Art. He is devoted to Processing, an open-source visual programming software, Dorkbot, a non-profit initiative for creative minds and Eventstructure, an interdisciplinary center for art, media, technology and academic research based in Shanghai and founded by Xu. In his works, Aaajiao focuses on the use of data and its various forms of display and on the processes of transforming content from reality to data and back again. His most significant contribution to the field of new media in China is a social one, as he act a as a vector for the interpretation and communication of international and local trends in the artistic use of software. Recent exhibitions include his solo-show titled The Screen generation, at C Space (2013) and chi K11 Art Space in Shanghai and at 9m2 Museum in Beijing (2014) and group-exhibition TRANSCIENCE – INTRACTABLE OBJECTS at Taikang Space in Beijing (2014). Xu is one of the artists undertaking the PANDAMONIUM Residency.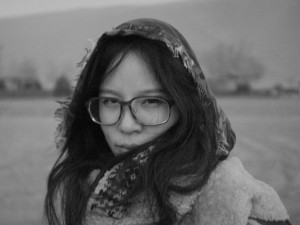 FENG BINGYI (b. 1991, Ningbo) is a young emerging talent in the Chinese art scene. Having studied under Yang Fudong at the China Academy of Art, she follows in his footsteps with her focus on cinematic traditions, while employing a poetic language. Distancing herself from the chains of external reality, she looks for inspiration within her internal impressions, which she expresses in the forms of installations, photography, documentary and animation. After receiving both the Outstanding Graduation Work Award and the China Academy of Art Scholarship from the China Academy of Fine Arts in Hangzhou in 2013, Feng continued her studies at the Chelsea College of Art and Design, University of the Arts in London in 2014. Though she has been exhibited in China alongside well-established contemporary artists, she has never before been shown in Berlin. Feng is one of the artists undertaking the PANDAMONIUM Residency.
PERFORMANCES
Performances by Cai Yuan + Jian Jun Xi (Mad For Real
MNM (Christian Graupner with Mieko Suzuki and Ming Poon)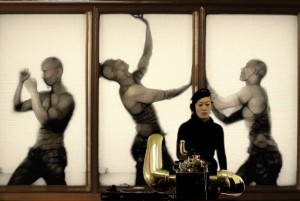 MNM (Christian Graupner with Mieko Suzuki & Ming Poon)
Artists' Bios – Website
MNM portrays the Hiroshima born sound artist Mieko Suzuki and the Singaporian dancer Ming Poon in their sound- and body performances and generates an ongoing media concert that constantly creates new video and sound clusters. The headstrong canonical composition of vocal and percussion loops depicts the topic of total (body) control in golden times of casino-capitalism and its meltdown. The protagonists' performances are directly connected to the form and materiality of a triptych frame and a huge hacked Maneki-Neko derived figure which underlines the sculptural character of MNM. Visitors are invited to co-compose and influence the flow of the so called Humatic Re-Performance by feeding and operating the triple channel installation like a gambling-machine or to control MNM like a musical instrument.
CHRISTIAN GRAUPNER, the Berlin based Director, Media Artist & Producer studied graphic arts & developed interactive audio visual concepts. As a composer & music producer (artist name VOOV) he published records & CDs, created sountracks for movies, theatre & radio, music clips. He founded 'Club Automatique', formed the independent production company HUMATIC. Universities & Institutes such as ZKM have invited him for lectures & residencies. The latest production MNM (2013) received an honorary mention at Prix Ars Electronica. His recent sculptural / media work explores the practices and myths around pop and contemporary music, combining multiscreen videos and multichannel sound with partly machine- partly user-controlled 'humatic' interfaces and mechanisms. With the media slotmachine MindBox he and his team received a Guthman's New Musical Instruments Award in Atlanta Georgia.
MIEKO SUZUKI having come from a pianist background and studied fashion, has been organizing events and performing as a DJ and sound artist worldwide since 1998. Mieko has won awards and taken part in artist residency programs whilst also performing as a musician and DJ at clubs and international art and fashion events. Selected event include Calvin Klein Tokyo Collection 2008, Female:pressure Japan Tour 2009, MOMENTUM Sydney 2010, Kunsthalle M3 Berlin 2010, Japan Media Arts Festival 2010, REH Kunst Berlin 2012, GALLERY WEEKEND Berlin 2012, JULIUS Paris Collection 2011-2014, Cynetart Dresden, Craft Gallery Melbourne 2013, Patric Mohr fashion show Berlin 2014, Marrakech Biennale5 2014. She has also collaborated on sculpture, visual, sound and multi-media installations with artists.
While MING POON comes from a dance background, he prefers to describe himself as a movement performer. He readily experiments and combines elements from an eclectic mix of techniques and disciplines. He sees the body as a predilection of viewing as an object, by stripping it to its physical and affective functionality and mechanics. His idea of dance is one in which there are no 'dancers' on stage, only bodies that are in the process of forming, transforming and disintegrating. He has worked with international dance companies in Italy, Germany, Spain, Belgium, The Netherlands and Singapore. His choreographic works include: 'The man who looks for signs', 'A piece of heaven', 'Ghosts', 'Back', 'Topography of Pleasure and Pain' (dance film). 'Gravity', '(un)it: HD85828|in.ViSiBLE' and 'The Infinitesimal Distance Between Two Bodies'.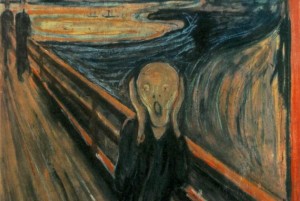 CAI YUAN & JIAN JUN XI (MAD FOR REAL)
Website
Born in China in 1956 and 1962 respectively, CAI YUAN and JIAN JUN XI have been living and working in the United Kingdom since the 1980s. Cai Yuan trained in oil painting at Nanjing College of Art, Chelsea College of Art and the Royal College of Art. Jian Jun Xi trained at the Central Academy of Applied Arts in Beijing and later at Goldsmiths College. They started working as a performance duo in the late nineties with their action Two Artists Jump on Tracey Emin's Bed (1999) at Tate Britain's Turner Prize Exhibition.
Mad for Real are renowned Chinese artists known for their pioneering performances and interventions in public spaces. Their work acts as a dynamic dialogue with institutional and cultural power structures, taking the idea of the ready-made and transforming it within contemporary, everyday situations. The duo also creates installations that reflect on globalization and on the role of modern China in the 21st century. Mad For Real's oeuvre has continually questioned the relationship of power to the individual. Using a position of resistance, Cai and Xi have consistently produced work which is necessarily oppositional, yet its warmth and humor also acts to draw viewers in. Their performances have taken place as radical gestures, calling to mind notorious artists of earlier radical art movements, though the historical, linguistic and political context of their practice is often related specifically to their origins: China.
Scream (first performed at the Venice Biennale, 2013)
Inspired by Edvard Munch's most famous painting The Scream (1893), Mad For Real's eponymous performance reactivates this iconic picture into a live, vocalized expression of contemporary angst. Whereas Munch's screams came from the madhouse or the abattoir of the 1890s, Cai Yuan and Jian Jun Xi's Scream invites participation 110 years later in a globalized context of economic and social uncertainty. Resonating with well-known texts of Chinese modernity since the May Fourth movement, such as famous author Lu Xun's volume Call to Arms (吶喊) of 1922, Mad For Real's Scream reaches across time and culture into a single, communal burst of humanity.
PRESENTED BY:
ABOUT CAC | CHRONUS ART CENTER SHANGHAI
www.chronusartcenter.org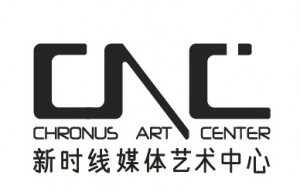 Founded in 2013, CAC | Chronus Art Center is the first major non-profit art organization in China focusing on the experiment, production, research, exhibition and education in new media art.  CAC was founded by the renowned curator Li Zhenhua, artist Hu Jieming, and technology expert Dillion Zhang, Wti Group, China's premiere company for projectors. Having traveled MOMENTUM's exhibition The Best of Times, The Worst of Times Revisited to CAC Shanghai in the first months of 2014, this collaboration is continued in Berlin with a 4-month program of Chinese media art presented by CAC and MOMENTUM.
ABOUT MOMENTUM
www.momentumworldwide.org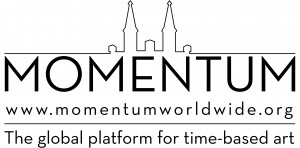 MOMENTUM is a non-profit global platform for time-based art, with headquarters in Berlin.  Through our program of Exhibitions, Kunst Salons, Public Video Art Initiatives, Residencies, and Collection, we are dedicated to providing a platform for exceptional artists working with time-based practices. The term 'time-based' art means very different things today than when it was first coined over 40 years ago. MOMENTUM's mission is to continuously reassess the growing diversity and relevance of time-based practices, always seeking innovative answers to the question,  'What is time-based art?'. MOMENTUM serves as a bridge joining professional art communities, irrespective of institutional and national borders. The key ideas driving MOMENTUM are: Collaboration, Exchange, Education, Exploration, and Inspiration.
* Special thanks for support from CAC | Chronus Art Center, WTI and CP