PANDAMONIUM Group Show Opening on 9 May 19:00 – 22:00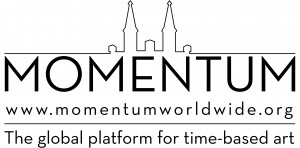 PANDAMONIUM MEDIA ART FROM SHANGHAI
THE GROUP SHOW OPENING
Featuring:
Double Fly Art Center ◆ Thomas Eller ◆ Feng Bingyi ◆ Hu Jieming ◆ Hu Weiyi ◆ Lu Yang ◆ Qiu Anxiong ◆ Ming Wong ◆ Xu Wenkai (AaaJiao) ◆ Xu Zhen (MadeIn Company) ◆ Yang Fudong ◆ Yang Zhenzhong ◆ Zhang Ding ◆ Zhang Peili ◆ Zhou Xiaohu
Curated by Li Zhenhua and David Elliott. Presented by CAC | Chronus Art Center and MOMENTUM.
OPENS THIS FRIDAY, 9 May at 19:00
At the Kunstquartier Bethanien – Studio 1
(The large chapel space on the same floor as the MOMENTUM Gallery)
PANDAMONIUM continues next door at MOMENTUM
With an Audiovisual Installation by MNM – Christian Graupner with Mieko Suzuki and Ming Poon
(Part of the PANDAMONIUM Performance Program WORKS ON PAPER II – For MPA-B: Month of Performance Art)
The full program of events CLICK HERE.
To join the PANDAMONIUM Facebook Event for invitations and Updates CLICK HERE.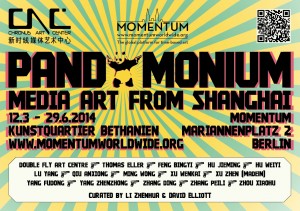 ABOUT THE CURATORS
Li Zhenhua, Chinese born and currently based between Zurich and Shanghai, has been active in the artistic field since 1996, his practice mainly concerning curation, art creation and project management. He is one of 3 Founders of CAC | Chronus Art Center. Since 2010 he has been the nominator for the Summer Academy at the Zentrum Paul Klee Bern (Switzerland), as well as for The Prix Pictet (Switzerland). He is a member of the international Advisory Board for the exhibition "Digital Revolution" to be held at the Barbican Centre in the UK in 2014. Li Zhenhua has edited several artists' publications, including "Yan Lei: What I Like to Do" (Documenta, 2012), "Hu Jieming: One Hundred Years in One Minute" (2010), "Feng Mengbo: Journey to the West" (2010), and "Yang Fudong: Dawn Mist, Separation Faith" (2009). A collection of his art reviews has been published under the title "Text" in 2013.
http://www.bjartlab.com | http://www.msgproduction.com
Davıd Elliott is an English born curator and writer. From 1976 to 1996 he was Director of the Museum of Modern Art in Oxford, England, Director of Moderna Museet [The National Museum of Modern and Contemporary Art] in Stockholm, Sweden (1996-2001), founding Director of the Mori Art Museum in Tokyo (2001-2006), the first Director of the Istanbul Museum of Modern Art [Istanbul Modern] (2007), Artistic Director of the 17th Biennale of Sydney (2008 – 2010), Artistic Director of the 1st Kiev International Biennale of Contemporary Art (2011-12), Artistic Director of the 4th International Biennale of Work by Young Artists in Moscow (2014-2014), the Rudolf Arnheim Guest Professor in Art History at the Humboldt University, Berlin (2008) and Visiting Professor in Museum Studies at the Chinese University in Hong Kong (2008-14). From 1998 until 2004 he was President of CIMAM (the International Committee of ICOM for Museums of Modern Art). He is President of the Board of Triangle Art Network/Gasworks in London and on the Asia Advisory Board of the Guggenheim Museum in New York.
To find out more, click on: PANDAMONIUM
PRESENTED BY:
ABOUT CAC | CHRONUS ART CENTER SHANGHAI:  www.chronusartcenter.org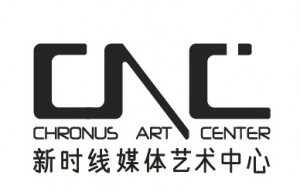 Founded in 2013, CAC | Chronus Art Center is the first major non-profit art organization in China focusing on the experiment, production, research, exhibition and education in new media art.  CAC was founded by the renowned curator Li Zhenhua, artist Hu Jieming, and technology expert Dillion Zhang, Wti Group, China's premiere company for projectors. Having traveled MOMENTUM's exhibition The Best of Times, The Worst of Times Revisited to CAC Shanghai in the first months of 2014, this collaboration is continued in Berlin with a 4-month program of Chinese media art presented by CAC and MOMENTUM.
ABOUT MOMENTUM: www.momentumworldwide.org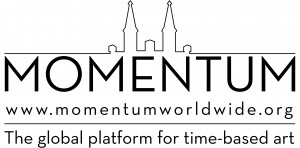 MOMENTUM is a non-profit global platform for time-based art, with headquarters in Berlin.  Through our program of Exhibitions, Kunst Salons, Public Video Art Initiatives, Residencies, and Collection, we are dedicated to providing a platform for exceptional artists working with time-based practices. The term 'time-based' art means very different things today than when it was first coined over 40 years ago. MOMENTUM's mission is to continuously reassess the growing diversity and relevance of time-based practices, always seeking innovative answers to the question,  'What is time-based art?'. MOMENTUM serves as a bridge joining professional art communities, irrespective of institutional and national borders. The key ideas driving MOMENTUM are: Collaboration, Exchange, Education, Exploration, and Inspiration.
* Special thanks for support from CAC | Chronus Art Center, WTI and CP