PERFORMA ANNOUNCES APPOINTMENT OF A NEW BOARD PRESIDENT AND TWO NEW MEMBERS TO THE PERFORMA BOARD OF DIRECTORS
Richard Chang as President of the Board, and Joyce Liu and Ivan Pun as new Board Members
[Press Release]
New York—Performa, the internationally acclaimed organization dedicated to live performance across disciplines, that in just over a decade has become a major international cultural institution, is pleased to announce the appointment of a new Board President, Richard Chang, and the addition of two new members to its Board of Directors: Joyce Liu and Ivan Pun. Joining Performa's long-standing Board of experts from across the arts, the organization looks to expand the diversity of voices and perspectives, and to bring its year-round programming and celebrated biennial to even wider international audiences.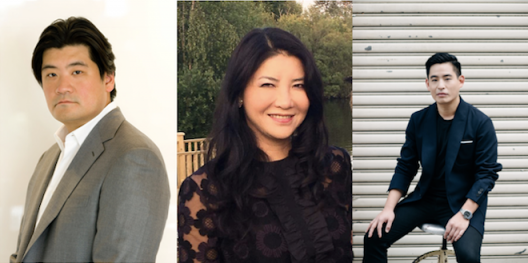 Richard Chang will serve as the President of the Board, effective immediately. A collector
based in New York and Shanghai, Chang founded the Domus Collection in Beijing, which works with organizations around the world to advance cross-cultural dialogues particularly between the East and West. Chang has served as a Trustee on a number of cultural institutions including the Whitney, MoMA PS1 and the Royal Academy of Art, and is Vice Chair of the International Council at Tate.
Richard Chang, Performa's newly appointed President of the Board, comments, "In just a little over 10 years, Performa has made remarkable contributions advancing the scholarship and prominence of live performance, and I look forward to working with RoseLee Goldberg and the entire Board and staff to forge new relationships around the globe to support Performa's ambitious mission and programs."
"It is a privilege and a pleasure to work with our extraordinary board, which has supported and helped Performa grow into the international organization that it is today. Our newest board members are ambassadors in the true sense of the word, representing Performa in cities across the globe and bringing their critical overview to bear on what it means to be a cultural institution in the 21st century," says Founding Director and Chief Curator of Performa, RoseLee Goldberg. "The Performa Board is an exciting think-tank of individuals committed to innovation and experimentation."
Joyce Liu, a long-time collector and art patron, is the Executive Director of Elite Group, a leading company in the electronics and telecommunication industry based in Hong Kong. Actively involved in the contemporary art world, Liu has supported Chinese artists in exhibiting their work at the ICA London and has hosted regular events in London and Hong Kong to promote and celebrate artists, curators, gallerists and collectors alike.
Joyce Liu comments, "I am delighted and honored to be joining the Performa board. It is such a dynamic organization, with enormous international reach. I am thrilled and excited at the prospect of contributing to the work of its highly skilled and experienced team in its quest to bring live performance to audiences of all kinds."
Chinese-Burmese entrepreneur Ivan Pun was raised between Hong Kong, Yangon and England, where he was educated at the University of Oxford. After working in New York and Beijing, Pun relocated to Yangon in 2011 and founded PUN + PROJECTS in 2013, a firm focused on creating innovative lifestyle and cultural concepts, inspired by a love for architecture and urban history. TS1 Yangon, his pop up art space, hosted multiple performances and exhibitions by local Myanmar artists during its one year tenure in 2014.
"I am thrilled to be joining the board of this extraordinary organization. Performa's mission to support performance by visual artists has great potential in Southeast Asia. I look forward to contributing ideas and working with the board to expand its collaborations with the region, where a growing art and performance scene would benefit enormously from Performa's innovative program," comments Ivan Pun.
Bringing their acute business acumen and passionate patronage for the arts, Liu and Pun will serve as valuable members of the Performa board. Toby Devan Lewis and Rashid Johnson will remain as Chair and Vice Chair respectively. These new additions further reflect Performa's dedication to nurturing and supporting emerging and established artists, to growing a new generation of curators who are also producers, and to using its expansive reach as an educational platform to inspire and inform.
Performa Board of Directors
As of January 31, 2017
RoseLee Goldberg, Founder and Chief Curator
Richard Chang, President
Toby Devan Lewis, Chair
Rashid Johnson, Vice Chair
Barbara Hoffman, Secretary
Todd Bishop
Wendy Fisher
Jeanne Greenberg Rohatyn
Ronald Guttman
Joyce Liu
Edward Tyler Nahem
Shirin Neshat
Ivan Pun
About Performa
Founded in 2004 by art historian and curator RoseLee Goldberg, Performa is the leading organization dedicated to exploring the critical role of live performance in the history of
twentieth-century art and encouraging new directions in performance for the twenty-first century.
Since launching New York's first performance biennial, Performa 05, in 2005, the organization has solidified its identity as a commissioning and producing entity. As a "museum without walls," Performa provides important art historical heft to the field by showing the development of live art in all its forms from many different cultural perspectives reaching back to the Renaissance. The Performa Biennial is celebrated world-wide as the first biennial to give specialized attention to this remarkable history, transforming the city of New York into the 'world capital of artists' performance' every other November. Performa attracts a national and international audience of more than 200,000 and receives more than 5,000,000 website hits during its three week run. In the last decade, Performa has presented nearly 600 performances, worked with more than 700 artists, and toured commissioned performances in nearly 20 countries around the world.
The Curatorial Team for Performa is led by Chief Curator RoseLee Goldberg and includes Performa curators Adrienne Edwards and Charles Aubin with contributions from Curators-at-Large Defne Ayas and Mark Beasley as well as consortium curators. The Performa program is produced by Esa Nickle.